Why the gap between old and new black civil rights activists is widening
Reporting from Atlanta —
As waves of protesters gathered in Atlanta night after night to condemn the fatal police shootings of African American men, civil rights veteran Andrew Young stepped in to provide some encouragement – not to activists, but to police officers.
"Those are some unlovable little brats out there," the 84-year-old former Atlanta mayor and U.S. ambassador said of protesters at a recent pep talk at a police precinct. "They're showing off. And not even with a clear message."
Though he later apologized, Young's remarks underscored the widening generational divide in the social justice fight.
Here, in the hometown of the Rev. Martin Luther King Jr., a younger corps of activists is running up against stalwarts of the civil rights era. Elders have chided millennials for their attitudes, tactics and lack of concrete demands.
Rep. John Lewis (D-Ga.), who was beaten by Alabama state troopers on the 1965 civil rights march from Selma to Montgomery, drew heat when he tweeted: "I was beaten bloody by police officers. But I never hated them. I said, 'Thank you for your service.'"
Atlanta Mayor Kasim Reed also lectured protesters, invoking King as he urged the activists not to block the highway. "Dr. King would never take a freeway," Reed told reporters.
Younger activists have reacted with defiance, saying they no longer look to the old guard for leadership or inspiration.
"What does Andrew Young do for black people in Atlanta?" said 18-year-old Aurelia Williams with a shrug, a spokesman for Atlanta Black Lives Matter, standing outside a transit station as protesters gathered for another rally. "A lot of people look to Andrew Young for guidance – or they did. Now he's just another person we're fighting in the trenches."
While the protests spurred by fatal shootings of black men in Minnesota and Louisiana follow some traditions of the 1950s and '60s, there are distinct differences. Both share a goal of racial justice and equality, yet the newer generation is more raw and spontaneous, focusing on personal emotions and therapeutic ideas of healing more than political debate and policy proposals.
NEWSLETTER: Get the day's top headlines from Times Editor Davan Maharaj »
"Stop telling us to have a plan, goals and a solution for black folks," Avery Jackson, an Atlanta student organizer, tweeted. "Realize that it is dismissive and disrespectful to ask black people why they are taking the streets, affirming their lives and healing."
For some traditional activists and long-term observers of the civil rights movement, the lack of an agreed-upon game plan can be baffling.
"The fundamental, ongoing problem here is apparently that the vast majority of protesters don't have any specific agenda that they're arguing for," said David J. Garrow, professor of history and law at the University of Pittsburgh and author of a Pulitzer Prize-winning book on the civil rights era.
Nor, he added, do they seem to know much about civil rights history.
For millennials, the police shootings hit hard, said Andra Gillespie, associate professor of political science at Emory University.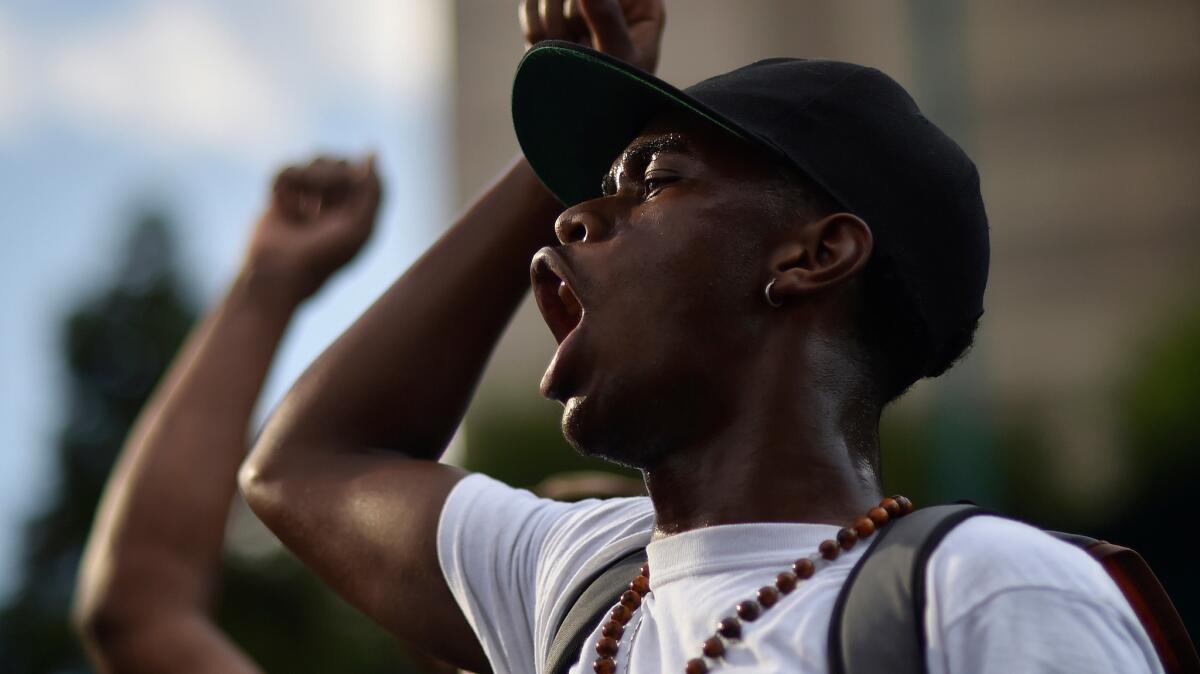 "A lot of those folks were tweens and teenagers when Barack Obama was elected president and everyone proclaimed a post-racial America. And now they're older and realizing that whole post-racial dream – that race doesn't matter – was not true. They're having their reckoning."
At times, there's a sense the old guard gave up the fight long ago, said Nekima Levy-Pounds, 40, president of the Minneapolis chapter of the National Assn. for the Advancement of Colored People and a past spokeswoman for Black Lives Matter.
"After King was assassinated in 1968, the baton was basically dropped on the street," she said. "For the younger generation, there's not much we can point to since King's assassination that's been accomplished, so those folks are not necessarily in a position to tell young activists what to do."
Some older civil rights groups such as the Southern Christian Leadership Conference, which came into existence in an era when black people were excluded from public office, have struggled to maintain relevance as a wave of African Americans became mayors, police chiefs, city council members, senators and congressmen. As movement leaders took on mainstream political positions, some activists say they became part of the establishment they once fought.
You can either be for civil rights and social justice, or be against it.
— Aurielle Marie
For younger protesters, the tactics and ideology of traditional groups fall short. Some are more influenced by the tenets of black pride popularized by Malcolm X and the more militant 1960s and '70s groups, such as the Black Panthers. Others draw on more modern ideas of social justice and identity politics, from "intersectionality" to "safe spaces."
Almost all see Black Lives Matter as correcting the blind spots of those who came before, providing an umbrella for all black people, including the most marginalized – women, the homeless, the LGBT community, sex workers, those with criminal records.
Yet division is not strictly along generational lines. During the recent volley of protests, some traditional civil rights groups, from the NAACP to Al Sharpton's National Action Network, have swiftly organized their own demonstrations and meetings and several older figureheads have been quick to defend younger protesters. After Young's admonishment, NAACP President Francys Johnson suggested that the veteran civil rights warrior should "go quickly and quietly into a well-deserved retirement."
Still, younger Atlanta activists feel a disconnect with the old champions of social justice.
After Michael Brown was fatally shot by a police officer in Ferguson, Mo., in 2014, student Aurielle Marie, 21, said she and fellow activists called all the civil rights groups they could think of, including the SCLC, the NAACP and the National Action Network.
"We called all the people who we were taught were the leaders," she said. "Why would we want to reinvent the wheel when people are alive who know how this goes? But we couldn't get meetings. Word came down to us that right now is not the right time. We needed to wait on the investigation."
And so they forged ahead on their own. The groups that coalesce around Black Lives Matter favor a looser structure, working on the principle that no one person or group of individuals should speak for all.
Organizers say their demands are not that complicated: "Stop killing black people," Williams said. "We're going to keep marching until you stop killing us."
Williams, who met with Atlanta's mayor and police chief recently during a sit-in outside the governor's mansion, declined to list protesters' demands, saying they were still working on goals before a formal meeting.
"It's, like, a very fluid thing," she said. "At the end of our day, at our core, we are a group of people who came together who were upset by things we saw. We don't want to sit here and tie it down... Why isn't it enough to just stand for black people?"
See the most-read stories this hour »
Marie, meanwhile, pushed back against the idea that the movement lacks clear goals, rattling off several demands protesters made to the police chief and mayor – including releasing the name of a local police officer involved in a fatal shooting of a black man and ending Operation Whiplash, an Atlanta police initiative that aims to combat gun violence by assigning more patrol officers in high-crime areas.
Ultimately, many of the young protesters have little patience for those who question or try to debate their tactics.
"You can either be for civil rights and social justice, or be against it," said Marie. "In the movement, we do not believe there's a fence."
Jarvie is a special correspondent
ALSO
Transcript: Obama's Democratic National Convention speech
Feds to require all-cash buyers of L.A. County luxury homes to disclose identities
Mysterious streak of light across night sky is re-entry of Chinese rocket, expert says
Sign up for Essential California for news, features and recommendations from the L.A. Times and beyond in your inbox six days a week.
You may occasionally receive promotional content from the Los Angeles Times.