Capitol Journal: Marijuana is legal in California. Now politicians and pot pushers need to help keep it out of kids' hands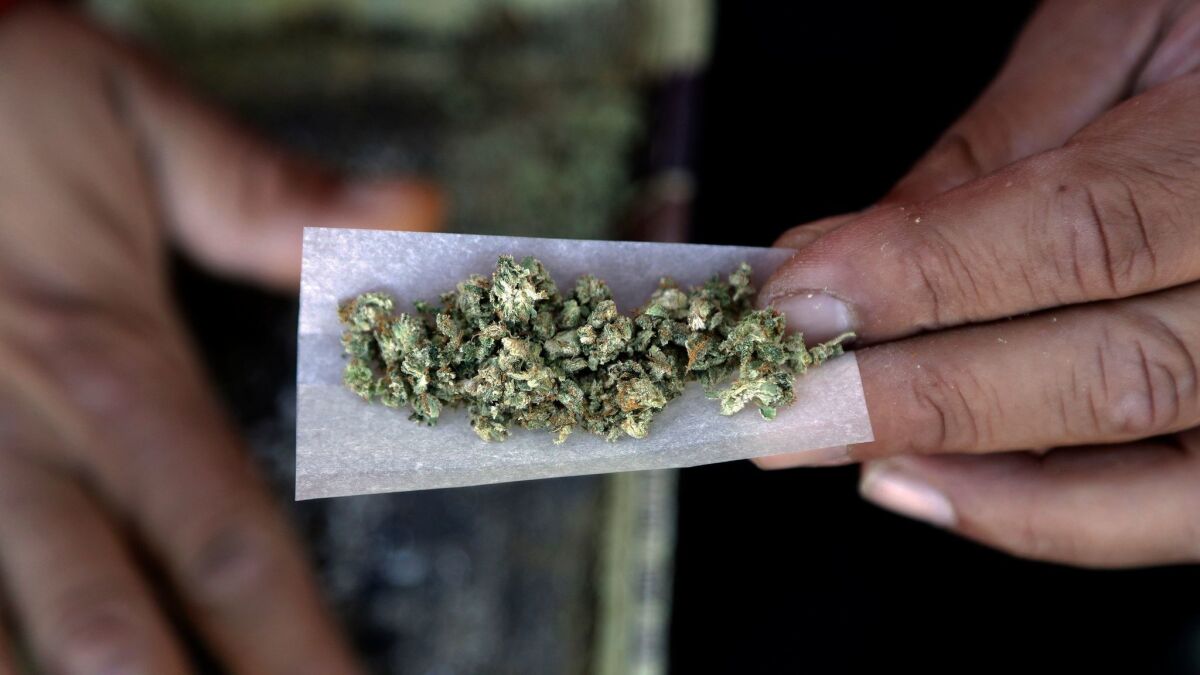 Reporting from In Sacramento —
Happy New Year and pass the pot. But now that weed is legal for adults in California, we need somehow to keep more teens from toking.
Regular use can stunt their mental growth.
There's plenty of research that shows youthful brain impairment caused by continual marijuana intake.
Proof of cannabis damage to brain cells can be found in social media comments by potheads whenever anyone raises a red flag about dope's dangers. "Reefer Madness rubbish" is a common retort, as if that constitutes a dissertation.
There is a new study out by some PhDs that points to less fear and more use of marijuana by teens in Washington state after the drug was legalized there for adults.
And "across the country, there has been a decreased perception of risk associated with marijuana among adolescents," says study leader Magdalena Cerda, an epidemiologist — an expert in the spread of disease — at the UC Davis Violence Prevention Research Program.
After all, adults keep legalizing marijuana in state after state. So what's good for the parents must be OK for the kids, right? No, but not everyone is getting the message.
Washington state legalized adult marijuana use in 2012. Cerda's researchers found that more Washington teens started getting stoned that year. They no longer believed the drug was dangerous.
Among eighth-graders, their "perception of harmfulness" dropped 14%. Among 10th-graders, it fell 16%. That's eye-opening when compared with kids in other states where marijuana has not been legalized. In those states, perceptions of harm dipped only 5% to 7%.
In Washington, weed use increased by 2% among eighth-graders and 4% among 10th-graders. But in non-legal states, it actually decreased by about 1%.
"Some adolescents who try marijuana will go on to chronic use with an accompanying range of adverse outcomes — from cognitive impairment to downward social mobility, financial, work-related and relationship difficulties," Cerda said in a UC Davis announcement of the study.
Columbia University's public health school participated in the research.
The researchers also looked at Colorado, which legalized adult use in 2012. They found no significant change there in teen perceptions or use. They theorize that's because Colorado — unlike Washington — already had been fairly pot-permissive and many teens there previously were weed-inclined.
Last winter, Cerda also led a study that found, in essence, that the more marijuana you use over the years, the more apt you are to be a loser.
"Our study found that regular cannabis users experienced downward social mobility and more financial problems … than those who did not" toke frequently, she told me last year.
"Regular long-term users," she continued, "also had more antisocial behavior at work, such as stealing money or lying to get a job, and experienced more relationship problems, such as intimate partner violence and controlling abuse."
She added: "There is a common perception that cannabis is safer than alcohol. But [the 2016] study shows that … cannabis is just as bad as alcohol. And in terms of financial problems, cannabis is worse."
There was one particularly alarming passage in that report:
"On average, persistent cannabis users from middle-class origins attained lower adult socioeconomic status than did their parents — even after we controlled for sex, ethnicity, family substance-dependence history, childhood self-control, childhood IQ."
Short version: Marijuana is potentially bad stuff, especially for adolescents.
"Kids who start using it earlier are more likely to become dependent on marijuana," Cerda told me after the release of the latest report on teenagers. "With long-term dependence, there are higher risks for mental health problems such as psychosis, depression and cognitive impairment earlier than what would be expected."
In other words, premature aging of the brain.
Yeah, I know: Reefer Madness.
So what could be done to convince teens they should pass up pot?
The UC Davis-Columbia University study recommended that government invest in major pot prevention programs for kids.
Fortunately Proposition 64, which legalized so-called recreational marijuana for 21-year-olds and was approved overwhelmingly by voters, sets aside at least $10 million annually for youth substance abuse programs. But that won't kick in until mid-2018, when the state finally licenses pot peddlers.
Meanwhile, Gov. Jerry Brown and the Legislature should dip into other funds and begin those education programs immediately.
Proposition 64 also banned marijuana billboard advertising on interstate freeways. Good idea. Now the Legislature should extend the ban to all state highways. Assemblyman Rob Bonta (D-Alameda) has introduced a bill to do that.
"You've got school buses filled with kids, carpools with kids, families driving," Bonta told me. "There's no conceptual difference between interstates and major state highways. Marijuana is not for kids. And it shouldn't be advertised for kids."
The ballot initiative made it an infraction — like a traffic ticket — to drive while puffing pot, same as for sipping a beer. A bill by state Sen. Jerry Hill (D-San Mateo) would allow a prosecutor to charge the dumb driver with a misdemeanor.
If a motorist is intoxicated, of course, he can be booked for drunken driving. But there's no way to tell yet whether a pothead is stoned. Proposition 64 provides $3 million to find a way, but it won't be available until mid-2018. Bonta's bill would grab the money from the state general fund and spend it now.
The biggest problem with legalizing marijuana remains: How do we keep it away from kids? The pot pushers — the politicians and marijuana marketers — now need to step up and help do it, as they promised.
Follow @LATimesSkelton on Twitter
ALSO
Pot ads along highways? Lawmakers wrangle over legalization's consequences
California scrambles to implement new recreational pot law
---
Life is stressful. Our weekly mental wellness newsletter can help.
You may occasionally receive promotional content from the Los Angeles Times.