Biden delivers first Oval Office speech, celebrates 'a crisis averted'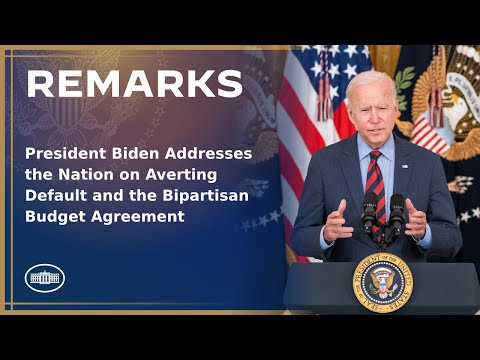 Public speech about the bipartisan budget agreement , which is a product of weeks-long negotiations between President Biden and House Speaker Kevin McCarthy.
WASHINGTON —
President Biden used the first Oval Office speech of his presidency to declare victory after a bipartisan deal to raise the debt ceiling passed both chambers of Congress, preventing a debt default and economic chaos.
In the 13-minute speech, the president praised Republican and Democratic negotiators and commended Speaker Kevin McCarthy (R-Bakersfield) for working with him on the deal, which the two men finalized just days before the Treasury was set to run out of money to pay the country's bills.
But even as he thanked his political opponents, Biden was quick to draw a contrast with them. He recalled Republicans' prior calls to cut Social Security and Medicare, and he slammed their proposed cuts to Medicaid, clean energy investments and Internal Revenue Service funding.
"Republicans may not like it," he said, "but I am going to make sure the wealthy pay their fair share. … I am going to be coming back, and with your help, I'm gonna win."
Friday's prime-time speech from behind the Resolute Desk represented a shift of sorts for Biden. Some Democrats had worried that the president had been too quiet during the weeks-long negotiations, allowing McCarthy to hog the media spotlight. The Oval Office address allowed him to speak directly to the American people not at a time of imminent crisis but to, as he told the country, "report on a crisis averted."
"No one got everything they wanted, but the American people got what they needed," Biden said. "We averted an economic crisis — an economic collapse."
A lot of people bet that the Republican from Bakersfield would be unable to keep his factionalized majority in line. He proved the doubters wrong. But the party remains deeply divided on an issue that once united it — the size of government.
Biden said he plans to sign the debt ceiling compromise into law on Saturday.
The legislation, which includes spending caps and some changes to energy permitting and social programs, passed both houses of Congress overwhelmingly.
Some progressive Democrats who voted against the deal cited concerns about what they characterized as debt ceiling "hostage taking," or about the deal easing energy permitting and making changes to social programs such as SNAP, also known as food stamps.
Members of the hard-right Freedom Caucus also opposed the bill, arguing that it did not go far enough in slashing government spending.
The president could use a win. His approval ratings have been mired in the low 40s, and fell as negotiations over the debt ceiling intensified and fear of a catastrophic default rose. He tripped and fell on stage after addressing graduates at the United States Air Force Academy on Thursday. A White House aide later tweeted to assure the public that the 80-year-old president was "fine."
Voters may not be paying close attention to the debt ceiling drama.
"Right now, people are probably moving on to planning summer vacations and being concerned about issues closer to home …," Rose Kapolczynski, a West Coast-based political consultant, told The Times. "The debt limit is very important for America and the economy. But it's pretty obscure."
But voters — especially the Democrats and independents that Biden needs in order to win reelection — do tend to tell pollsters that they want their leaders to compromise.
According to a February PBS NewsHour/NPR/Marist poll, 70% of Americans believe it is more important to compromise toward solutions than it is to stand on principle in the face of a gridlock. That figure was highest among Democrats and independents, who said they support compromise at rates of 83% and 69% respectively.
"Most voters want leaders from both parties to work together," Kapolczynski said. "They also want leaders to stand up for what they believe in. Sometimes those two things are in conflict. But in this case, Biden felt he got a deal that did both."
The president stressed that point Friday night, beginning and ending his speech with statements about unity and bipartisanship.
"I know bipartisanship is hard and unity is hard, but we can never stop trying," he said. "To join forces as Americans is to stop shouting, lower the temperature, and work together to pursue progress."
Biden's potential Republican competitors, however, have blasted the debt ceiling deal.
Former President Trump has said he would have allowed a default before conceding what Republicans did; Florida Gov. Ron DeSantis said the agreement would leave the country "careening toward bankruptcy." Former Vice President Mike Pence said the deal "uses Washington smoke and mirror games to make small reforms."
Presidents have historically used the Oval Office to deliver messages of immense importance during times of national crisis and tragedy.
President George W. Bush addressed the country from the office soon after the September 11 attacks. President George H.W. Bush famously used his first Oval Office speech to deliver a message about the dangers of drugs while holding a bag of what he described as crack cocaine. President Obama gave his first Oval Office address in June 2010 after a visit to the site of a massive oil spill in the Gulf of Mexico.
Before Biden's speech Friday, the last Oval Office address was on Jan. 13, 2021, when Trump condemned violence in the aftermath of the Jan. 6 attack on the U.S. Capitol and called for calm ahead of Biden's inauguration, an event he did not acknowledge or attend.
Get our Essential Politics newsletter
The latest news, analysis and insights from our politics team.
You may occasionally receive promotional content from the Los Angeles Times.