Another great effort by Bobby Miller but another series loss for Dodgers
Ahead of the biggest game yet of his burgeoning major league career, Bobby Miller was a picture of poise in the Dodgers' clubhouse on Sunday afternoon.
A few hours before taking the mound against the New York Yankees — on ESPN's "Sunday Night Baseball" and in front of a sold-out crowd of 52,000, no less — the right-handed rookie relaxed, seemingly unfazed by the high-pressure stage he was about to take.
He cracked jokes with the teammates in front of his stall. He marveled at videos of Aaron Judge crashing through the bullpen wall the night before. And as Dave Roberts passed through the locker room, he greeted the manager with a cool, confident grin.
"It's a pleasant surprise," Roberts said later when asked how Miller has carried himself so far as a big leaguer. "Sometimes when you get here, the focus heightens or narrows even more. And I think so far with Bobby, that's what we've seen."
Dodgers reliever Brusdar Graterol makes poor throw on a bunt in seventh inning that sets up the first run for the Yankees in New York's eventual 4-1 win.
Indeed, in his third career start Sunday night, Miller offered more of the scintillating same — even if the Dodgers couldn't capitalize upon it in a frustrating 4-1 loss at Chavez Ravine.
Miller tossed six shutout innings against the Yankees' high-powered offense (albeit, one playing without Judge because of foot soreness from his Saturday catch).
He rode a dominant combination of sinkers and sliders to seven strikeouts and 14 whiffs on 86 pitches.
And, despite the team's rubber-match defeat, he further hinted at breakout star status, becoming just the franchise's second pitcher since 1901 to begin his MLB career with three starts of at least five innings and no more than one run given up, according to MLB.com.
"It felt really good," said Miller, who noted he threw his slider, which was his best pitch Sunday, "harder" and "a little bit tighter" than he had in his previous two starts.
"I was kind of leaning toward that today," Miller said. "Didn't really need my other two [breaking] pitches."
Unlike the other Dodger to begin his career with such a stellar three-game introduction — veteran Japanese pitcher Kenta Maeda in 2016 — Miller was expected to look much more raw early on.
He only reached triple A at the end of last season, then missed the first month of this campaign because of shoulder troubles during spring training.
To this point, though, he has passed each of his initial MLB tests with flying colors.
"I feel like I've been ready," Miller said, despite his eight career triple-A starts. "But executing all my pitches, staying composed out there is going to show them I'm ready."
Roberts concurred.
"Man, he's really impressed," the manager said. "I can't say enough about what Bobby's done for us."
Unfortunately for the Dodgers (35-25), there was plenty more for Roberts to address postgame, after the team dropped its third series out of five, and 10th contest of its last 18, in a game decided after Miller exited in the sixth.
Knowing he had his top three relievers fresh — Brusdar Graterol, Evan Phillips and Caleb Ferguson had all yet to pitch in the series — Roberts put his trust in his bullpen down the stretch.
Michael Grove pitched well overall in the Dodgers' 6-3 loss to the New York Yankees. Meanwhile, Julio Urías logged a bullpen session before the game.
However, the Yankees (36-25) instead tagged each of them with runs.
Graterol was punished for an overzealous throwing error in the seventh, setting up the game's first score with an ill-advised, off-balanced toss after fielding a one-out bunt.
Phillips faltered for just the second time in 18 appearances, giving up a walk, double and RBI grounder in the top of the eighth that negated J.D. Martinez's score-tying solo home run — the Dodgers' lone offense against Yankees starter Domingo Germán — a half-inning earlier.
Ferguson yielded the knockout blow in the top of the ninth, throwing a fastball down the middle that Anthony Volpe launched for a gut-punch two-run homer.
And in between all that, there were other small mistakes that doomed the Dodgers, such as Miguel Vargas being caught stealing in the fifth; Will Smith getting picked off in the ninth; and Chris Taylor striking out with the potential go-ahead runners on base in the seventh, taking three called strikes after being left in the game to face Yankees closer Clay Holmes in a right-on-right matchup.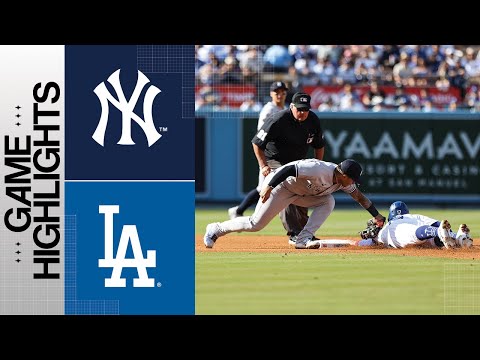 "Today wasn't a good game for us," Roberts said. "There's a lot of things we did as far as giving up outs on the bases, giving away a couple bases on the defensive side."
Miller's performance, though, offered at least one silver lining, highlighting the ever-promising potential in his future with yet another dazzling start.
"This is the most adrenaline he's probably ever felt, the biggest game for him [of his career]," Roberts said. "And he just handled it so well."
DeLuca called up
Dodgers prospect and Agoura High product Jonny DeLuca was called up to replace outfielder Trayce Thompson, who Roberts said will be sidelined at least a month with a left strained oblique.
DeLuca, 24, is a former 25th round draft pick who had impressed at the double and triple-A levels this season after being protected from the Rule 5 Draft over the offseason.

Get our Dodgers Dugout newsletter for insights, news and much more.
You may occasionally receive promotional content from the Los Angeles Times.