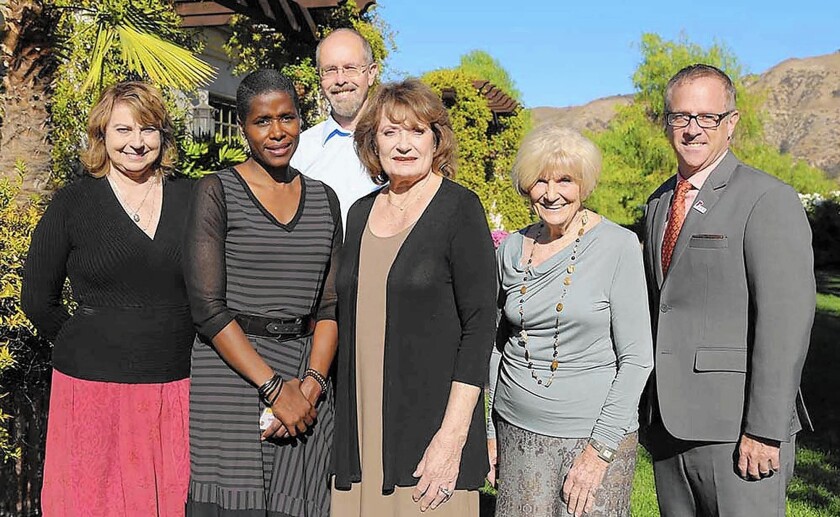 I loved the rain we had overnight Oct. 31 to Nov. 1. It was wonderful in every way. I didn't even mind the water running over my shoes in the rain gutter. I was doing my own kind of silly rain dance — thinking of Gene Kelly and his iconic dance in the film, "Singing in the Rain." Alas, it might be a very long time before we see rain again because we have been percolating in summer temps that are expected to last far too long.
* * *
The Flintridge Guild of Orthopaedic Hospital recently held its popular Book and Author Luncheon at Angeles National Golf Club.
More than 200 people gathered in the club's main dining room to hear three authors talk about their newly penned books — all to raise funds for a new Orthopaedic Ambulatory Surgery Center at the Downtown Los Angeles Orthopaedic Institute for Children campus.
Addressing the crowd was Michael Sullivan, chief philanthropy officer for the hospital. He said that this new center would bring aid to children in need even when there are financial constraints. Sullivan said they will never turn a child away.
Author Cherie Twohy, who teaches cooking classes in her La Cañada-based shop, was first up as she told about her third book that she has written that features how to incorporate Trader Joe's grocery items into unique recipes.
This is a return for Twohy, who spoke a couple of years ago at the same event. She also mentioned that as a child she was a patient at Orthopaedic Hospital for treatment, which makes especially glad to be a part of this fundraising effort.
The next author to speak was Natalie Bazille, who worked on her novel for 11 years. This writing journey took her to many places and led her to creating many characters. She took inspiration from her father's childhood experiences in the sugar cane in southern Louisiana, which became the setting for her first book, "Queen Sugar." Her family has also had connections to Orthopaedic Hospital — her father was a member of its board of directors.
The luncheon was an encore performance for author and illustrator Frans Vischer, who has written a new book in his series about his family's beloved cat, Fuddles. This new book, "A Very Fuddles Christmas" is a delightful romp for children and adults as well.
Vischer began his illustration career working with Disney studios. Fuddles has been an endless source of creation in words and pictures for Vischer. He now has another book in progress where Fuddles meets the family's new puppy — I'm sure it will be as cute as his other books.
Arlene Massimino chaired the well-attended luncheon. Marie Barker, president of the Guild, welcomed all the guests and encouraged them to bid on the many silent auction items.
Manning the cashiers' tables were the several spouses of guild members. The men helping out were Curtis Cleven, Don Hingst, Gary Massimino, Ron Ploszaj and Al Silliman.
Guild members working to make this a successful event were Elinor Bunn, Marilyn Cable, Marilyn Center, Margaret Dickson, Danette Erickson, Carolyn Geer, Marianne Jennings, Jeanne Long, Mary Lou Morrison, Wendy Nicoll, Caryl Petit, Joanne Ploszaj, Ginny Pruitt, Patty Rademacher, Margot Siess, Lisa Komblith, Joan Cleven, Louise Delaney and Marie Gilhooly.
--
JANE NAPIER NEELY covers the La Cañada social scene. Email her at jnvalleysun@yahoo.com with news of your special event.
---