The Scorpion submarine, which became a Long Beach tourist attraction, had deteriorated so much that it was closed in 2015. Plans are to remove the sub by mid May.

Kevin Mayer, the Disney executive in charge of Disney+, blamed streaming service glitches on heavy demand and a computer coding problem.
Women and people of color directed a greater proportion of TV shows in the last season, but Hollywood is still giving a majority of first-time jobs to a less diverse pool of insiders.
The nominees for the 62nd Grammy Awards will be announced live Wednesday morning.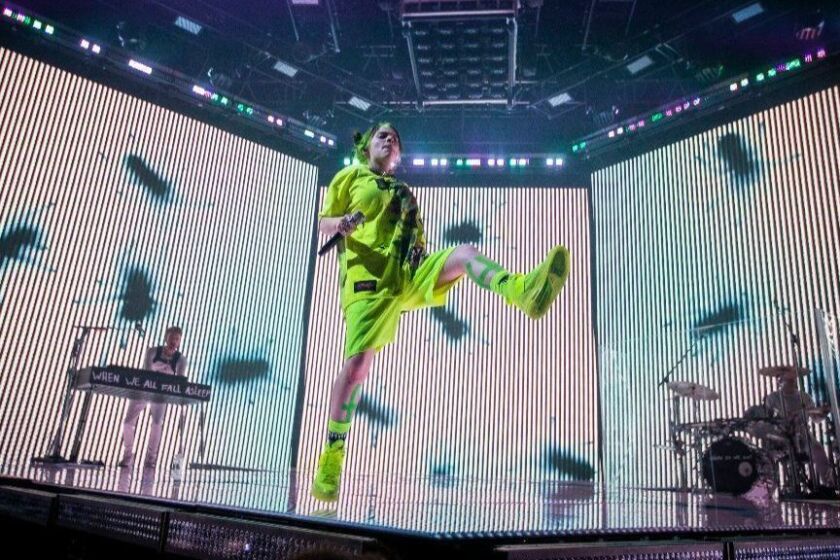 A new, diverse crop of female artists led by Billie Eilish and Lizzo is expected to battle established superstars Taylor Swift and Ariana Grande for top honors.
Chargers coach Anthony Lynn says he's "evaluating everything" amid the team's 4-7 season, but stresses that Philip Rivers remains the starting quarterback.

American football won't overtake soccer as Mexico's most popular pastime, but it's a part of the culture. And people here wear Chargers jerseys.
Closing the San Onofre nuclear plant didn't end its threat since nuclear waste is stored at the facility, which sits on an erosion-prone bluff.
Welcome to the Los Angeles Times' 2019 holiday gift guide, where our editors and writers are sharing their favorite gifts to give — and receive!
Lucas visits the Martirosyan family and their restaurant, Mini Kabob, a three-table grilled meat specialty place in Glendale, home of much of L.A.'s Armenian community.
Hung Huynh hits West Hollywood Warrior will open Nov. 22 on the Sunset Strip.
Nashville hot chicken meets classic pumpkin pie for the perfect Thanksgiving dessert that's spicy in all the right ways thanks to cayenne, chicken fat and a touch of honey.
La vigilancia del reconocimiento facial, impulsada por la inteligencia artificial, está siendo utilizada -o mal empleada- en muchas ciudades de todo el mundo.

"Toda esa arrogancia que ustedes me han visto usar antes, Dios la está usando ahora para él", dijo Kanye West el domingo en la mega-iglesia de Joel Osteen.
Former California Gov. Pete Wilson is the face of Proposition 187, making him public enemy No. 1 for Latinos who suffered the consequences.

My job is to write about the wonders and challenges of our coast and oceans, but I'll admit: Before this story, I had no idea what an abalone looked like.
Documents reviewed by The Times reveal that the chemical formula that makes Juul so palatable and addictive dates back more than four decades — to Reynolds' tobacco laboratories.

The studio T-Series has overcome powerful rivals, legal challenges, gangsters and tragedy on its way to dominating the world's biggest video-sharing site.