Los Angeles County was, yet again, under a sweeping overnight curfew, and the nation was on edge after seven nights of chaotic protests.
Some public health experts are bracing for a spike in COVID-19 cases in the wake of protests against police brutality.

Facebook, Google and Amazon have all called for racial justice, but their records in some cases tell a different story.
During a marathon police commission meeting Tuesday, scores of residents directed anger and concern at LAPD Chief Michel Moore.
A national conversation about racial injustice
That these violent uprisings and peaceful protests are happening all over California speaks to something black people know well and others ignore.
Coronavirus
An oral history of the coronavirus pandemic, as told by the staffs of four iconic L.A. nightclubs: the Troubadour, McCabe's Guitar Shop, Sound and the Satellite.
USC will bring students back to campus this fall, with online and in-person classes and more spacing in dorms as safety measures amid the coronavirus crisis, President Carol L. Folt announced Tuesday.

Ongoing protests over the death of George Floyd have momentarily halted progress in the fight against the coronavirus in Los Angeles County, as officials reported an additional 60 deaths and 1,202 new cases.

Governors of Colorado, Arkansas and Michigan tell Congress that the coronavirus has caused severe problems for state budgets.

Operation Warp Speed aims to produce 300 million doses of a COVID-19 vaccine by the end of the year. If scientists succeed, it would be a first.

The College Board scrambles to find testing sites and puts its efforts to develop an at-home exam on hold.
More News
He was known for making incendiary comments about immigrants and white supremacy throughout his nearly two decades in Congress.
Must Reads
How the owner of Sunnin in Santa Monica faced the aftermath of vandalism.
A black-owned Oklahoma newspaper would not let the state forget the day white mobs murdered hundreds of African Americans in Tulsa.
Smithfield, one of the nation's largest pork plants in Sioux Falls, S.D., shut down after nearly a quarter of its workers contracted the coronavirus. As it reopens, refugees who work the factory floor and hog farmers wonder if the risks are worth it.

From the first deaths in February, the U.S. has lost more than 100,000 lives in the COVID-19 pandemic.
Digital-art memorials to George Floyd, Breonna Taylor, Ahmaud Arbery and other black victims of white violence are rallying cries for social justice.
"Black-ish" creator Kenya Barris announced that two powerful episodes of the show will air as reruns tonight on ABC in observance of Blackout Tuesday.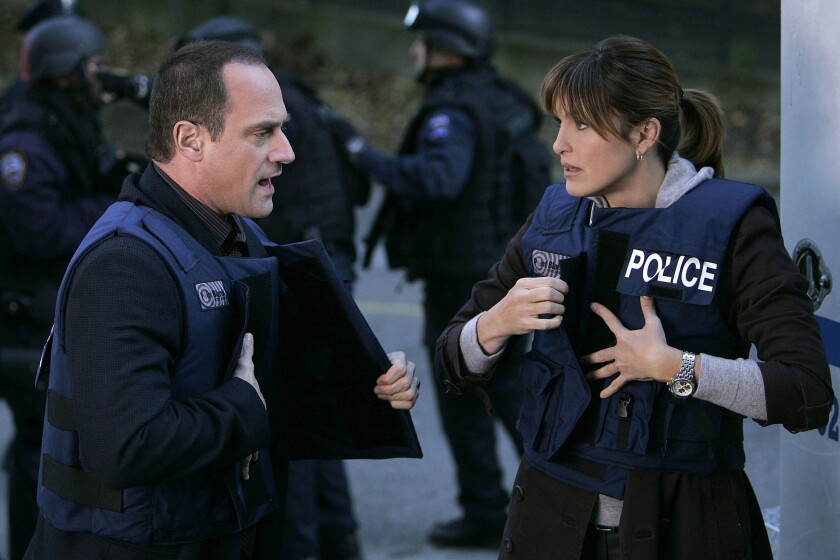 Craig Gore has been fired from Dick Wolf's "Law & Order: SVU" spinoff for threatening to shoot looters in comments on a Facebook photo.
Series creators, including Chuck Lorre and Dan Levy, exchange ideas on what new TV productions might look like. Think cellophane for starters.
'It Was Simple: The Betty Broderick Murders' is a podcast hosted by columnist and reporter Patt Morrison.
La orden ejecutiva de Trump dirigida a Twitter se basa en una ley llamada Sección 230 - que puede ser la ley más importante para el discurso en Internet
Doc Rivers encapsulates plight of black athletes: 'When they're wearing the uniform, they're seen as an athlete. When they take it off, it's a problem.'
In wake of George Floyd's death, Dodgers manager Dave Roberts blamed U.S. leaders for not doing enough when it comes to stopping racism.
USC announced Tuesday that it will offer on-campus classes in the the fall, a move that might boost the chances that the Trojans' football team plays this season.
About 125 players, coaches and staff of the Rams participated in a videoconference to discuss the death of George Floyd.
Figures across the political spectrum have been quick to defend their own citizens as peaceful protesters while accusing outsiders of fomenting the unrest.
Canadian Prime Minister Justin Trudeau's long silence came when a reporter asked him to comment on Trump's threat to use the armed forces to quell violence.
Officer Derek Chauvin was disciplined for pulling a woman from her car and frisking her during stop for speeding, one of 17 times he's been investigated.
Quarantine baking means lots of banana bread. This whole-wheat banana muffin recipe with buttered pecans on top is another way to use overripe bananas.
Toward a more sustainable California
Get Boiling Point, our new newsletter exploring climate change, energy and the environment, and become part of the conversation — and the solution.
You may occasionally receive promotional content from the Los Angeles Times.
The LAPD has been collecting evidence throughout the protests, mostly in the form of video, that could be used to identify people and bring charges.

Operation Warp Speed aims to produce 300 million doses of a COVID-19 vaccine by the end of the year. If scientists succeed, it would be a first.