Penzeys Spices' outspoken anti-Trump owner and ads bring delight and shopping orders from liberals, and ire and boycotts from conservatives.

Throughout Mexico legions of fans remain devoted to the Volkswagen Beetle, or as it's known, the "vocho."
Actress Rachel Brosnahan, creator Amy Sherman-Palladino and other key creatives break down the series' dazzling stand-up act.
Of all the show tunes in the history of musical theater, Adam Driver sings "Being Alive" from "Company" — a choice that makes the Netflix movie even more layered, profound and heartbreaking.
Two clever and wickedly funny looks at class warfare lead a standout year for deeply personal movies.
The year's best movies are led by the hit true story that proved audiences will still support adult dramas.
The measles outbreak in Samoa is a stark and sad illustration of what can happen when the agents of fear and misinformation persuade parents to shun childhood vaccinations.
A look at California stories from the last week, including the departure of Kamala Harris from the 2020 presidential race.

TEHRAN, Iran (AP) — Iran's foreign minister says a detained Princeton graduate student will be exchanged for an Iranian scientist held by the U.S.

Chayden Peery completed 16 of 18 passes as Sierra Canyon beat La Mesa Helix 38-20 and advanced to the state championship final against Fresno Central.

The UCLA women's soccer team scored the first goal but was outplayed the rest of the way in a 4-1 loss to Stanford in an NCAA soccer semifinal.
Ruiz weighed in at a whopping 283.7 pounds, more than 15 pounds heavier than for previous bout.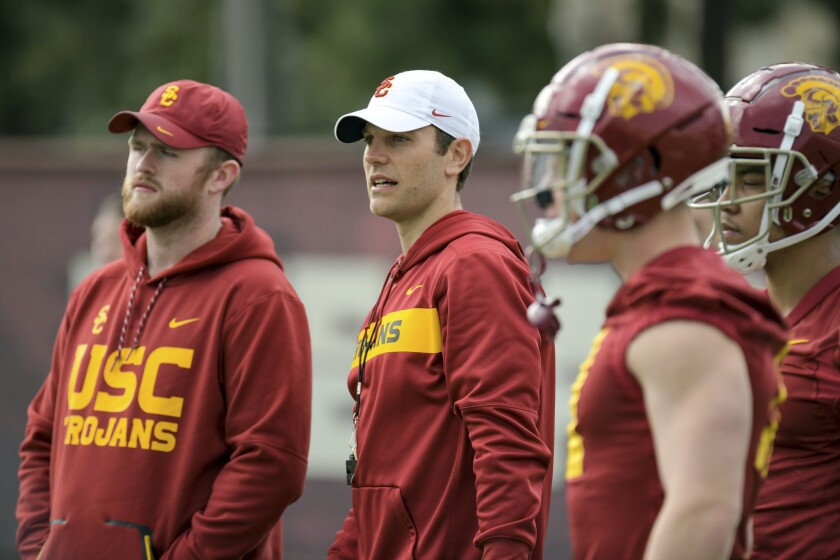 USC makes a move to retain offensive coordinator Graham Harrell, offering him a new contract two days after it announced the decision to keep head coach Clay Helton.
Giannis Antetokounmpo had a nice 25th birthday as the Bucks won their 14th straight with a 119-91 rout of the Clippers, who pulled their starters early.
CJ Verdell ran for 208 yards and and No. 13 Oregon spoiled No. 5 Utah's playoff hopes with a 37-15 victory in the Pac-12 championship game Friday night.
Tom Kiefer, who photographed items confiscated at the Mexico border, has his project "El Sueño Americano" on view at the Skirball Cultural Center.

Kevin Ellison was known for hard hits while playing for USC and the Chargers. Did that lead to increasingly bizarre behavior before his death?
Welcome to the Los Angeles Times' 2019 holiday gift guide, where our editors and writers are sharing their favorite gifts to give — and receive!