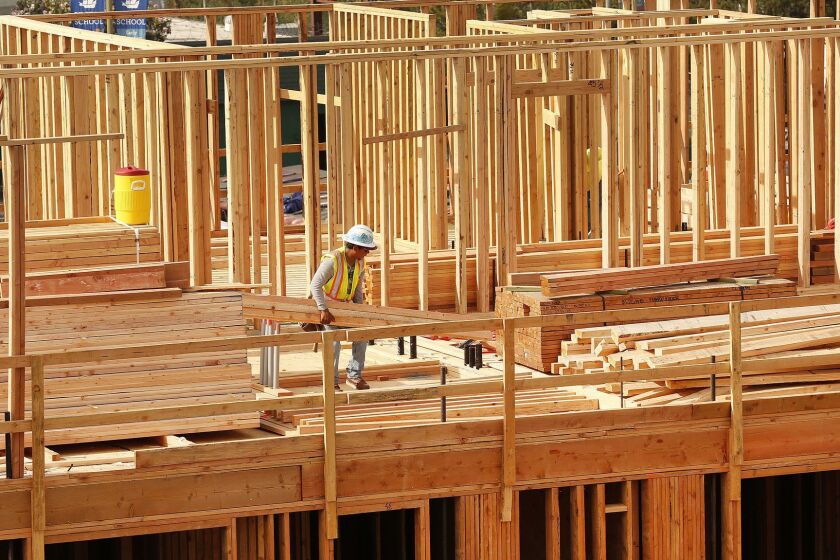 Building housing for homeless people is getting slower and costlier every year. But six developers who answered a challenge from L.A. Mayor Eric Garcetti may get to show they can do better, using a $120-million grant from the city.
Most of LACMA's permanent collection is gone but the entrance price and parking still cost the same, a sad situation for museum-goers and tourists.
Weedmaps has been criticized for years for helping unlicensed dispensaries flourish as California struggled to permit businesses and regulate the industry. The app will no longer list unlicensed operators.
After mass killings in Gilroy and Las Vegas, more than two dozen California legislators have asked their Nevada counterparts to meet this fall to discuss legislative steps Nevada might take to reduce the dangers from firearms in both states.

The proposal could have far-reaching effects across the housing industry, which is fraught with a long history of segregation and discrimination that continues to this day, often in insidious ways.
The last Sunday of each month, the community turns out to celebrate black music, art, community and food at the Leimert Park Art Walk.
What's happening on So Cal's gardening scene? A big begonia show, a succulents symposium and lessons about invasive plants, mini roses and exotic cacti
Pasadena Pops salutes Elton John, Heidi Duckler Dance presents new work, Dream Orchestra tackles Verdi's Requiem and other shows to catch this weekend.
Looking to level up your fitness? Go inside a few of the newest wellness hot spots in and around Los Angeles.
Hong Kong has long shunned ethnic minorities, but some residents, especially the young, are embracing minorities and refugees as part of the enclave's non-Chinese identity.
Delicious bites, drinks, chef demos, music and more are in store at this weekend-long food festival.

See, hear and interact with world-class authors, celebrities, chefs and newsmakers as they discuss their books and tell their stories.
For 'American Ninja Warriors,' the course is a common enemy, drawing them together and compelling them to train year round.

In a small town, it can be hard to be any kind of different. But sometimes a person can be so much a part of the fabric of life that he sets his own rules.
Los Angeles scooter riders received 643 tickets from the LAPD in the first seven months of 2019, mostly for riding on the sidewalk and for riding without a helmet, city data shows.

Can the Dodgers continue their winning ways without utilizing closer Kenley Jansen and his recent struggles?