Major beauty company Coty Inc. is set to acquire a majority stake in trendy brand Kylie Cosmetics, which is valued at about $1.2 billion.
Welcome to the Los Angeles Times' 2019 holiday gift guide, where our editors and writers are sharing their favorite gifts to give — and receive!
There's more than meets the eye to Ian McKellen and Helen Mirren's roles in the thriller "The Good Liar."

After keeping a low profile for more than a decade, the comedian is back in the spotlight with Oscar buzz, a return to stand-up, movie sequels and more
The parents of today's 'Dreamers' wanted a better life for their children, just like my grandpa when he left Mexico for Texas in 1945.

Facial recognition surveillance, powered by artificial intelligence, is being used — or misused — in cities worldwide.
At a serial killer's trial, a Times reporter met the homicide detective at the center of the case — and found a story of tenacious policework and obsession.
Anthony Davis' scoring output Sunday was stifled by the double-teaming Atlanta Hawks, but it didn't stop the Lakers from extending their winning streak.
Breaking down how the Los Angeles Chargers and Kansas City Chiefs match up heading into their AFC West showdown in Mexico City on Monday.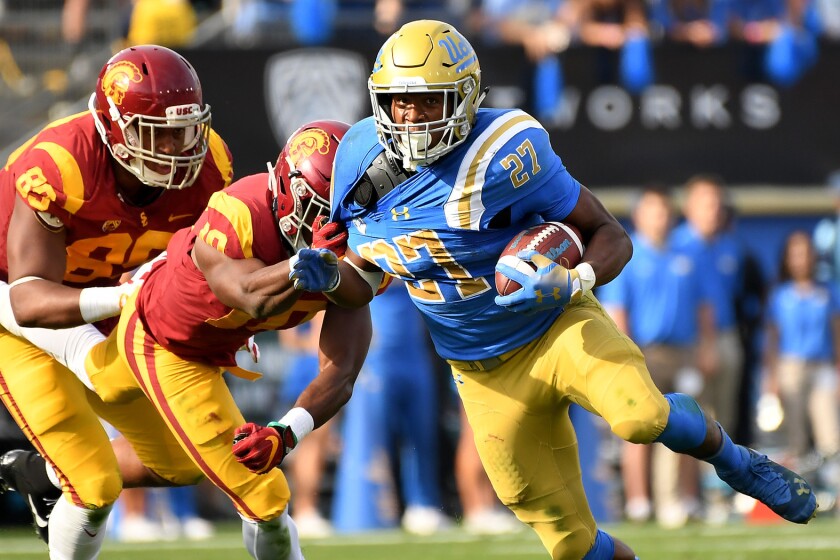 UCLA understands a lot went wrong in the Bruins' blowout loss to Utah, but their next game against USC would help them sustain their bowl game hopes.
In tweets, President Trump says he will "strongly consider" an offer by House Speaker Nancy Pelosi to testify before the House impeachment panel.
President Trump has made winning the freedom of Americans detained abroad a top priority. But there's one country where he's struggled to secure their release: Iran
Trump backs off vaping crackdown after an industry lobbying push
Trump backs off vaping crackdown after an industry lobbying push
President Trump, under pressure from the industry and conservative activists, has reconsidered his Health secretary's proposed ban on nearly all flavored vaping products.
China's foreign ministry lashed out at The New York Times on Monday over its release of leaked documents portraying the inner workings of Beijing's campaign to detain more than a million Muslims in reeducation camps.
All eyes are now on U.S. District Judge Nathaniel M. Gorton, who is overseeing the cases of 15 parents who have so far maintained their innocence in the college admissions scandal. That includes the actress Lori Loughlin.

L.A. residents are not satisfied with the results of the millions of tax dollars spent on homelessness and think it's time to break with longstanding practices. But even with those reservations, they would be willing to continue or expand funding, a Times poll found.
Former California Gov. Pete Wilson is the face of Proposition 187, making him public enemy No. 1 for Latinos who suffered the consequences.

My job is to write about the wonders and challenges of our coast and oceans, but I'll admit: Before this story, I had no idea what an abalone looked like.