The president called protests "acts of domestic terror," and said he was dispatching "thousands and thousands of heavily armed soldiers, military personnel and law enforcement officers" to end civil unrest.
Coronavirus
Political protests of up to 100 people are allowed under the state's updated shelter-in-place order and are also permitted under L.A. County's latest guidance. But it's still unclear how such gatherings could affect the transmission rate of COVID-19.

What to try in the kitchen this week
A series of simple tutorials for making some basic recipes at home.
More News
Biden takes an opportunity to portray himself as a leader, stepping up events as protests nationwide appear to leave President Trump paralyzed.
Must Reads
The plan started simply enough. As the pandemic forced schools to shutter in March, three families in Riverside banded together to make sure all their children kept learning.
For black voters who lived through segregation, this election is the new front line for fairness
Smithfield, one of the nation's largest pork plants in Sioux Falls, S.D., shut down after nearly a quarter of its workers contracted the coronavirus. As it reopens, refugees who work the factory floor and hog farmers wonder if the risks are worth it.

From the first deaths in February, the U.S. has lost more than 100,000 lives in the COVID-19 pandemic.
A new short film from director Spike Lee edits together footage of the police killings of George Floyd and Eric Garner with a scene from "Do the Right Thing."
Sarah Cooper has become one of the social media sensations of the coronavirus era thanks to her lampooning of President Donald Trump.
As protests over the death of George Floyd continue, a documentary about the 1992 L.A. riots leads this week's Times TV picks.
HBO Max launched with all but one Studio Ghibli movie in its library. This is the best order to watch them.
A special Friday newsletter edition to equip you for the weekend and get you up to date on what's happening, from L.A. County's progress toward reopening restaurants to how a would-be deal with the state exposed the Wild West of the mask trade.
La principal preocupación de los negros en este momento no es si están a tres o seis pies de distancia, sino si sus hijos, maridos, hermanos y padres serán asesinados por la policía.
Kelly's message on the recent protests on the death of George Floyd and the riots have been criticized by former players on social media.
MLB paychecks are so big that agents and teams seek creative ways to reach agreements without simply adding zeroes to an already staggering number.
A counter-proposal submitted Sunday by the MLBPA calls for a 114-game season that would start June 30 and end Oct. 31, followed by a 14-team postseason.
With the NBA deciding later this week on the format for its return to play, here's a look at what might happen based on different options for the playoffs.
Mexico President Andrés Manuel López Obrador is kicking off Mexico's return to a "new normal" with his first road trip in two months
George Floyd's younger brother, Terrence Floyd, traveled from New York City to Minneapolis to visit a memorial at the site where Floyd was fatally restrained by police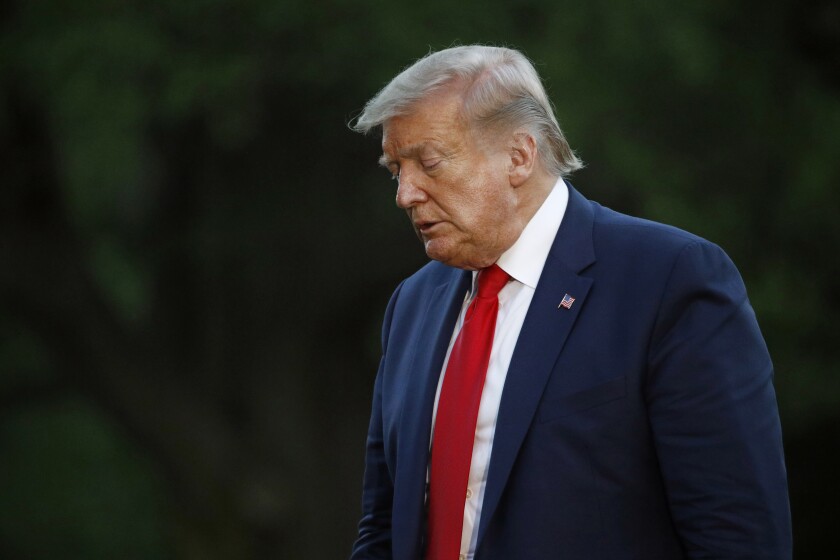 President Trump spent time in a White House bunker during Friday's protests outside the executive mansion over George Floyd's death in police custody.
Quarantine baking means lots of banana bread. This whole-wheat banana muffin recipe with buttered pecans on top is another way to use overripe bananas.
Toward a more sustainable California
Get Boiling Point, our new newsletter exploring climate change, energy and the environment, and become part of the conversation — and the solution.
You may occasionally receive promotional content from the Los Angeles Times.
L.A.'s transit system was shut down as protests raged Saturday night over concerns over employees' safety. One L.A. councilman called it "unconscionable."

The National Guard was deployed in L.A. during periods of unrest in 1965 and 1992, and after the Northridge earthquake in 1994. On Sunday, Humvees rolled through downtown after Mayor Eric Garcetti requested 1,000 troops.