Large demonstrations across Southern California over the death of George Floyd and local police violence passed mostly without incident Wednesday, raising pressure on officials to end nightly curfews.
UCLA Chancellor Gene Block says it was a 'mistake' to allow LAPD to use the stadium parking lot as a staging area during George Floyd protests.

With the death of George Floyd, Stevante Clark's brother is showing young people in Sacramento how to turn anger into action
Meditating on racism and how we go forward
With the world in turmoil as it faces two crises, a pandemic and racial injustice, we pause on what travel means for us and what should it mean in the future. While Las Vegas readies for a return, recent violence in the city has put a damper on reopening, but its effects on the return of guests remain unclear. We also look at how fashion needs to embrace black talent.
Memoirs by Kiese Laymon and John Edgar Wideman; essays by Darryl Pinckney and Mikki Kendall; masterpieces from Michelle Alexander and Claudia Rankine.
Coronavirus
Half of the approximately 40 government-run testing sites throughout the county have been shut down at some point since Saturday. Experts say any reduction will hurt the region's response to the virus.
Our special-edition newsletter breaks down the latest coronavirus news, including concerns that people of color could bear the brunt of a second wave of infections and a major new study that finds hydroxychloroquine worthless in preventing COVID-19.
More News
Immigration and Customs Enforcement officials plan to deport a 48-year-old mother of four who is an essential worker during the coronavirus pandemic.
Must Reads
Atwater in California's Central Valley has declared itself a 'sanctuary city' amid coronavirus stay-at-home orders.
At odds with the military, snubbed by foreign leaders and trailing in polls, President Trump faces several crises worsened by his own miscalculations.
Police officers on the Navajo Nation are fearing for their lives during COVID-19 pandemic. Here's one officer's story.

The plan started simply enough. As the pandemic forced schools to shutter in March, three families in Riverside banded together to make sure all their children kept learning.
Compared to the awful power of the video of George Floyd's death, or even the intimate address of Trevor Noah, CNN, MSNBC and Fox News are utterly ineffectual, critic Robert Lloyd writes.
After Lea Michele apologized for her on-set behavior, her former "Glee" costars aren't letting it slide. Even a producer for the TV show has chimed in.
Former actress Meghan Markle, the Duchess of Sussex, speaks about George Floyd's death in a virtual address to Immaculate Heart High School graduates.
Ramy Youssef and Mahershala Ali discuss Season 2 of Hulu series "Ramy" and Hollywood's long neglect of Muslim stories and characters.
'It Was Simple: The Betty Broderick Murders' is a podcast hosted by columnist and reporter Patt Morrison.
Facebook, Google y Amazon han pedido justicia racial, pero sus registros en algunos casos cuentan una historia diferente.
A closer look at the moving parts in the NBA's plan to resume its season.
It's been 10 years since the death of UCLA basketball coach John Wooden and we still miss his simplicity and grace, writes columnist Bill Plaschke.
Instagram posts made by Galaxy midfielder Aleksandar Katai's wife, Tea, resurfaced on social media making light of the Black Lives Matter protests.
Kareem Abdul-Jabbar was the guest speak during a conference call with Lakers players, coaches and staff regarding George Floyd's death and ensuring civil unrest.
What will L.A. museum reopenings look like? The Guggenheim Bilbao may have answers.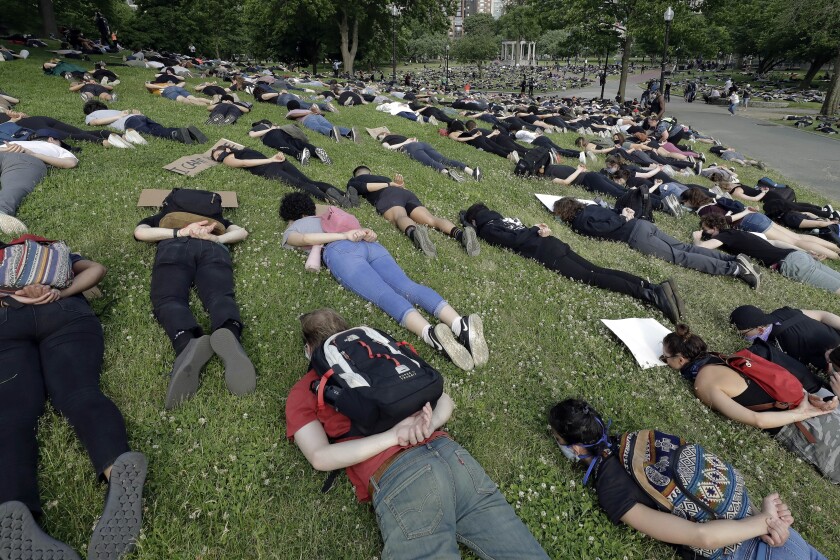 In the protest movement surrounding George Floyd's death, a span of time has turned into an important symbol: 8 minutes, 46 seconds.
Portland is known for its sometimes chaotic protests, but the liberal Oregon city is reeling from nightly unrest over George Floyd's death.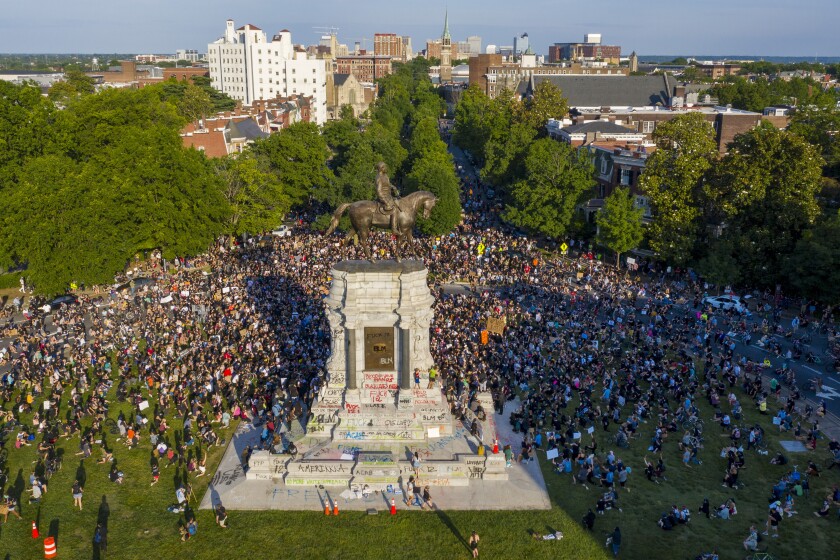 Virginia Gov. Ralph Northam is expected to announce plans Thursday for the removal of an iconic statue of Confederate Gen. Robert E. Lee.
These black-owned food companies sell desserts, coffees, teas, spices, ingredients and kitchenware that can be delivered or shipped.

This simple energy bar recipe combines nourishing nuts, oats and dried fruit with chocolate and peanut butter. They pack and keep well to help sustain protesters.
Toward a more sustainable California
Get Boiling Point, our newsletter exploring climate change, energy and the environment, and become part of the conversation — and the solution.
You may occasionally receive promotional content from the Los Angeles Times.
Fear of COVID-19 remains paramount to Californians, with a plurality of poll respondents saying it is the most important issue facing California today.

L.A. County closed several testing sites or limited their hours amid protests, prompting concern that the move could could abet a second wave of coronavirus cases. Garcetti says all sites in the city will reopen Friday.