The third and final day of the prosecution arguments saw fervent appeals to patriotism, dire warnings about national security and grudging praise from even some conservatives.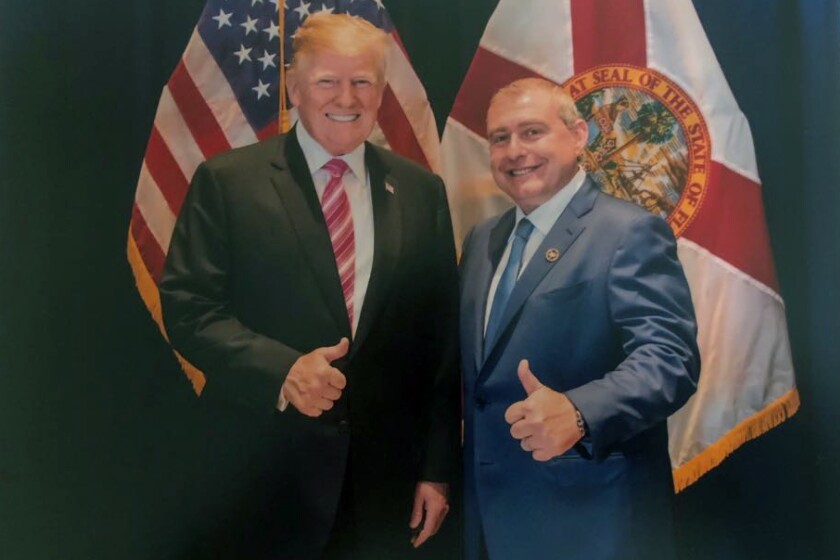 President Trump can be heard in a 2018 recorded conversation saying he wants to get rid of the U.S. ambassador to Ukraine, whose removal a year later emerged as an issue in Trump's impeachment.
President Trump's impeachment lawyers appear ready to deliver a public tarring of former 2020 presidential candidate Joe Biden and his son Hunter.
House Democrats are about to begin formally presenting their case in the Senate impeachment trial of President Trump after a grueling 12-hour partisan fight over the rules. Led by Rep. Adam B. Schiff, the Democratic managers now have three days to present the House's arguments for impeachment. Watch the trial live and follow our coverage.Watch live>>
A rare, insider look at the highly secretive game industry from the Game Developers Conference. Developers share thoughts on working conditions, the need for unionization, attempts to diversify and more.
It's funny how off first impressions can be.

Stars Stanley Tucci, Amy Ryan, Laura Benanti and Tate Donovon join director Sara Colangelo and the real-life inspirations for the film to talk about the story behind "Worth."
At the mercy of Mother Nature, Mt. Waterman has reopened. Snow is good at the landmark resort in the Angeles National Forest. It will be running on Saturdays and Sundays.

Ski snobs sneer at Mt. Baldy, dinging it for its ma-and-pa amenities and modest number of runs, treating its easy access and affordability as some sort of character flaws. Shame on the snobs. Because this year in particular, Baldy is the best ski deal in California.
James passed Jordan last season in a home game, where his feat was barely acknowledged amid a spiraling season. This season, things are different for James.
Kawhi Leonard finished with 33 points, 10 assists and 10 rebounds in nearly 39 minutes to lead the way in the Clippers' 122-117 win over the Heat.
Dallas Keuchel, a pitcher for the champion Houston Astros in 2017, became the first player from that team to offer a public apology for sign stealing.
Michaela Onyenwere, returning from a sprained ankle, had a career-high 31 points in the Bruins' 85-80 defeat of the Huskies.
Scroll through to see moments from the Los Angeles Times Photo Studio at the Sundance Film Festival
At Revolution Dance in Montrose, 'Ocean Eyes' launched Billie Eilish and 'Once Upon a Time ... in Hollywood' breakout Julia Butters learned to love the stage.
With Season 2 of "Shrill" on Hulu, "SNL" alum Aidy Bryant comes into her own: "I can do this. I got this."
Sexism, voter corruption, harassment and other allegations have been made in the bitter fight between the Recording Academy and its ousted president, Deborah Dugan.
Get the Indie Focus newsletter, Mark Olsen's weekly guide to the world of cinema.
You may occasionally receive promotional content from the Los Angeles Times.
For Asian communities celebrating the biggest holiday on the calendar, what to give is fraught with pressure, rivalry and comical misunderstanding.

The best and easiest dinner party to cook for lunar new year is hot pot. Get your guests to do the cooking, and all you need to do is shop and host.
Four Senate Democrats running for president are pinned down in the chamber for Trump's impeachment trial, keeping them from campaigning ahead of Iowa's caucuses. But they do have some tricks up their sleeves.