California's new use-of-force law will become effective in January and create one of the nation's toughest standards on when police can kill.
An assailant was being sought after a man was stabbed to death on the first day of the university's academic year.
A judge on Monday overturned Sheriff Alex Villanueva's controversial decision to reinstate a deputy who had been fired for violating department policies on domestic violence and lying — a dispute that sparked a rare legal battle among some of L.A. County's most powerful elected officials.
In response to a Trump administration rule, Planned Parenthood said Monday it will withdraw from the federal Title X program that helps low-income people access contraception.
Facebook and Twitter said China spread disinformation about Hong Kong protesters
After losing everything in the deadly Camp Fire last year, the Paradise High football team leans on camaraderie and community to rebuild their lives.

The Dodgers refused to trade Gavin Lux, even for a much-needed reliever, because he has blossomed as a prospect with a lethal bat and stellar work ethic.
A proposal to place the railroad tracks in a trench at the edge of the bluff in Del Mar raises "serious concerns" about erosion and access to the beach, according to the California Coastal Commission.
K. Connie Kang was a meticulous and sensitive observer who covered the city's Asian communities for the L.A. Times with deep understanding, colleagues said.
Starting in spring, some 5.2 million Los Angeles County residents will change the way they vote. If the plan goes awry — either in the March primary or in the November election, in which President Trump is likely to be on the ballot — blame will likely fall on Dean Logan, Los Angeles County's registrar-recorder and clerk.
Nancy Magaña, 24, had just begun teaching at Del Vallejo Middle School.
At age 21, Florida rapper $not already has a signature look, a passionate social following and a big-time record deal.
Ava DuVernay, writer-director of 'When They See Us,' wanted to honor the five teenagers who were wrongfully convicted of beating and raping a woman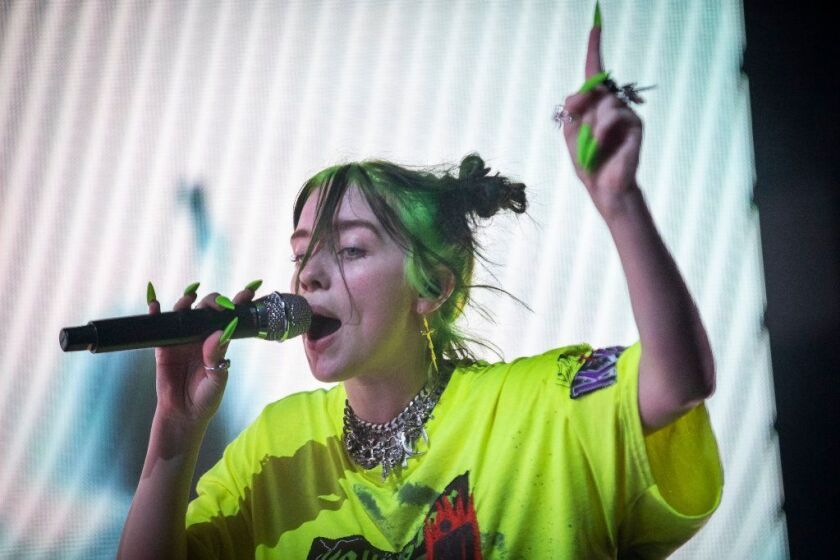 After an unprecedented 19-week ride at No. 1, Lil Nas X's "Old Town Road" has finally been eclipsed by another summer bop: Billie Eilish's "Bad Guy."
Delicious bites, drinks, chef demos, music and more are in store at this weekend-long food festival.

See, hear and interact with world-class authors, celebrities, chefs and newsmakers as they discuss their books and tell their stories.
The rate of death by suicide is far higher in the nation's jails and prisons than in the general population, and Alabama is at the heart of the crisis.

Dear boss: Once again you have hit upon the smartest, most intuitive idea of the modern age — buying Greenland!
El presidente Donald Trump ha lanzado una nueva ofensiva contra los inmigrantes, pero ahora contra los que tienen documentos

El cantante venezolano se apoya en su familia para mantener el éxito, mientras sigue luchando por su gente de Venezuela
Mike Denering's brushstrokes are everywhere as one of Hollywood's last scenic painters. He's tried to retire, but the movies keep drawing him back.

Sometimes reporting a story is like shaking a tree: You rattle one branch and an entirely different limb swings into view.