The Valley Line: Young professionals come together to support Hillsides' program with farm-to-table event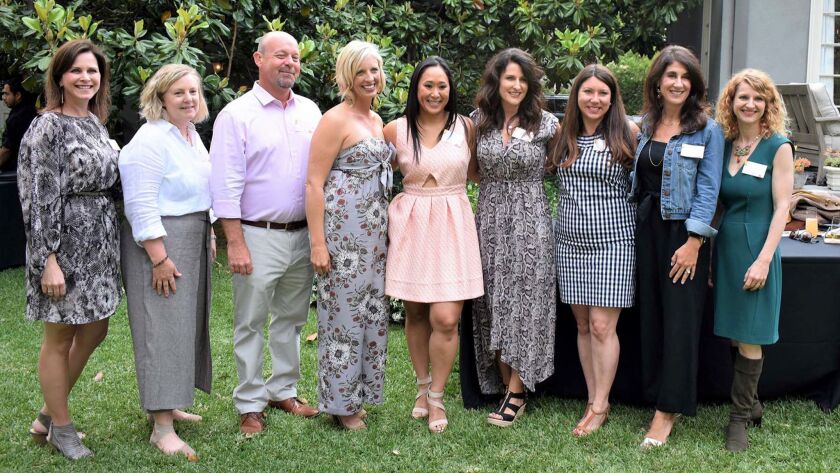 The Hillsides' young professional group called H100 celebrated its 10th annual farm-to-table dinner in an exquisite setting in a private Pasadena estate on June 2.
About 80 guests enjoyed locally sourced, farm-fresh food and cocktails while raising more than $7,000 for the children who live in Hillsides' residential program.
"We are so thankful for this generous group of volunteers and donors who in the last 10 years has grown from a handful of supporters to over 100 members strong," said Carrie Espinoza, chief advancement officer at Hillsides.
"Tonight, they continued to show their commitment to the children by contributing funds to sponsor outings, birthday celebrations and seasonal gifts, making the children's wishes come true," she added.
Guests, dressed in summer chic attire, were treated to a family-style dinner catered by Alexandra's Table. Working off a theme of pink grapefruit and avocados, owner and chef Alexandra Poer created a diverse and delicious menu that included an avocado and grapefruit spinach and farro salad, grilled flank steak with chimichurri and a roasted cauliflower dish with a citrus-curry vinaigrette.
Guests also enjoyed a specialty coffee bar.
Especially poignant was when guests heard from a former resident of Hillsides, Michael Bowen, 32, who lived at Hillsides for most of his childhood, from 1994 to 2006. He spoke about the loving Hillsides staff, and how volunteers and donors provided him with some of his happiest memories.
He also said that his positive experiences at Hillsides motivated him to build a career in social services.
"The care and treatment I received made me want to advocate for people who don't have a voice," he said.
The hosts of the dinner were Megan and Rick Foker. Event sponsors included Debbe and Spike Booth, Kelly and Samuel Garrison, John S. Gong, Ava and Ed Herrera, the Van Buren family and Uyen-Uyen Vo.
This annual event is H100's signature event and membership drive. H100 was founded in 2009 to nurture a younger community base for Hillsides and to create the next generation of support.
Besides Ava Herrera, who serves as H100's president, the board is made up of Katie Bolton, Melissa Corrente, Dan Harper, David Hitchcock, Michele Van Buren, Uyen-Uyen Vo and Nicola Wilkins-Miller.
Also on the board are La Cañada Flintridge residents Holly Breckheimer and Alison Stewart. Breckheimer attended the event with her husband, Peter. Stewart was with her husband, Ian.
H100 supports the children who live in Hillsides' residential treatment services program, which is a short-term residential therapeutic program offered in a safe and stable environment for children who cannot live at home. To learn more about Hillsides' residential treatment services or H100, visit www.Hillsides.org.
Hillsides, with its affiliate Bienvenidos, is dedicated to healing children and young adults, strengthening families and transforming communities through quality comprehensive services and advocacy.
Headquartered in Los Angeles, the agency serves nearly 17,000 children and families in Southern California throughout more than 40 sites, including school-based mental health offices in Los Angeles, Pasadena and Baldwin Park.
Foster care and adoptions services are offered in Los Angeles, Orange, Riverside, and San Bernardino counties.
More information is also available on Facebook @hillsideschildren, on Twitter @Hillsides or on Instagram @HillsidesPasadena.
Catherine Cea, daughter of Marta and Gil Cea of La Cañada Flintridge, recently participated in the Delta Delta Delta Circle Degree ceremony for seniors transitioning from collegiate to alumnae membership.
La Cañada Flintridge Tri Delta alumnae Janice Paul and Agnes Foos, joined by Nelda Stender, traveled to Santa Barbara to conduct the ceremony for 20 seniors at the Tri Delta sorority house on June 1.
As an active member of Tri Delta at UC Santa Barbara, Catherine Cea served as chapter treasurer, an academic standards committee member and academic development chair.
She received a scholarship from Glendale Area Alumnae Panhellenic as a senior in high school in 2015 and as a collegiate member of Delta Delta Delta in 2017. She was awarded the Mary Ellen Gilstrap Memorial Scholarship in 2018 at the area Founder's Day luncheon last November.
At UC Santa Barbara, Catherine Cea majored in English, with a minor in Portuguese, and she completed the honors program. Academic awards at graduation included College of Letters and Science — high honors at graduation; honors program — Academic Excellence Award; Department of Spanish and Portuguese — Student of Excellence; and Phi Beta Kappa Society.
Jane Napier Neely covers the La Cañada Flintridge social scene. Email her at jnvalleysun@aol.com with news of your special event.
---