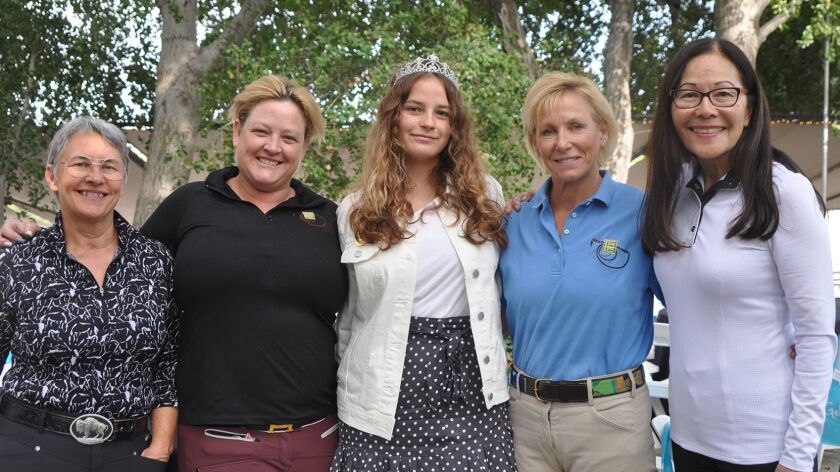 The beautiful Flintridge Riding Club was the setting June 20 when the La Cañada Flintridge Chamber of Commerce held a well-attended mixer that included riding exhibitions and the introduction of new Chamber members.
Greeting the arriving guests were Erin Gershik, Wendy Hodgin, Ann Deren-Lewis and Suzie Osimo. I also saw longtime Riding Club member Randy Strapazon decorating tables with little toy horses that were part of a special collection.
An unexpected happening was an impromptu flyover by the Condor Squadron of vintage WWII A-6 airplanes. It turns out the four-plane squadron was returning to its Van Nuys base after doing a special celebratory flyover at Oakmont Golf Course for its annual "Pirates & Bandits" golf tournament. The pilots were just going home and it was a thrill to see those historic planes through the magnificent oaks at the riding club.
Mixer guests were asking chamber staffers Nancy Rappard and Tina Daly if the flyover was just for this event. Curious reporter that I am, I later got in contact with the Condor group president Chris Rushing to learn more about the squadron. He told me they will be making a flyover above our community around 6 or 6:30 p.m. on Independence Day — what a great way to celebrate our nation's birthday.
Back to the corral, the Flintridge Riding Club and the LCF Chamber did a marvelous job hosting the mixer. Most exciting was the great presentation of fine horsemanship when five of the club's riders gave us samples of dressage, hunter-jumper and Western riding. The riders were Peggy Klump, Charni Lewis, Susie Newman, Randy Pomrehan and Stephanie Lovie.
Steve Hronek, president of the chamber's board of directors, served as master of ceremonies with his usual good humor. Receiving recognition as new chamber members from the organization's president, Pat Anderson, were Janine Morovati of Dilbeck Real Estate and Natasha Ventura of Ventura Fitness.
Food sponsors were Gelson's Market, the Proper Restaurant & Bar and Renaud's Bakery. The delicious food offerings disappeared very quickly.
Special guests were the new group of interns who have just started their jobs around the community. Introduced were Lauren Lee, YMCA; Malaya Perushek, LCF city offices; Lucus Oh, Citizen's Business Bank; Max Fan, Verdugo Hills Hospital; and Marko Jovanovic, the Community Center.
It was the most delightful evening, and the Riding Club's setting is so idyllic that nobody was in a rush to leave.
***
It was a sold-out audience on June 15 when the Hollywood Bowl officially opened its summer season. John Legend, the acclaimed platinum-selling singer-songwriter and Hollywood Bowl Hall of Fame inductee, was the featured performer for the evening that culminated in an exciting and colorful fireworks show.
The extravaganza raised more than $1.7 million for the Los Angeles Philharmonic 's learning and community programs including Youth Orchestra Los Angeles (YOLA). Thirty-three of the YOLA musicians sat side by side with the professional musicians for the playing of Coleridge-Taylor's "Danse Negre" from African Suite and also Saint-Saens' "Bacchanale" from Samson et Dalila, conducted by Thomas Wilkins, principal conductor of the Hollywood Bowl Orchestra.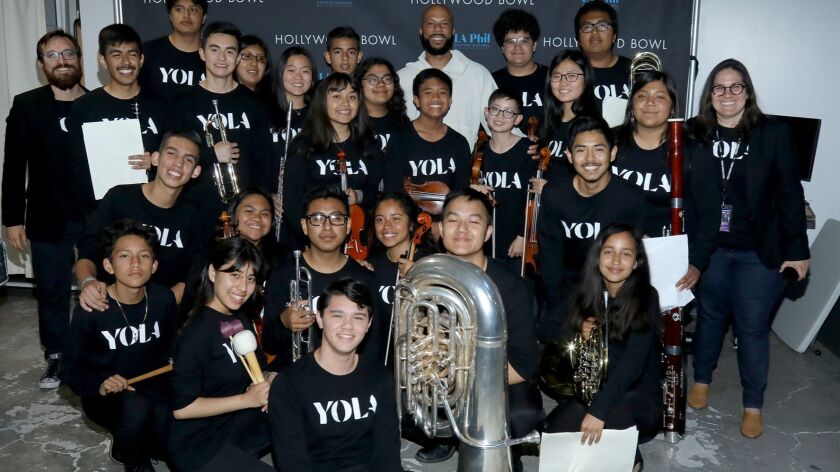 These young musicians are absolutely amazing and so talented. YOLA is supported by L.A. Phil's initiative to provide access to free, high-quality instrumental and orchestral training to underserved youth.
Legend opened up the second half of the evening. His set featured many of his own award-winning songs as well as collaborative works with other artists. One of the most celebrated songs that the crowd went wild about was Marvin Gaye's "What's Going On."
Just before Legend left the stage he brought his own little girl Luna on stage as he sang to her in his arms. Her mother, Chrissy Teigen, was nearby enjoying this precious moment too.
Residents from around the Foothills I saw at this spectacular event were Steven Bristing, Stephen and Sherrie Carroll, Teena Hostovich, Doug and Michael Martinet, Edward and Jamelle Megee, Glenn Pittson, Karen Wong and George Young.
Jane Napier Neely covers the La Cañada Flintridge social scene. Email her at jnvalleysun@aol.com with news of your special event.
---