EVENTS
Native plant sale — Saturday, Nov. 2, 9 a.m. to 2 p.m. Water-wise, sustainable plants will be sold at Eaton Canyon Nature Center, 1750 N. Altadena Drive, Pasadena. Sponsored by the San Gabriel Mountains Chapter of the California Native Plant Society. Expert volunteers will be available to answer questions about selecting, growing and caring for native plants.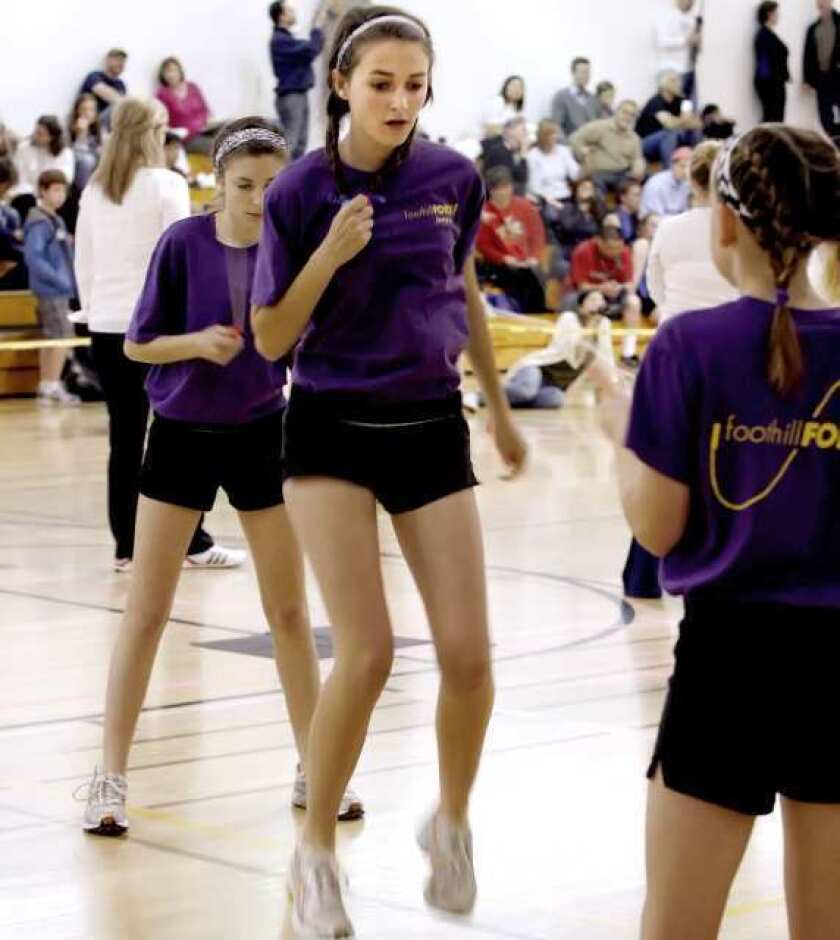 West Coast Jump Rope Competition – Sunday, Nov. 3, 8 a.m. to 6 p.m. The Foothill Force jump rope team, comprised of more than 20 local students, will host this competition in the South Gym at La Cañada High School. Events will include single rope speed and power, single rope speed relay, double-dutch speed relay, single rope freestyle, pair's freestyle, double-dutch single freestyle and double-dutch pair's freestyle. Speed competitions will take place in the morning, with freestyle events in the afternoon. Admission is free and the public is invited. For more details visit foothillforce.org or call coach Kathy Weninger at (818) 468-6778.
Town Hall to discuss traffic, parking and safety issues at Paradise Canyon Elementary School — Monday, Nov. 4, 6:30 p.m. The La Cañada Unified School district and the city of La Cañada Flintridge will hold this town hall event in the multipurpose room on the Paradise Canyon campus, 471 Knight Way, La Cañada. The purpose is to hear from community and parents about traffic, parking and safety concerns around PCY, specifically during school drop-off and pick-up times. For more information email Patrick V. DeChellis, the city's director of public works, at pdechellis@lcf.ca.gov or call (818) 790-8882.
29th annual Prayer Breakfast —Thursday, Nov. 7 breakfast at 6:30 a.m.; program at 7 a.m. The community is invited to the YMCA of the Foothills annual event benefiting the Y's Chaplain Services program. Peggy Grande, author of "The President will See You Now," who served as executive assistant to President Ronald Reagan, will be the keynote speaker. The event is hosted at the Crescenta-Cañada Family YMCA, 1930 Foothill Blvd., La Cañada. To find out more and to purchase tickets in advance for $30, visit www.ymcafoothills.org/prayer. Tickets will be available at the door for $35.
"Local Heroes" Veterans Day breakfast —Saturday, Nov. 9, 9 to 11 a.m. Lake Avenue Church will honor active duty service personnel, veterans, first responders (including retirees) and their families, friends and supporters at this event in its Skyroom overlooking Pasadena. Guest speaker Levi Heidelbreg will speak about "Relevance in Our Society." Cost is $10 per person until midnight, Oct. 31. Starting Nov. 1 the price is $15. Deadline to register is Nov. 5. Register at lakeave.org/events. Lake Avenue Church is located at 393 N. Lake Ave., Pasadena. For more information email Terry Sheffield at cappysheff@gmail.com or call (626) 529-5862.
The Glendale Branch of the American Assn. of University Women (AAUW) breakfast meeting — Saturday, Nov. 9. The group meets at Oakmont Country Club, 3100 Country Club Drive, Glendale. The featured speaker is Alain Touwaide, scientific director for the Preservation of Medical Traditions in Washington, D.C. Cost for breakfast is $28 and can be paid at the door by cash or check. Reservations are due by Nov. 6 and can be made by sending an email to Susie Robinson at marilyn_robinson@hotmail.com. Guests are welcome. To learn more about membership in the Glendale chapter of AAUW, visit glendale-ca.aauw.net.
Thankful Heart Luncheon—Thursday, Nov. 14. The Langham Huntington will be the venue when Flintridge Guild of Children's Hospital celebrates 70 years of support for Children's Hospital Los Angeles. The guild will honor past presidents for their leadership at this event, which will feature inspiring speakers and 24 vendors selling a wide range of goods. Seating is limited and reservations are due by Nov. 1 Tickets are $100 and can be purchased at www.fgch.la.
PERFORMANCE
"Pasión Española," featuring students of the Amaral Studio—Saturday, Nov. 23, 8 p.m. Roberto Amaral presents this showcase of Flamenco and uniquely stylized Spanish dance at Lanterman Auditorium, 4491 Cornishon Ave., La Cañada. Featuring 20 dancers, musicians and singers and special guest artists Antonio Triana, Ben Woods and Misuda Cohen. Suitable for ages 7 and up. Tickets are $25 to $35 and available at brownpapertickets.com/event/4365804. For more information, call the Amaral Studio at (805) 813 7212 or visit amaralstudio.com.
SUPPORT GROUP
Fibromyalgia/Arthritis Support Group — Wednesday, Nov. 20, 1 to 2:15 p.m. The group meets in the library at La Cañada Presbyterian Church, 626 Foothill Blvd., La Cañada. Meetings are usually held the fourth Wednesday of every month, but due to the holiday season, the meeting dates for November and December have been shifted (the December meeting is set for Dec. 11). The time and place will remain the same. There is no fee or sign-up for this program and all are welcome. For more information email Katie at Katie@lacanadapc.org or Dianne diannefibro@gmail.com.
CLASSES
International Folk Dancing — Thursdays, 7:30 p.m. All are welcome to learn and do fun and beautiful dances from around the world every Thursday evening at the Community Center of La Cañada Flintridge, 4469 Chevy Chase Drive, La Cañada. Teaching level is adjusted to each evening's participants. The large dance room has a new floor and the ample parking is free. Each dancer's $5 pays for the class use of the facility. For more details, visit Foothill.Dance or contact JanRayman@charter.net or (818) 790-8523.
SENIORS
Pioneer Club/New Beginnings Club — Mondays at 11 a.m.Seniors who would like to lunch with others and perhaps enjoy a game of bingo or go on outings are invited to check out the Pioneer Club that meets the first and third Monday each month at Holy Redeemer Church, 2411 Montrose Ave., Montrose, or the New Beginnings Club that convenes at St. James the Less, 4625 Dunsmore Ave., La Crescenta each second and fourth Monday. For more information about the Pioneer Club, call Mary Mancuso at (818) 249-8454. To learn more about the New Beginnings Club call Gloria Pauly at (818) 248-2944.
---