La Cañada area events: Chamber mixer, LCHS Marching Band field show, 'Pasión Española' coming up
A roundup of community events in and around La Cañada Flintridge. To submit items, email carol.cormaci@latimes.com.
La Cañada Flintridge Chamber of Commerce mixer hosted by Stephanie's Art Gallery & Custom Frames — Thursday, Nov. 21, 6 to 8 p.m. Enjoy a pre-holiday art show and refreshments provided by Sprouts during this month's mixer at Stephanie's, 466 Foothill Blvd., La Cañada. Cost: $10 for LCF Chamber members; $20 for nonmembers. For more details call the Chamber office at (818) 790-4289.
Friends & Family Marching Spartans 2019 Field Show — Friday, Nov. 22, 6 p.m. The La Cañada High School Marching Band and Color Guard, the LCHS Marching Spartans, invite the community to their family show in the LCHS stadium, 4463 Oak Grove Drive. This is the final home performance of their show, "Synesthesia: The Color of Sound." Led by drum major Maia Sable, the program is an original work by Frank Sullivan. It explores the connection of sight and sound. The Marching Spartans will leave after the performance to compete in the Western Band Assn. championships in Clovis, Calif. Admission to Friday night's show is free.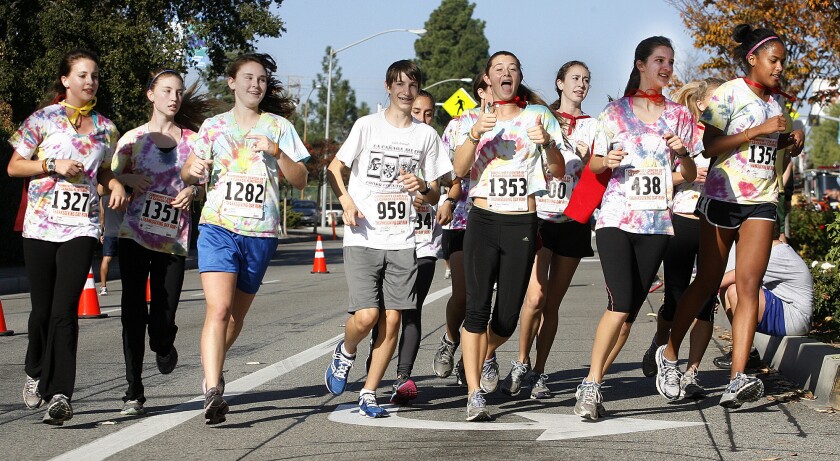 Thanksgiving Day 5K Run/Walk & Food Drive — Thursday, Nov. 28, 8:30 a.m. This longtime local tradition organized by the Community Center of La Cañada Flintridge begins and ends at Memorial Park, 1301 Foothill Blvd., La Cañada. It is professionally timed. For children 12 and under there is a Kids' Mile Run, a family fun event where parents are encouraged to run alongside their children (the kids must be registered, but the parents can accompany them at no extra charge). This run begins at 9:30 a.m., also at Memorial Park. The food drive is the largest one organized each year in the Foothills. Canned and nonperishable food is collected at the race and throughout the month of November at various locations throughout the city and distributed during the holidays by Crescenta Valley Sheriff's Station personnel to more than 100 area families in need. To register for the race visit cclcf.org. Registration prior to the event is $40; at the park on the day of the event, $45.
"Pasión Española," featuring students of the Amaral Studio—Saturday, Nov. 23, 8 p.m. Roberto Amaral presents this showcase of Flamenco and uniquely stylized Spanish dance at Lanterman Auditorium, 4491 Cornishon Ave., La Cañada. Featuring 20 dancers, musicians and singers and special guest artists Antonio Triana, Ben Woods and Misuda Cohen. Suitable for ages 7 and up. Tickets are $25 to $35 and available at brownpapertickets.com/event/4365804. For more information, call the Amaral Studio at (805) 813 7212 or visit amaralstudio.com.
CLASSES
Meditation Class — Fridays, noon to 1 p.m. This weekly meditation class, led by the Kadampa Meditation Center, is held in Room 4 at the Crescenta-Cañada Family YMCA, 1930 Foothill Blvd., La Cañada. No meditation experience is necessary and all are welcome. The hour begins with guided meditation, followed by a teaching and then another meditation. Cost: free for YMCA of the Foothills members; $5 for nonmembers.
International Folk Dancing — Thursdays, 7:30 p.m. All are welcome to learn and do fun and beautiful dances from around the world every Thursday evening at the Community Center of La Cañada Flintridge, 4469 Chevy Chase Drive, La Cañada. Teaching level is adjusted to each evening's participants. The large dance room has a new floor and the ample parking is free. Each dancer's $5 pays for the class use of the facility. For more details, visit Foothill.Dance or contact JanRayman@charter.net or (818) 790-8523.
SENIORS
Pioneer Club/New Beginnings Club — Mondays at 11 a.m. Seniors who would like to lunch with others and perhaps enjoy a game of bingo or go on outings are invited to check out the Pioneer Club that meets the first and third Monday each month at Holy Redeemer Church, 2411 Montrose Ave., Montrose, or the New Beginnings Club that convenes at St. James the Less, 4625 Dunsmore Ave., La Crescenta each second and fourth Monday. For more information about the Pioneer Club, call Mary Mancuso at (818) 249-8454. To learn more about the New Beginnings Club call Gloria Pauly at (818) 248-2944.
---