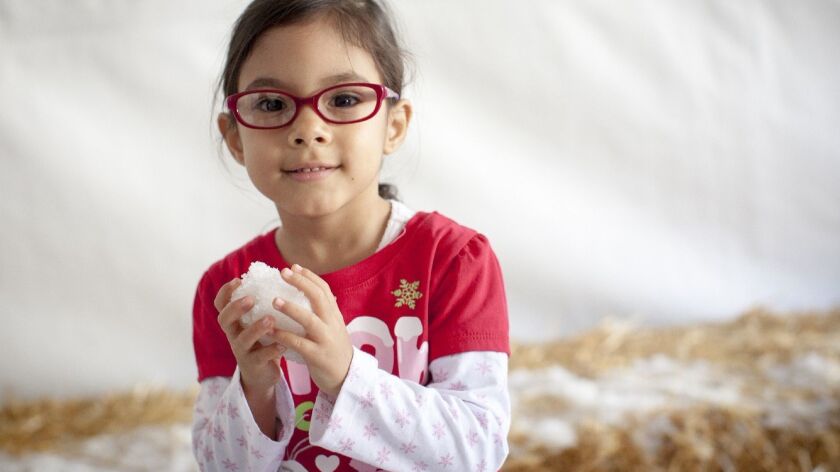 A roundup of community events in and around La Cañada Flintridge. To submit items, email carol.cormaci@latimes.com.
EVENTS
Holiday Boutique —Thursday, Dec. 19, 2:30 to 5 p.m. Unique gifts will be offered during an event hosted by the La Cañada Thursday Club at their clubhouse, 4440 Woodleigh Lane, La Cañada. Vendors include Karen Hopper (jewelry), Karen Bagnard (stationery items that can be framed as artwork), Victoria Duque (jewelry), Dale Michell (clothing and accessories), D.J. Giles (wraps and accessories) and Susie's Clothing (designer apparel). Light refreshments will be served.
KID PICKS
Snow Days at Kidspace —Thursday, Dec. 26 through Monday, Dec. 30. Weekdays, 9:30 a.m. to 5 p.m.; weekends 10 a.m. to 5 p.m. Kids are invited to bring mittens, boots and a snow hat and play in real snow at Kidspace Children's Museum, 480 N. Arroyo Blvd., Pasadena. Admission is $14 per person. Cookie decorating will also be available for an additional $3 fee.
PERFORMANCE
Jazz 'n Paz presents Carols of the Belles — Sunday, Dec. 22, 5 p.m. The seasonal intimate jazz series rings in the holidays with this concert featuring the vocals of Barbara Morrsion, Jamie Perez and Renee Myara. Michael Ragonese on piano, James Yoshizawa, drums, Danny Janklow on sax and flute, Luca Alemmano on bass. Neighborhood UU Church, 301 N. Orange Grove Blvd., Pasadena. Tickets are $30 ($20 for students with valid ID) and can be purchased at the door. For more information call (626) 296-9843.
CLASSES
Meditation Class — Fridays, noon to 1 p.m. This weekly meditation class, led by the Kadampa Meditation Center, is held in Room 4 at the Crescenta-Cañada Family YMCA, 1930 Foothill Blvd., La Cañada. No meditation experience is necessary, and all are welcome. The hour begins with guided meditation, followed by a teaching and then another meditation. Cost: free for YMCA of the Foothills members; $5 for nonmembers.
International Folk Dancing — Thursdays, 7:30 p.m. All are welcome to learn and do fun and beautiful dances from around the world every Thursday evening at the Community Center of La Cañada Flintridge, 4469 Chevy Chase Drive, La Cañada. Teaching level is adjusted to each evening's participants. The large dance room has a new floor and the ample parking is free. Each dancer's $5 pays for the class use of the facility. For more details, visit Foothill.Dance or contact JanRayman@charter.net or (818) 790-8523.
SENIORS
Pioneer Club/New Beginnings Club — Mondays at 11 a.m. Seniors who would like to lunch with others and perhaps enjoy a game of bingo or go on outings are invited to check out the Pioneer Club that meets the first and third Monday each month at Holy Redeemer Church, 2411 Montrose Ave., Montrose, or the New Beginnings Club that convenes at St. James the Less, 4625 Dunsmore Ave., La Crescenta each second and fourth Monday. For more information about the Pioneer Club, call Mary Mancuso at (818) 249-8454. To learn more about the New Beginnings Club call Gloria Pauly at (818) 248-2944.
---