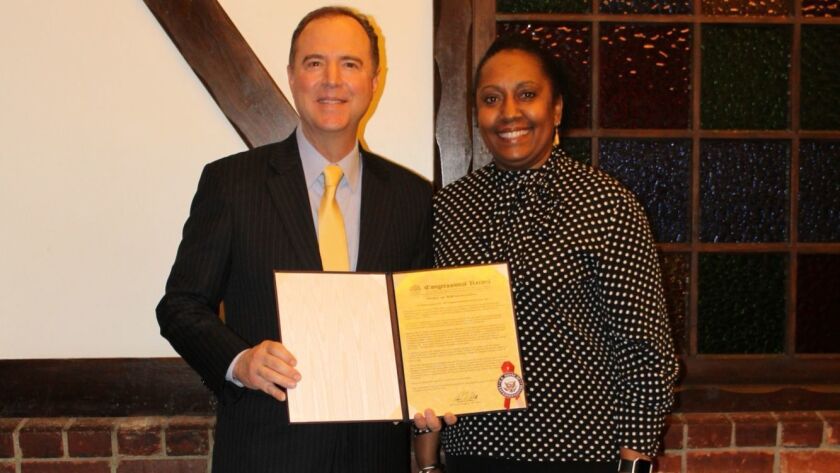 Most recently in the news for her work as current chair of Hillsides Board of Directors, Donna Ford was recognized for her many volunteer contributions by Rep. Adam Schiff (D-Burbank) at a luncheon honoring his district's 2018 Women of the Year.
The La Cañada Flintridge resident was one of several district residents feted at the event, held April 5 in Echo Park to coincide with Women's History Month.
"Today, I met with 13 remarkable women who have all worked tirelessly to make our communities a better place," Schiff said in a statement issued immediately following the event. "These women have worked to found or support a myriad of charitable organizations, started multiple businesses and given so much of themselves to improve the common good. They are all pillars of our communities and I thank them for their invaluable service."
Prior to moving to La Cañada Flintridge in 2005, Ford was a civil litigator in New York and Pennsylvania. Once here with her family — Dr. Henri Ford and their two children — she became involved in numerous volunteer activities with area nonprofits.
"Believing that all children have tremendous potential regardless of their background or circumstances, Donna is a passionate advocate for young people and is committed to enriching the lives of children and adolescents," according to the news release announcing the award.
Ford mentors African American girls at Pasadena Unified's John Muir High School, serves as a board member of the Institute for Educational Advancement and lends her hand and expertise not only to Hillsides, but also as a volunteer for the Cottage Guild at Rosemary Children's Services and the USC Medical Faculty Family and Friends organization. She has also served on the diversity committee for the Pasadena Playhouse.
Recognized along with Ford at the April 5 luncheon were Claudette Nicole Saba Monestime, Atwater Village; Vicky Marachelian, Burbank; Isa-Kae Meksin, Echo Park; Emily Gleicher, Elysian Valley; Lori Hartwell, Glendale; Anastasia Mann, Hollywood Hills; Kiljoo Lee Kurumada, La Crescenta; Brenda Levin, Los Feliz; Patricia Anne Kinaga, Pasadena; Nina Sorkin, Silver Lake; Kelly Erin Decker, Kagel Canyon; Medea Kalognomos, Sunland and Ivy Bottini, West Hollywood.
Twitter: @CarolCormaci
---