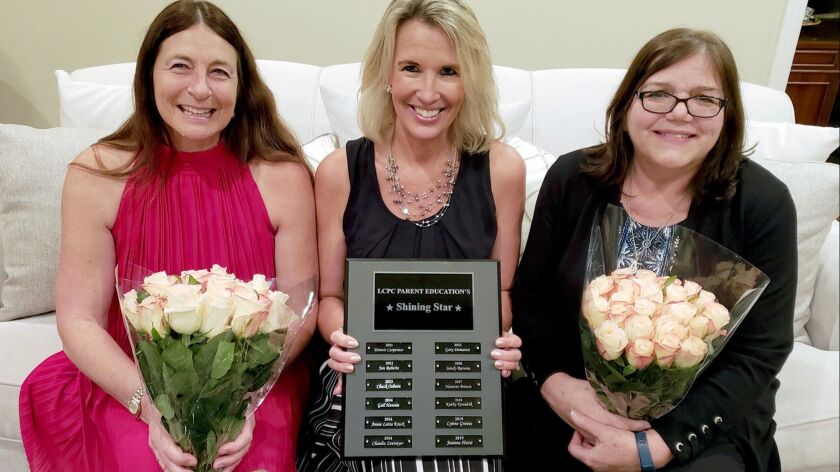 The La Cañada Presbyterian Church (LCPC) Parent Education program held a special event earlier this month kicking off their 40th anniversary weekend. The "Shining Star" gathering was held in the home of Kevin and Heather Ehrhart to honor Joanna Hurst and Lynne Graves, two very shining stars.
The event was expertly chaired by Ashley Barrett and Angela Isoghololian. More than 80 guests enjoyed appetizers, beverages and live guitar music. Beautiful diamond and ruby earrings were raffled off, with all proceeds going to the Founders' Scholarship Fund that provides scholarships to the program.
Anne Bierling, director of program, presented the Shining Star winners Hurst and Graves to those assembled announcing their impressive service records. Bierling also presented to the duo some gifts on behalf of the program's board, staff and ministry support team.
"Both of these women have been local icons of exemplary service spanning the four decades of our program — so it is very apropos that they would be our 40th anniversary recipients," Bierling said.
Hurst has been involved in LCPC Parent Ed since 1981. She began her journey as a teaching assistant with the program because "she wasn't sure how she would survive without the program," she said. For the next 20 years, Hurst served parents and children in the Toddlers, Two and 3-4's classes, work she said "impacted her parenting, her marriage, and her life."
In 2009 she moved to Utah. But while living in La Cañada Flintridge and employed at LCPC as both an assistant and co-instructor, Hurst also volunteered in local schools, held PTA positions and was an art docent. She was involved with Girl Scout troops, produced La Cañada High School musicals, toured with the school choirs and drama students, and produced more than 13 annual musicals with Foothill Summer Theatre.
Graves has been volunteering in the community for decades. She has been on the parent ed board for 19 years and their ministry support team for 15 years. She has been a key volunteer for the La Cañada Presbyterian Church, serving as an elder, global leadership coordinator, and working on the stewardship team over a span of 20 years.
Additionally, Graves has volunteered with the Pasadena Showcase House of the Arts, Business Network International, National Charity League. She was involved with LCHS girls/boys basketball parents club, LCHS PTA, LCHS 7/8 PTA, and the La Cañada United Methodist Children Center and Glendale Area PanHellenic Alumnae Assn.
Graves summed up her experience by saying, "It's been my pleasure to be part of LCPC Parent Education for the past 29 years! The friendships, support and Christian community have provided my family and I with more than I ever imaged. I love this incredible ministry called LCPC Parent Education."
***
Works of Rich Gallego, a noted plein air California artist, are being featured in the USC Verdugo Hills Hospital Healing Arts Gallery, displayed on several floors. There was an opening reception for Gallego this month that more than 75 people attended.
The purpose of the Healing Arts exhibit is, as its name suggests, to enhance and beautify the healing environment for patients, families and staff.
Gallego's work is focused on creating a welcoming, uplifting experience that reflects beauty, harmony, health and hope.
JANE NAPIER NEELY covers the La Cañada Flintridge social scene. Email her at jnvalleysun@aol.com with news of your special event.
---