Last Sunday, my longtime friend Marijane Herbert and I were among 150 guests who arrived at the council rooms of USC Verdugo Hills Hospital to meet multimedia artist Gayle Roski and iPhone artist Kitty Keck, whose artworks are now featured on display in the hospital's corridors.
The Satin Trio, a jazz ensemble, played as guests gathered for coffee, tea and mimosas to chat before the official program began.
The opening reception brunch, sponsored by the Keck Healing Arts Council, was just lovely. The hospital's executive chef, Jesus Veyna, and his team outdid themselves, presenting an extensive brunch menu that included a made-to-order omelet bar, citrus garlic marinated Atlantic salmon fillet roasted in a crispy citrus herb sauce, sliced oven-roasted strips of tri-tip beef sirloin, and grilled potatoes with onions, tomatoes and peppers. Fresh fruit was also on the menu. Following that repast, guests could sample from the dessert offerings: tiramisu, an assortment of mini pastries, dark chocolate cake and cheesecake.
Keith Hobbs stepped to the podium and, in his role as the hospital's chief executive, welcomed guests and introduced the featured artists as well as Dr. Lawrence Douglas Dorr, a USC orthopedic surgeon who spoke about his Operation Walk Team's mission to Guatemala. Roski, a watercolorist, had illustrated a book about the mission.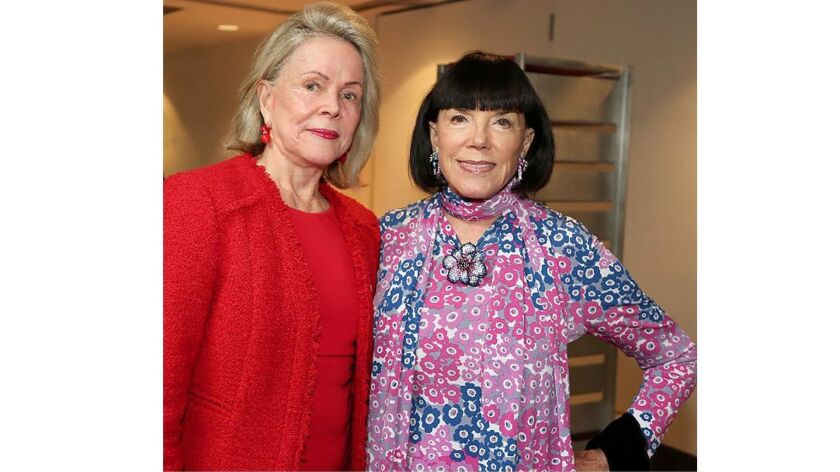 Also speaking at the reception were Sue Wilder, chair of the hospital's foundation board, and Julie Shadpa, art therapist and curator of the Healing Arts Exhibit. Hospital VIPs at the reception were Kerri Yoder Hubbard, executive director at USC VHH Foundation and Stephanie Van Sickel, director of major gifts. Also there to greet guests was Tina Marie Ito, vice chair of the hospital foundation.
It was a very nice event and the works by Roski and Keck will surely be enjoyed by patients and visitors to the hospital.
Jane Napier Neely covers the La Cañada Flintridge social scene. Email her at jnvalleysun@aol.com with news of your special event.
---