Athletes, coaches facing challenges with college recruiting during coronavirus
It's a goal for many high school athletes to get the opportunity to captivate the eyes of college coaches around the country.
The players work year-round in hopes to extend their careers on the collegiate level, and maybe further. Others take the opportunity to further their education and earn a degree.
Whatever the situation, there are doors that are opened as far as college recruitment is concerned. However, since the outbreak of the coronavirus, athletes have seen their chances of moving on to the next level affected.
Those who were hoping to raise their stock in the spring have now been hindered with the shutdown of athletics, and those who haven't made a college decision yet have seen their travel plans put on hold.
The problem has spilled over to the collegiate level as well, especially at four-year institutions where many seniors have been granted an extra year of eligibility by the NCAA, leaving less spots for incoming freshmen.
The NCAA advised schools to suspend any official and unofficial on-campus visits to campus from prospective student-athletes. Contact between coaches and prospective student-athletes is still allowed through phone calls, text messages and written correspondence.
It's been a particularly difficult situation for under-recruited athletes, like St. Francis High senior football player Kevin Armstead.
Though Armstead has narrowed his choices to three schools, one of his potential selections is out of reach due to travel restrictions.
"I was planning on visiting Idaho State before I make a decision," said Armstead, a running back. "I also like Nevada, too. I want to get a feel for the campus. I just don't want to make a decision and not know if I'm comfortable because, at the end of the day, I have to live there for four years."
Armstead, who helped the Golden Knights to a three-way share of the Angelus League title on his way to league MVP honors in 2019, is now unable to see his recruiting coaches face to face and has stayed in touch with them via text, phone calls and social media.
"I just want to make sure I'm still on their map and still on their radar," Armstead said. "Staying on their map is key to me."
The dual-threat athlete continues to raise his stock on social media platforms like Twitter, getting his highlights out to any coaches interested in him.
Last season, Armstead had 214 carries for 1,390 yards rushing and 14 touchdowns and caught 22 passes for 235 yards with one touchdown in 10 games.
Providence High senior A'Jahni Levias did not experience a slowdown in recruitment. Since things came to a halt, the senior has gotten in touch with more coaches largely due to the exploits of his coach.
However, the spread of the coronavirus restricted him from traveling and visiting colleges that expressed interest. Trips to colleges in San Diego and Maine were canceled.
"That was a big part in where I want to go, but I still [had] some time to decide where I want to go and what's best for me," Levias said. "It definitely pushed the decision back, but I've had more coaches recruiting over this time."
Entering the 2019-20 season, the two-time All-CIF first-team honoree and Prep League co-Player of the Year had more than a handful of colleges interested in him.
That number grew as the Pioneers ventured deep into the postseason with a trip to CIF Southern Section Division III-AA semifinals and the CIF Division III Southern California Regional final of the state playoffs.
"It's been affecting the visits, but not really coaches texting me and stuff. The recruitment didn't slow down that much," said Levias, who who averaged 15.5 points, seven rebounds and two assists per game and finished with 1,034 career points. "They've been texting me more frequently. Even before, they would text me every other week or so, checking in on me and seeing how the family is doing."
On March 30, Levias received an offer to Central Wyoming College and signed a letter of intent April 6. The institution is a public community college located in Riverton, WY.
The Providence coaches are making an effort to get their players to the next level, and Pioneers boys' basketball coach Brandon Lincoln knows all too well what that's like.
"I wouldn't have been able to start to make the steps in our program without some of the kids and families buying into what we do," Lincoln said. "... It was my challenge and my goal, outside of winning games and putting up some big-time events, to have an office full of kids' signings and action shots in their college uniforms playing and giving themselves opportunities to get their education."
Before taking over the Providence program, Lincoln spent a number of years around collegiate basketball, including as a player and graduate assistant at Oregon and a video coordinator at Miami University of Ohio.
His last stint was as an assistant coach at Montana State for three years, where his duties included recruiting and scouting.
Alongside assistant coaches Eric George and Brendyn Taylor, Lincoln tweets out film of practices and games as a way of getting his players the exposure they need to land a scholarship.
"Having been a film guy in my career already, I know the impact of it and the way that I look at it is different," Lincoln said. "Most coaches spend a lot of time watching film because it helps their own players develop. You've heard the phrase 'film doesn't lie.'
"For us, having the years that we had this year and last year, and creating the expectations for the guys to want to aspire to play at the next level, it was important that we recorded every single game. We even have practices on film that we use as teaching tools."
Lincoln also keeps in touch with collegiate coaches he has close relationships with and has contacted them about his players. Recently, the amount of interest and contact has increased since the statewide "Stay At Home" order.
However, sending film and making phone calls can be difficult for other coaches in other sports.
For Flintridge Prep girls' and boys' soccer coach Esteban Chavez, the pandemic has slowed down the outreach from coaches in regard to recruiting.
"It's just nonexistent, to be honest with you," Chavez said. "It went dark. It disappeared. Other coaches might have different experiences, but it's very quiet. I'm assuming they're still trying the best they can, but it comes with a lot of other difficulties."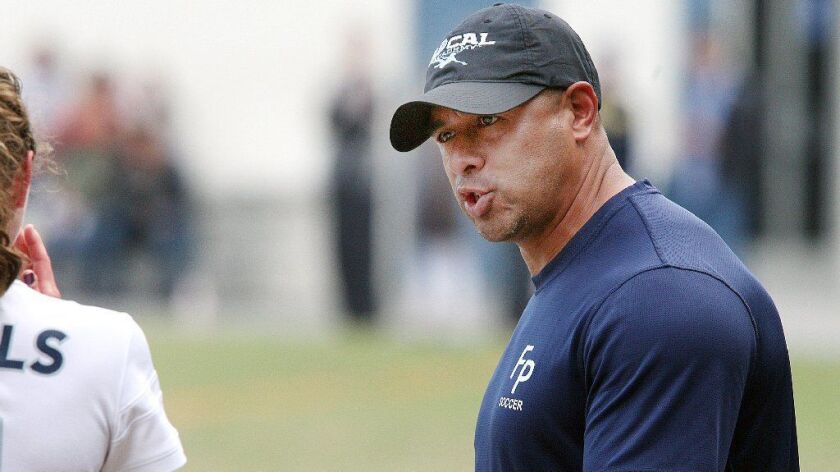 A temporary solution for the coach has been to focus on five- to seven-minute clips that are sent to interested coaches. But Chavez is not the only coach who is sending clips of his players to colleges.
"Everybody's sending videos," Chavez said. "It's not their fault, but can they even get to watch most of them? Before, people were sending videos, but they relied on showcases, tournaments or events. Now I'm assuming they're getting a ridiculous amount of videos."
For a lot of his juniors, their time to showcase their skills to college coaches normally happens between March and July, with most colleges starting their seasons in August.
It's different for uncommitted seniors.
"This is their only shot right after high school with the national cup or showcases," said Chavez, who also coaches a club team. "It's over. It's super difficult because [coaches] have to see the players play. Even if they have seen them play and want to take another look, those things are out the window."
As for the showcases, colleges coaches from around the country use the events to scout for their incoming freshmen class. In some instances, a two-day event could attract 500 coaches.
The trouble of reaching out to colleges is just the starting point, however.
After the NCAA approved the eligibility athletes in spring sports for another year, the backlog of fifth-year seniors could make it difficult for incoming players.
That includes junior colleges like Glendale Community College, where a number of sophomores will possibly return next season as third-year players.
As for sending players to the next level, Glendale second-year baseball coach Alex Kocol has that handled. However, the landscape of sports has changed dramatically, he said.
"What it means to be 'good' has really changed," Kocol said. "It has fundamentally changed. What 'good' is at the four-year level or the two-year level has gone up about 20%. Everyone knows that. They don't know quite how this is going to work out with the rules and regulations and exactly what the outcomes will be for each program or each individual. But everyone knows they will be better next year. Everyone knows that — everybody."
The predicament is evident since the CIF canceled the spring season on April 3. Many high school seniors who were looking for a chance to improve their stock have been left with no outlet.
For the Vaqueros baseball team, it played 21 games before the California Community College Athletic Assn. ended the spring season on March 19. With some players retained with an extra year of eligibility, roster space might be an issue come the 2021 season.
"What you need to do is get to a junior college, you need to hide out, you need to express to them how committed you are and you need to hide and hope that they don't over-recruit or recruit over you because they believe that you're committed," Kocol said. "This senior class, I really feel for them."
Glendale is a program that emphasizes strong academics, with eight players named in the all-state academic list this season.
Couple that with a successful program on the field, and a number of Glendale players could have the opportunity to move on to four-year programs and extend their careers.
Glendale has won seven conference titles since 2011 and was looking to secure its third consecutive Western State Conference championship this season. Last year, the Vaqueros reached the CCCAA Southern California Sectionals.
"There's a ton — a ton — of work that goes into putting each individual plan for a guy and keeping them on that plan and keeping them bought in, riding the roller coaster of successes and setbacks," Kocol said. "That foundation was laid in November where guys are applying to schools. Now we're waiting to see who gets into schools. That's No. 1."
With his senior season coming to an end, La Cañada shortstop Ian Tinkham hoped to make strides during his campaign with the Spartans, who looked to build on their trip to the CIF Division III title game in 2019.
Tinkham has received offers from Division II schools as well as smaller colleges and has also received interest from area junior colleges such as Pasadena City College and Glendale college.
"It's been tough with the quarantine," Tinkham said. "I've been emailing a lot, but you can't go on any of the visits. You can't do any of that stuff. I was going to go on a visit to GCC. They want to do a whole visit and want to have my family come over and talk, but we can't."
In golf, Burbank High junior JJ Nakao regularly keeps in touch with recruiting coaches from Cal State Long Beach. But the 2019 Pacific League individual champion and former All-Area honoree has experienced a slowdown of coaches contacting him.
Individual tournaments and league matches are no more, leaving most of the recruitment in limbo.
"The best you can do now is read books to help you mentally for your golf game," said Nakao, who has held makeshift putting practices in his backyard. "I just see it as more of an opportunity to grow. Once tournaments start again, I get to see how much I grow, so I'm pretty excited for whatever is going to happen in the future."
Burbank resident Mei Lei O'Neil is a junior soccer player at Immaculate Heart and had plans to display her game at the Players Showcase in Las Vegas. The event, like many others, was canceled.
"The biggest problem is that we both don't really know what's happening," O'Neil said. "These college coaches say 'I don't know exactly what's happening, but you can send highlight reels,' but they don't know exactly when they're going to be able to see me or if any of their camps will happen. It's kind of all up in the air for both of us."
O'Neil had an offer from Sarah Lawrence College in New York, but travel plans were rearranged. In the meantime, O'Neil has kept in touch with other coaches through emails and phone calls, sending highlight footage.
Crescenta Valley junior Mia Barnett has had better experiences with recruitment.
The Falcons cross-country and track and field athlete, who transferred from Village Christian just before the end of the winter break, stays in contact with all her recruiting coaches.
Luckily for Barnett, who's a two-time CIF Division IV cross-country champion and has won track and field titles in the 1,600 and 3,200 meters, coaches approached her during the summer, but travel restrictions have hindered her upcoming decision as college visits were her main focus.
"I was hoping to commit in November, but I might have to push that back a little bit," Barnett said. "I don't have a set school in mind right now. It's still very open. I was planning to make some official visits in the spring, but, obviously, all the college campuses have shut down. I couldn't take my official visits, so a lot of them are pushed to the fall, so that's why the decision will probably be pushed back to next summer."
Barnett was hoping to build on her resume in her junior year. Her offers have come from both cross-country and track and field programs, as she has stayed in touch with many coaches via texts, phone calls and FaceTime.
"I know your junior year is a big year in the college process," Barnett said. "I'm glad I got to build a relationship with some of them early and I'm still keeping in touch with them."
For Crescenta Valley senior Dylan Wilbur, the 2018-2019 Glendale News-Press Boys' Athlete of the Year, he made college visits earlier in the fall.
Logistics, such as housing and financial aid, held him back from coming to a final decision.
"I know for a lot of people that March is the time where you go out and you take these recruiting trips," Wilbur said. "I don't know what I would do if I wasn't able to take those recruiting trips. It would be really hard to make important decisions. I feel fortunate that I already kind of had stuff figured out."
Wilbur was gearing up for his final high school track and field season which he hoped to build on last season's success.
The senior captured the CIF Southern Section Division I title in the 3,200 and took eighth in the state competition. He also won two Pacific League titles and was hoping to have faster times this season to cap off his high school career.
"I definitely wanted to make my decision sooner rather than later," said Wilbur, who also advanced to state competition in cross-country. "A, it's one thing to get off your mind and you can focus better on getting good performances, and, B, the earlier you do it, the more you can talk to recruits and figure out the housing and all that. It's more beneficial to commit early. I almost wish I could have committed in November."
---