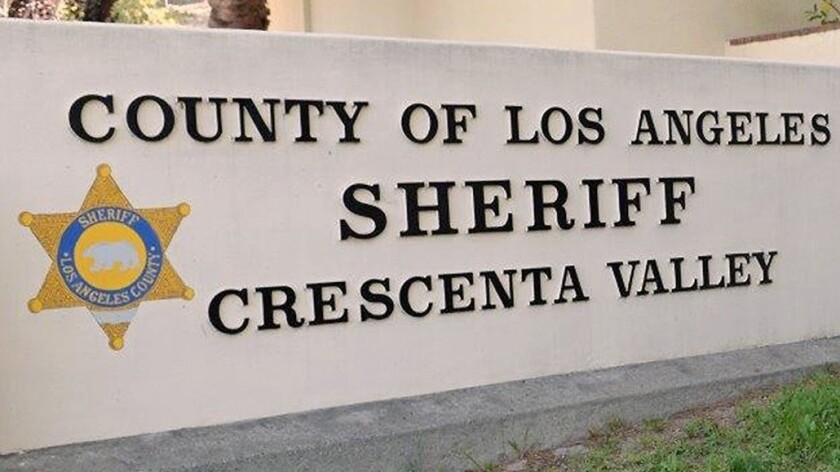 Dec. 17
Theft by false pretense: 4700 block of Hillard Avenue, La Cañada. A man who provides online tutoring for a job told deputies he received an email on Dec. 11 at around 10:43 a.m. from a man requesting eight sessions for his son. The purported customer said he'd pay upfront with a check written in an amount greater than the agreed-upon total. On Dec. 17, the tutor received a FedEx envelope containing a check from a Comex Corp. in Texas and deposited it into his account. The next day, the "customer" asked him to send the difference back using the online app Venmo. The tutor downloaded the app and synced it to his father's bank account and then sent the money to a third party indicated by the man. The tutor did so but became suspicious and called the bank about the check. A bank representative confirmed the check was fraudulent and had bounced. The tutor's father later saw the Venmo charge post to his account on Dec. 20.
Dec. 23
Burglary, vehicle: 4400 block of Woodleigh Lane, La Cañada. A man told deputies he'd gone Christmas shopping the day before and at around 7 p.m. left his 2009 Lexus GX470 parked in front of his house with the day's purchases still inside. When he returned to the car Dec. 23 at around 5:45 a.m. and entered the vehicle, he noticed the front passenger's side window had been shattered and the center console and glove compartment ransacked. His Fast Trak transponder and Edison work ID card were missing, as were the bags of gifts from the backseat, a gym bag and his work boots and hard hat. Among the items stolen was a video game and items from Target and Victoria's Secret.
Burglary, residence: 5500 block of Pinecone Road, La Crescenta. A woman visited a residence that was vacant and under construction on Dec. 21 at around 10 a.m. and noticed her friend's tool bag in a kitchen cabinet. When she returned two days later at around 10:45 a.m. to meet an air-conditioning contractor, she noticed the home's interior garage door had been damaged. The contractor told her when he'd gotten there, the front doors were open. When the woman looked around inside, she noticed her friend's tool bag was missing.
Identity theft: 2600 block of RidgePine Drive, La Crescenta. A man said he received a letter from Bank of America on Dec. 15 informing him of a Visa debit card application in his name which, he told deputies, he'd never filled out. He canceled the account through a representative and said no purchases had been made on it.
Dec. 25
Burglary, residence: 5300 block of Ivafern Lane, La Cañada. Deputies responded to a potential burglary at a residence, where someone had seen a possibly suspicious white Lexus driving from the location. They initiated a traffic stop of a white Lexus in the area but determined it was not likely involved. The homeowner said someone removed a screen from a window and entered the residence while he and his wife were in another part of the house, sometime around 1 p.m. He reported three high-end purses and several pieces of jewelry, including three gold rings and a gold chain with a black metal four-leaf clover pendant were missing from the bedroom.
Dec. 26
Vandalism: 4300 block of Purtell Drive, La Cañada. A man reported returning home Dec. 25 at around 11 p.m. after visiting a friend in Altadena. He parked his 2013 Toyota Prius in the driveway of his residence, locking and securing it. At around 12:15 a.m., Dec. 26 he heard a loud crashing sound outside but dismissed it, thinking a branch had fallen off a tree and onto the ground due to windy conditions. At around 10 a.m., the man went out to the vehicle and noticed its windshield had a long crack on the driver's side. He also saw a piece of granite rock with a word (redacted) written on it laying on the driver's side of his car's hood.
Dec. 27
Burglary, commercial: 3100 block of Foothill Boulevard, La Crescenta. A man told deputies two unknown suspects entered the business at around 4:42 a.m. and stole cash from the cash register, entering and exiting through the glass front door of the location. Deputies observed the front door had been smashed, and coins and currency were strewn by the front door and across the cash register area. Surveillance footage showed two suspects — a heavyset person in a light-colored sweatshirt, ski mask and gloves and the other person in a dark-colored hooded sweatshirt, ski mask and gloves — smash the business' front door and remove the register drawer. One of them carried a reciprocating saw. They left through the front and entered a dark-colored SUV, possibly a Cadillac Escalade, leaving the property.
Fraud by false pretense: 2200 block of Waltonia, Montrose. A man reported contacting a stranger through the app OfferUp on Sept. 8 regarding a 2004 Dodge Ram for sale. The seller agreed to meet him at the Waltonia Drive location. When the man arrived, he saw the seller and a second male, described as being Middle Eastern with black hair, brown eyes and of medium build, cleaning out the vehicle. They went on a test drive, and the buyer checked the truck's registration and smog check documents before making an offer and driving the vehicle home. Then, on Oct. 31, while driving the vehicle in Santa Ana, the man was pulled over by the Santa Ana Police Department. Officers said the vehicle had been reported stolen out of Long Beach. When they contacted the original owner, a woman, she said she'd sold the Dodge Ram to another man on Sept. 5 in exchange for a Toyota RAV-4. But when she went to get the RAV-4 registered, she learned it had been reported stolen and consequently reported her Dodge Ram stolen. Deputies were not able to contact the man who'd sold the Ram and, ultimately, the Ram was returned to its registered owner.
Dec. 28
Petty theft: 2400 block of Florencia Drive, Montrose. A man told deputies he walked up to his 2003 Honda Accord that day at around 11:10 a.m. and noticed the glove compartment and center console had been opened and paperwork scattered inside the vehicle. The driver's side door was ajar and there was no sign of forced entry. He said he'd last seen the vehicle on Dec. 24 at around 5 p.m. When he entered the ransacked vehicle, the man observed a small puddle of water on the interior doorway and smelled cigarette smoke. Among the items missing were a Suunto Altimax wristwatch and photographs of his dog and parents, which had been kept in a bubble-wrapped envelope.
Dec. 29
Burglary, vehicle: 5400 block of Pineridge Drive, La Crescenta. Deputies responded to a report of a possible vehicle burglary and arrived to see a gray BMW 328i parked north of a driveway with its driver's side window smashed. Inside, the backseat had been ransacked. Deputies contacted a man associated with the address, who said the vehicle belonged to his father, due home later that evening.
Compiled from reports on file at the Crescenta Valley Sheriff's Station.
---