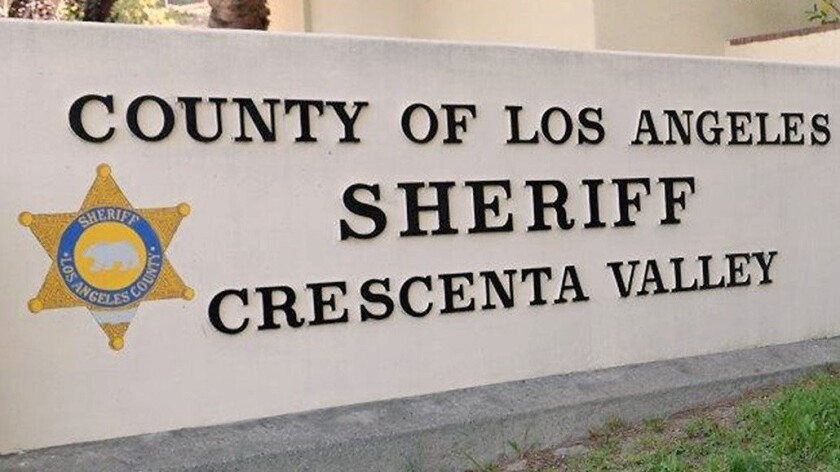 The victim became suspicious when a request came in on Christmas Day. He told the suspect a freeze had been placed on his account, and the suspect suggested they meet in person.
Dec. 31
Burglary, residence: 3600 block of Karen Sue Lane, La Cañada. Deputies responded to a burglary alarm call at around 10:05 a.m. and noticed a shattered glass door at the rear of the residence. An upstairs master bedroom had been ransacked, with empty jewelry boxes strewn on the floor of a walk-in closet. Drawers inside the closet and bedside tables were opened and appeared to have been shuffled through. Near the bed lay a pillow with its case missing. The homeowner later said he left town at around 7 a.m. on Dec. 29. The only person with access to the property was a cleaning lady scheduled to come that evening.
Jan. 2
Burglary, commercial: 500 block of Foothill Boulevard, La Cañada. Deputies responded to a burglary alarm call at a pharmacy and noticed the business' storefront window had been recently shattered and was still crackling. Inside, a window between the checkout counter and the medication room was also broken. The owner was contacted and performed a walk-through but could not tell if anything had been stolen.
Petty theft: 2100 block of Foothill Boulevard, La Cañada. A woman told deputies she'd been shopping at a grocery store on Dec. 31 at around 11:30 a.m. and had just paid for her groceries, returning her wallet to her purse, when an unknown woman stole it from her. She claimed the suspect made off with her license, bank card and cash, although she could not describe the woman or how the theft may have happened. She said she didn't call the sheriff's department right away because "she just didn't think about it." She said she notified her bank regarding the missing card but could not provide deputies with the account number.
Identity theft: 4900 block of Alta Canyada Road. A woman said she was notified on Dec. 1 from a credit monitoring bureau that there had been four recent suspicious inquiries made using her personal information. In three cases, the inquiries were rejected, but one Nordstrom card was successfully approved. On Dec. 17, she received notice that an account at Chase bank had been opened in her name on Dec. 9. Three other inquiries had been made at Chase, Capital One and Bank of America without her knowledge.
Theft by false pretenses; elder abuse: 4100 block of Briggs Avenue, Montrose. An elderly man received a phone call on Dec. 30 at around 8:30 a.m. from a person claiming to be his nephew. The caller said he'd been arrested in Florida for possessing marijuana and had contacted an attorney, who also spoke on the call. The alleged attorney said the nephew was deemed a flight risk and needed a certain amount of bond money to be sent through a wire transfer (amount redacted). The man complied and received a call from the "attorney" saying if the case were dropped, which looked likely, the money would be refunded. He later called his niece about the case but learned from her the nephew had not been in Florida and was not in any legal trouble.
Identity theft: 3900 block of Alta Vista Drive, La Cañada. A man reported that, on Dec. 4, someone had used his personal information to apply for a loan from GreenSky lending company in Alabama. He learned of the transaction Dec. 31, when he received a loan statement in the mail. A representative told him the loan had been applied for online.
Identity theft: 5100 block of Angeles Crest Highway, La Cañada. A woman told deputies she'd logged onto her Citibank online account that day at around 2 p.m. and noticed 11 unauthorized purchases had been made using her checking account number, which is linked to her Amazon account. Deputies noted two similar recent incidents, in which bank accounts linked to Amazon were used for fraudulent purposes. The victim's husband noticed one of the purchases, for a Starbucks gift card, contained an email address. He looked up the address online and saw associated addresses in Glendale, Tujunga, Sunland and Northridge.
Jan. 3
Theft by false pretenses: 4300 block of Cobblestone Lane, La Cañada. A man posted his resume on caljos.ca.gov for employers to view and received a text on Nov. 29 with a link to a Google doc and a request for him to fill out a survey. He complied and was asked via email if he had a bank account. The alleged employer said he would receive a laptop needed for the job, but the laptop never came. On Dec. 18, the victim received a check delivered by courier with instructions to deposit the check and purchase a money order. He attempted to get a money order from the post office but was declined. The next day, he deposited the check and received two money orders, which he deposited into a Wells Fargo account. The suspect then contacted him requesting two Apple gift cards, which the victim purchased using his debit card. An Apple Store employee made him sign a waiver that the cards were not a scam. More requests for gift cards came in the following week, with the victim ultimately purchasing another 18 cards. On Dec 25, the victim became suspicious when another request came in. He told the suspect a freeze had been placed on his account, and the suspect suggested they meet in person on Jan. 3, as he'd be in California.
Jan. 5
Burglary, vehicle: 2900 block of Santa Carlotta Street, La Crescenta. A woman parked her 2010 Toyota Prius across from her parents' residence at around 6 p.m. the day before. When she returned at around 10 a.m. that morning, she noticed the rear driver's side window had been smashed and a Canon digital camera and Coach purse stolen from inside.
Vandalism; petty theft: 2700 block of Henrietta Avenue, La Crescenta. A woman left her 2016 Lexus IS250 parked in front of her residence at around 9:30 p.m. and when she returned the next day at around noon, she noticed the right front bumper had sustained significant damage and a headlight was missing. She initially believed another driver had collided with her vehicle and left the scene but later noticed it appeared someone had vandalized the bumper and fender to remove the headlight.
Compiled from reports on file at the Crescenta Valley Sheriff's Station.
---