With fate of LCUSD-owned Batchelder fireplace in limbo, old tiles are made new
With Palm Crest Elementary School anticipating a total campus renovation in 2021, it's clear the days of the former La Cañada Unified School District office on the corner of Palm Drive and Fairmount Avenue are numbered.
The former mountain retreat dates to 1923, three decades before LCUSD acquired it, and serves as a storage facility. But inside sits a bit of a treasure — an Arts and Crafts-era tile fireplace designed by Pasadena ceramicist Ernest Allan Batchelder.
Ever since school district officials discovered the piece, and with the demolition of the building slated as part of the modernization ever nearer, they've been reading up on the artist and looking for interested takers.
"We're trying to get ideas from tile preservationists about what it would take to move and restore it," said LCUSD Assistant Supt. Mark Evans. "The house is going to have to come down, so we're looking at how do we salvage it and is there a home for it?"
Pasadena tile artist Cha-Rie Tang — who's collected Batchelder tiles since a friend of hers discovered several plaster molds in his Silver Lake backyard — visited the building on Dec. 30 to look at the fireplace.
She was invited by LCUSD Chief Tech Officer Jamie Lewsadder, who hired Tang to do tile work and learned about the artist's connection to Batchelder work during a visit to her studio.
"I thought, 'We have [Batchelder] tiles,'" Lewsadder said of the old district office. "It was kind of an epiphany that came to me as I was standing there. She offered to make some copies for us."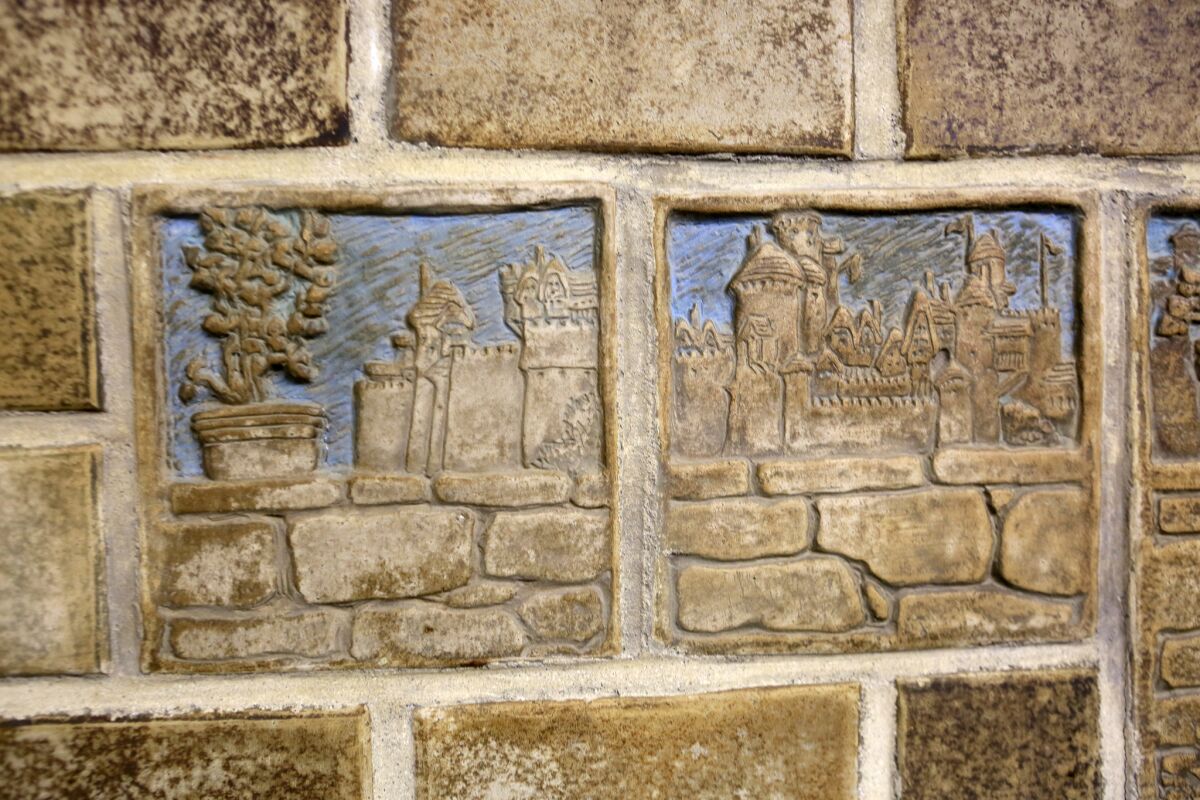 Together, they made clay impressions of the tiles to create templates that could be kept in an archive or used to cast new tiles. Tang said while the fireplace patterns are not currently in vogue and aren't likely to net much money, they're still historically relevant.
"The Batchelder tiles were very much a part of the Arts and Crafts movement so I knew they were important," she said. "They're very charming."
The artist poured silicone liquid over the clay impressions to create a positive. From that, she was able to make plaster mold negatives of the fireplace tiles. Filling those with liquid clay slip will create new tiles.
Lewsadder said she plans to use Tang's molds to recreate a portion of the medieval-themed artwork and then set and hang the new tile pieces up in the current district office.
Meanwhile, Evans will continue to search for a way to preserve the old fireplace, so that this piece of Batchelder history is not lost forever.
"My goal is to have it preserved, even if that means keeping it in crates and finding a temporary home," he said. "I don't want it demolished with the rest of the building."
---