Coronavirus pandemic prompts mental-health workers to connect with students online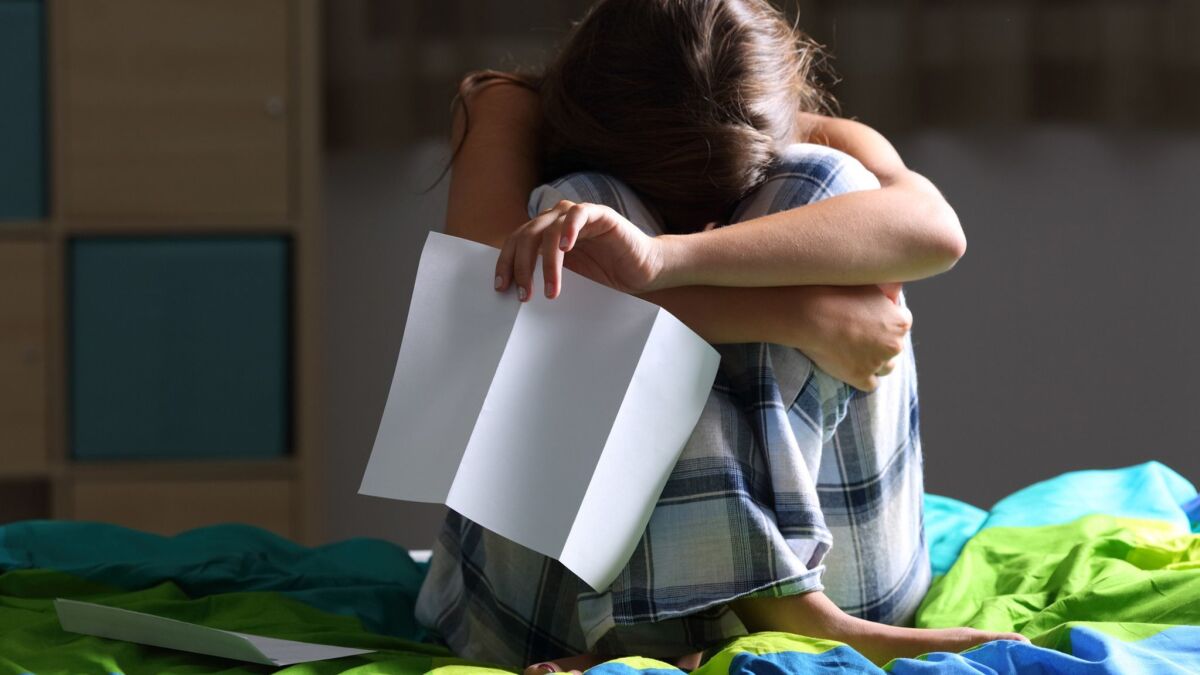 As local school districts switch classrooms to online settings, mental-health workers also quickly pivoted to adjust student services.
Last week, officials with the Los Angeles County Department of Mental Health and Office of Education sent an email to all school superintendents in the county, making student mental health a priority by providing contact information and resources.
State Sen. Anthony Portantino, in partnership with First District PTA, echoed the same sentiment this past Saturday during a virtual family health forum, inviting therapists to answer questions.
Nora Chitilian, a marriage and family therapist based in Glendale, agreed to participate in the forum after Portantino called and said there were rising calls to suicide hotlines.
Through her practice, Chitilian said she's seeing "teenagers or younger experience population grief ... They're feeling the loss of their freedom or lifestyle and some of the symptoms could be anger and frustration — snapping at parents, being rude or rebellious."
She said she gives those students gratitude-journal assignments, mindfulness exercises and creative activities and helps them establish a daily routine.
Chitilian pointed out parents also need support — in particular those who lost their income, made huge changes in order to work from home or are struggling to fully utilize online resources for their special-needs children.
Lara Mekhitarian, a therapist based in La Crescenta who specializes in trauma, said she's observed some clients who tend to have anxiety are feeling calmer during the health crisis.
"Their take on the situation is the whole world is on their level [of anxiety] now. But I've also seen a lot of people having trouble explaining why schools are closed and what this means to their kids," Mekhitarian said.
She recommends breaking down appropriate information according to the age group and providing reassurances about safety, especially for younger children. She pointed out adolescents might need space to process their expectations of graduation ceremonies and other end-of-year activities being canceled.
Although the academic school year ends in about a month, three local school districts continue to provide mental-health and wellness services for their students while they balance home life and education.

Burbank Unified School District
Family Service Agency, or FSA, is a nonprofit that provides general mental-health counseling, and about 50 counselors support Burbank Unified students during the academic year.
Karissa Provost, FSA's director, said counselors started calling every family assigned to them to offer phone counseling sessions when the district announced school closures. The agency is looking into possibly adding video-conferencing sessions in the future.
According to Taylor Foxhall, director of wellness centers at Burbank and Burroughs high schools, students can call or text a center if they need support.
During this time, students in counseling can reach out to their FSA counselors to access a free small food pantry. FSA is offering clients food packages they can pick up at the agency's Burbank office, located at 2721 Burbank Blvd.
For the past few weeks, Burbank and Burroughs high school students who run the Student Advisory Mental Health Board have posted YouTube videos and live-streamed on Instagram about various mental-health topics from meditation to online learning tips.
The student board chair, Ariana Kretz, said they expect to continue to release videos and social-media posts every day starting next week. They also plan to partner with Teen Line, a Cedars-Sinai Medical Center suicide prevention organization, to bring more online information to Burbank students.

Glendale Unified School District

The district's Student Wellness Services Department continues to provide online and phone therapy sessions for students. About 45 interns studying for master's degrees work under the district's Intern Academy and connect with students to provide school counseling, social work and therapy services.
According to Dr. Ilin Magran, the department's director, the interns serve about 500 students a year. During the past week, the department collected nearly 100 virtual-session consent forms, and she hopes the number will rise as families grow comfortable with online platforms.
The interns created a YouTube video last week introducing a series about social distancing and ways to deal with anxiety over the coronavirus pandemic. They plan to post a new video every Friday on YouTube, Instagram and Facebook.
The department is also conducting wellness checks — calling students to find out if they are safe and connecting to the school. The district's website, gusd.net/health, has been updated with a coronavirus-related online booklet about coping skills and free activities, in addition to lists of alternative mental-health providers categorized by insurance and age groups.
Magran will also speak during a mental-health information session, hosted by the Toll Middle School PTA, at 5 p.m. on April 22 that will air live on the district's Facebook page, with student wellness department staff, an educational consultant and local therapists as panelists.
After receiving emails about parents who are frustrated and distressed, Magran said the department also plans to launch a parent support group, featuring eight sessions in Armenian, English and Spanish.

La Cañada Unified School District

Elementary school counselors are providing mental-health and wellness resources that teachers have incorporated into their online lesson plans. For first- and second-graders, a lesson plan could include a presentation on how to show emotions appropriately.
According to La Cañada Unified's Supt. Wendy Sinnette, the district employs comprehensive counselors who provide academic, college and socioemotional wellness support. They check in with students on their rosters through email and by phone.
The wellness center at La Cañada High School remains open remotely. Students can contact the center, and staff will guide students to access web-based resources, such as online lessons about mindfulness or counseling sessions conducted online with a licensed marriage and family therapist.
With a student population of about 4,000, the counseling department at La Cañada High has 13 full-time counselors, wellness staff and school psychologists while three counselors work out of elementary school sites.
---