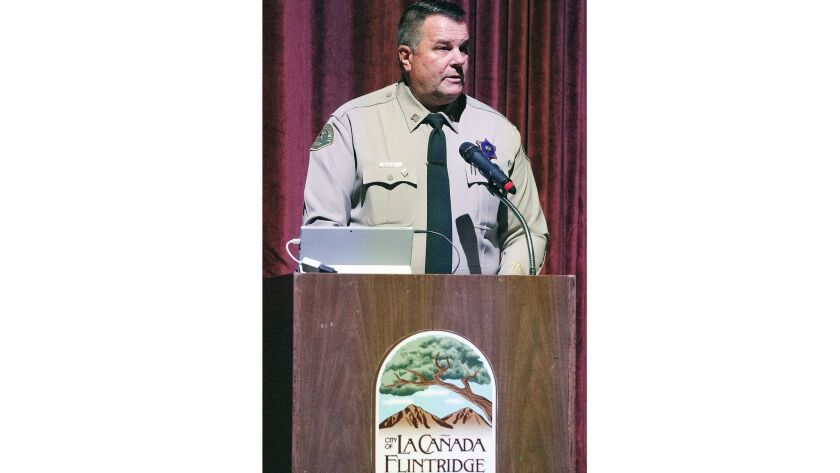 Crescenta Valley Sheriff's Station Capt. Chris Blasnek will soon leave his local post, after recently learning he's being promoted to the rank of commander by newly elected Los Angeles County Sheriff Alex Villanueva.
News of a transfer this weekend followed a Dec. 27 in-person meeting with the new sheriff, who'd previously asked members of the department to submit their resumes for review. In a meeting earlier that month, Villaneuva informed personnel of his plan to reorganize the department, employing a new model of hiring and promotions based on merit.
Blasnek, who joined the county Sheriff's Department in 1983, said he was surprised to hear he'd been promoted so "late in the game" and admits he has mixed emotions about leaving a station he'd come to think of as a second home.
"The best word to describe it is 'bittersweet,'" the captain said of the move out of the station on La Crescenta's Briggs Avenue. "I've really come to love everybody here at the station and in the community — I'm really leaving the best place in the world."
Blasnek came to the Crescenta Valley Station on April 2, 2017, to replace Capt. Bill Song, who left after being promoted to commander position with the Sheriff's Department's Technology and Support Division under former Sheriff Jim McDonnell.
During his time at the La Crescenta facility, Blasnek focused his efforts on preventing and responding to upward trends in property crimes — including two armed robberies in La Cañada Flintridge that took place in a two-week period and a rash of residential burglaries — and improving conditions and morale at the station.
Operations Sgt. Audrey Alvarez, who's worked at the station for the past four years, credited the captain for supporting his deputies and striving to maintain a proactive approach to community policing.
"He's brought a tremendous morale to the station," Alvarez said Friday. "He's always been very personable to the deputies, commending them on their work and they're productivity. He's a very good captain."
Under Blasnek's leadership, several improvements were made to the Crescenta Valley Station. The one-way mirror in the lobby was replaced with clear bulletproof glass, because "it's important for people to see inside and see who the troops are," he said, while several other areas inside and out were remodeled.
The captain regularly attended community events, sitting through entire city council meetings in case he was needed for anything and taking comments and suggestions from area residents.
In his new role, Blasnek will supervise the sheriff's department's South Patrol Division, comprising the Carson, Cerritos, Lakewood, Lomita, Norwalk and Pico Rivera patrol stations.
Community members are wishing him all the best at the new post but say they're sad to see him go.
La Cañada Flintridge Mayor Pro Tem Len Pieroni, a longtime member of the Crescenta Valley Sheriff's Support Group, said he appreciated Blasnek's willingness to respond quickly and effectively to outbreaks in crime and his community-centered approach to law enforcement.
"He was very open and he was outgoing and open to talking about things," Pieroni said. "He really tried to make a network in the community, and he's done a great job in doing that — we're going to miss him."
Twitter: @SaraCardine
---