La Cañada History: 2009 Amgen Tour of California greeted by locals as it sweeps through town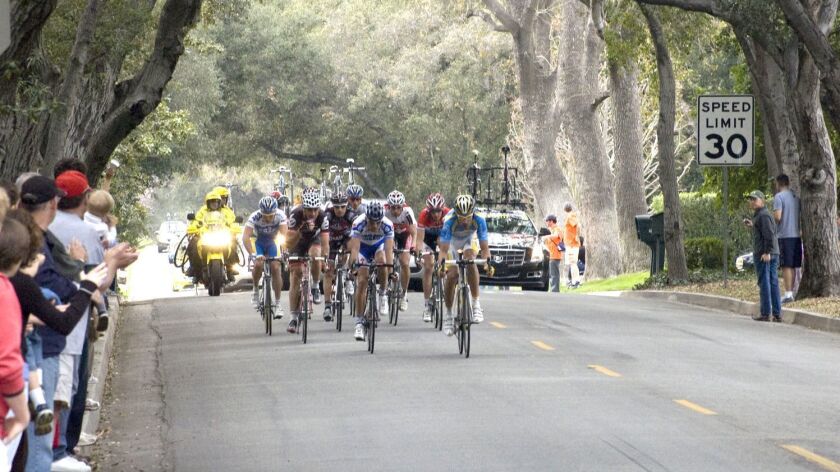 Ten Years Ago
Cowbells were rung and cheers from onlookers broke out when the Amgen Tour of California swept through La Cañada Flintridge on Saturday, Feb. 21, 2009 after emerging from the Angeles National Forest. The cyclists, including notables Lance Armstrong and Floyd Landis, were completing the seventh of nine stages of that year's 750-mile race, which stretched from Sacramento to Escondido. The seventh stage, won by Italy's Rinaldo Nocentini, ended in Pasadena. American cyclist Levi Leipheimer won the overall competition.
Twenty Years Ago
Brother Steve Tetreault, Father Matt Elshoff and Charlie Blaney were busy preparing for a musical number they were going to present during St. Francis High School's 1999 POSH (Preserving our Scholarship Heritage) event that would be held that winter at the Ritz-Carlton in Pasadena.
Thirty Years Ago
The La Cañada Flintridge City Council denied an appeal of the neighbors of Lanterman House and upheld the Planning Commission's approval of the property as a museum, civic-cultural center and organ recital hall. The property on Encinas Drive had been willed to the city by the late Lloyd Lanterman, whose parents built the house in 1915.
Forty Years Ago
Three false bomb threats, two of them received by schools, were reported to the Crescenta Valley Sheriff's Station. Targeted by a male phone caller were St. Francis High School, La Cañada High School and Verdugo Savings & Loan.
Fifty Years Ago
Grading got underway for the $1.2-million Flynnridge Shopping Center on the north side of Foothill Boulevard between Indianola Way and Gould Avenue. The developers were brothers Matt Flynn Jr. and Pat Flynn.
Sixty Years Ago
"Beatnik" was the theme and fun was had by all who attended the eighth-grade dance held at the La Cañada Youth House (community center) on Chevy Chase Drive. In keeping with the beat generation, all the attendees dressed in "cool" dark colors.
Compiled from the Valley Sun archives by Carol Cormaci.
---