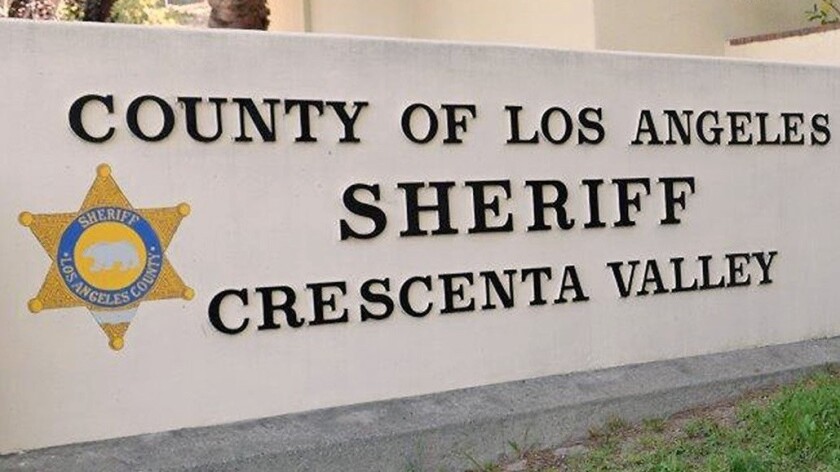 Oct. 8
Theft by use of lost/stolen credit card: 2100 block of Foothill Boulevard. A woman reported her wallet was missing and that she'd received text messages of charges made to debit and credit cards that had been in it. She said she shopped in a store for about 10 minutes that morning, with her purse stowed in the basket of the shopping cart. She does not recall seeing anyone around her throughout her visit. But when she went to another store and tried to make a purchase there, she realized her wallet was gone from her purse. Missing with the wallet were a Bank of America debit card, a Capitol One credit card, a Nordstrom card, her driver's license and some cash. Investigating deputies visited the Vons in Montrose, where some fraudulent purchases had been attempted with her card. They reviewed surveillance tape and identified two possible suspects, both of whom appeared to be in their 30s: a white male, 6 feet tall and about 200 pounds, and a white female, blond, 5 feet 10 and about 175 pounds.
Oct. 9
Nonresidential burglary: 1900 block of Foothill Boulevard (Crescenta-Cañada YMCA). A man reported that his backpack, which he'd left in a secured locker, was missing at about 6:45 p.m. that day, about an hour after he'd stowed it there. Missing with the backpack were two cellphones, a JPL ID card, two credit cards, a driver's license, a health insurance card, a garage door opener, a bike light attachment, eyeglasses and currency.
Oct. 11
Vehicle tampering: 2100 block of La Cañada Crest Drive. A man reported that sometime between 8 p.m. Oct. 10 and 11:45 a.m. someone ransacked his 2007 Toyota Matrix, which he'd left parked in a stall at his apartment complex overnight. He's uncertain as to whether or not he'd left it locked. It appeared that nothing was missing.
Theft by false pretenses: 4400 block of Chevy Chase Drive. A woman hoping to purchase a miniature schnauzer found one online and agreed to purchase it, paying the purported seller an amount of funds not specified in the crime report. After she made that electronic payment, the seller called the woman's husband and asked for additional funds to buy a crate to ship the dog from Texas to California. The husband said the seller had a "Nigerian accent" and that he sounded untrustworthy. The woman agreed that something was amiss with the transaction and contacted the Amarillo, Texas, police department to report it. She was advised by that agency to report it to local law enforcement as well.
Oct. 14
Vehicle burglary: 4500 block of Fairlawn Drive. A woman who left her 2008 Lexus parked in her driveway at about 6 p.m. Saturday learned at about 8:30 a.m. via a phone call from American Express that there was some possible fraudulent activity on her account. She went to her car, where she discovered the driver's side window smashed and two Coach handbags that she'd left in the car were missing, along with a coin bag, a driver's license, four miscellaneous gift cards and a pair of Prada sunglasses.
---