Forced out by high rents, Citizens Business Bank finds home in La Cañada City Hall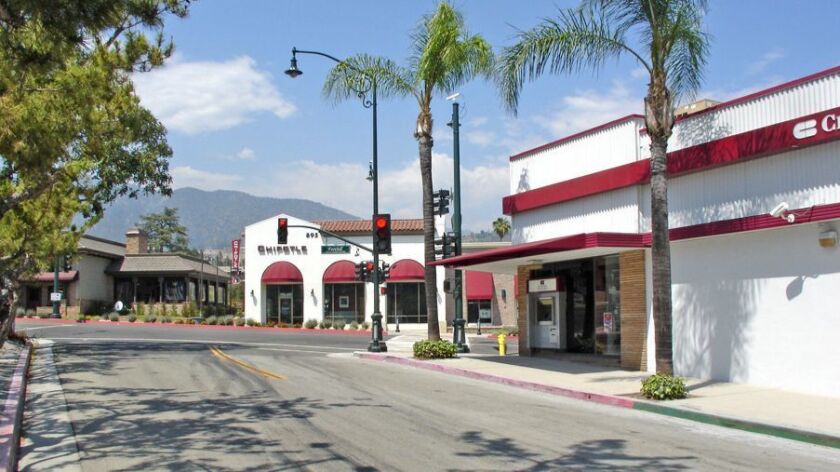 Citizens Business Bank, which has operated a La Cañada Flintridge branch for more than 25 years, will soon move into City Hall, after the City Council approved last week a seven-year lease for 2,672 square feet of the building's first floor.
The bank will pay a base rental rate of $3.10 per square foot, amounting to $8,238 per month with 3% annual increases, according to city documents. This will bring the city a gross annualized income of $99,400.
Christopher Myers, president and chief executive of Citizens' parent, CVB Financial Corp., said the business has occupied its current space at 858 Foothill Blvd. for at least 25 years but was forced to look for alternative locations after a new owner purchased the building early this year and notified tenants rents would be going up.
"The price of our lease in that space was going to more than double," Myers said in an interview Tuesday. "I see this happening in La Cañada a lot — people come in and buy buildings and they need higher rents to justify their purchase price. Had [the new owners] come in and given us a modest increase, we would have stayed where we were."
Venerri Family LLC purchased the Foothill building in January from GIP Investments LLC, which had owned it since 2005. Citizens Business Bank's lease for the space runs through September, and Myers said bank officials hope to complete the move to the city hall building by the end of that month.
A broker for the bank approached city officials in February to express interest in the civic center space, according to Asst. City Manager Carl Alameda. The city plans to add a storefront entrance on its western façade and install signage on the building and on a monument sign near Town Center Drive.
A stairwell will lead bank visitors from a dedicated parking area to the building, which will house an ATM machine for customer use.
"The city felt it was a really good fit," Alameda said, adding that the city does its own banking through Citizens. "It will be a low impact use and a high credit tenant we know will be stable."
Under the agreement, approved by the council on June 20, the city will provide the bank an allowance of $15 per square foot, not to exceed $40,080, to build out the space according to its needs. The agreement also allows for three months of rental abatement in the second, third and fourth months to assist the build-out.
Myers said the new bank location will offer the same amenities as those housed at its current location, including an area for safe deposit boxes.
Councilman Jon Curtis, who serves on a subcommittee dedicated to reviewing potential lease candidates for the civic space, said the agreement between the two parties is mutually beneficial.
"We're so pleased to have Citizens Business Bank stay in town and be a part of the City Hall complex," he said. "This is truly a market rate lease and, for us, a steady source of income to pay down the state of California loan we took out so we're not in a deficit situation."
---