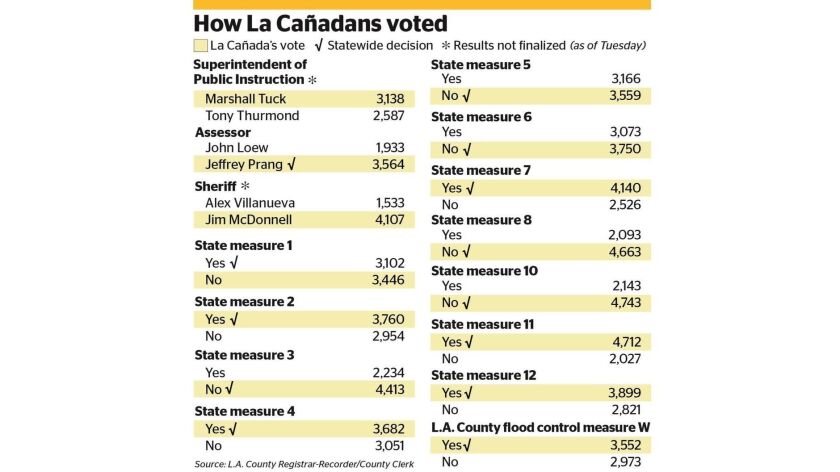 La Cañada Flintridge voters narrowly favored Democratic candidates in the Nov. 6 midterm election, except in the races for insurance commissioner and a seat on the State Board of Equalization, county voting records indicate.
Figures from the Los Angeles County Registrar-Recorder's Office following last week's election show the breakdown of 7,112 ballots cast — representing 48.53% of La Cañada's total 14,655 registered voters.
In the race for governor, Democrat and former Lt. Governor Gavin Newsom led locally, with 3,557 votes, compared to Republican John Cox's 3,364. Newsom secured a statewide win with nearly 70% voter approval. With two Democrats in the running for lieutenant governor, 2,828 La Cañada voters favored Ed Hernandez with only 2,672 voting for Eleni Kounalakis, who secured 50.31% of the state vote.
La Cañada's political sentiment ran counter to the statewide preference in the race for insurance commissioner, where locals favored an unaffiliated Steve Poizner (4,074 votes) to Democrat Ricardo Lara (2,197), who won the state with 60.14% of the vote.
Locals also preferred Republican G. Rick Marshall in the race for State Board of Equalization's 3rd District, with 3,387 votes compared to 2,958 votes for Democrat Tony Vazquez, who went on to seal a statewide win with 70.16% of the vote.
Incumbent Sen. Dianne Feinstein (D-Calif.) was selected by 3,747 La Cañadans to lead in the U.S. Senate, with challenger state Sen. Kevin De Leon (D-Los Angeles) trailing with 2,146 local votes. That trend was mirrored statewide, with Feinstein leading with 58.54%.
In California's 28th Congressional District, incumbent Rep. Adam Schiff (D-Burbank) was widely favored by 3,992 of the city's voters, compared to Republican Johnny Nalbandian's 2,873. Districtwide, Schiff cinched a 76.66% win.
La Cañadans voted against repealing the statewide gas tax (3,750 to 3,073 votes) and against Proposition 10, which would have made it easier for municipalities to pursue rent control — 4,743 locals were opposed with only 2,143 in favor.
City voters also shot down the Water Supply and Water Quality Act, Proposition 3, which called for an $8.8-billion general obligation bond to provide drinking water supply, improvements and services statewide, particularly for disadvantaged California communities.
Nina Jazmadarian, general manager of Foothill Municipal Water District (which supported the measure) said Proposition 3 would have helped finance water projects aimed at ensuring safe and reliable water supplies.
"The financial burden of those costs will result in higher water rates and make it more difficult to complete some of the projects that are planned in southern California to drought-proof the region," Jazmadarian said in an email after the election.
Twitter: @SaraCardine
---