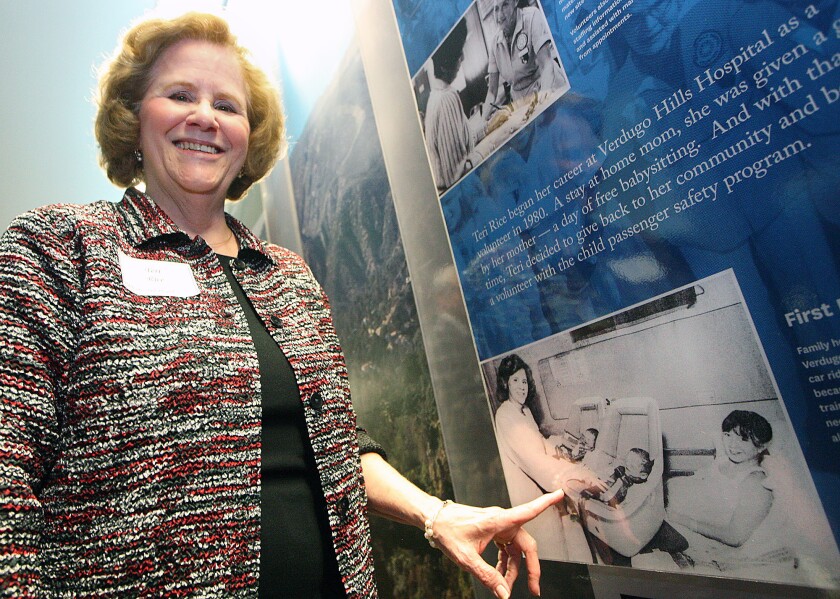 USC Verdugo Hills Hospital was "founded by doctors from the community for the community," and those words are affixed to the wall introducing its recently completed history exhibit. The wall, painted in the backdrop of a stunning mural of La Cañada Flintridge and the Angeles National Forest, chronicles the hospital's beginnings from the land transfer from Behrens Memorial Hospital in Glendale and the opening of the 158-bed facility on Verdugo Boulevard in 1972.
The unveiling took place Tuesday night along with a reception with more than 100 attendees in the newly renovated council rooms on the hospital's fourth floor. The history exhibit also contains an interactive display.
PHOTOS: Hospital unveils new history exhibit

"It's a very collegial staff," said Carlton Valvo M.D., a urologist who lives five minutes down the road. Valvo walked the new exhibit with William Schubert, M.D., a family practice physician. The two were among the first doctors to work at the hospital.
Teri Rice, who has been involved with the hospital for 35 years, 19 of which as a family education program coordinator, said the new exhibit "means a lot to us."
The history wall was funded by a donation from Sue and Steve Wilder, who have both been heavily involved volunteering at the hospital. According to Tammy Capretta, chief integration officer, a partnership between the hospital's Women's Council and USC aided in the council room renovations, which will serve as shared meeting spaces to organizations and the general public. She noted some funds went toward a new patient reception area and the open-air atrium, including its landscaping.
In preparing for a partnership between the hospital and Keck Medicine of USC, Capretta said the Wilders took on a yearlong project researching the scrapbooks in the hospital's basement to tell the story. Resident Don Hahn, a two-time Oscar nominee who produced "Beauty and the Beast," among other films, helped create the exhibit design.
Over the long term, USC has agreed to a $30-million spending plan for improvements at the hospital over the next five years, according to its chief executive, Paul Craig.
Some of the spending will go toward the conversion of electronic records. Expanding the emergency room from 12 to 18 beds and adding a cardiac catheterization lab are two proposals that will likely be presented in April, Craig said. In addition, the hospital hopes to open a neonatal intensive care unit in the next nine months.
"Since acquiring this gem two years ago it's been always been USC's goal to preserve and build on strong community care," Craig said.
--
Matt Sanderson is a freelance writer.
---