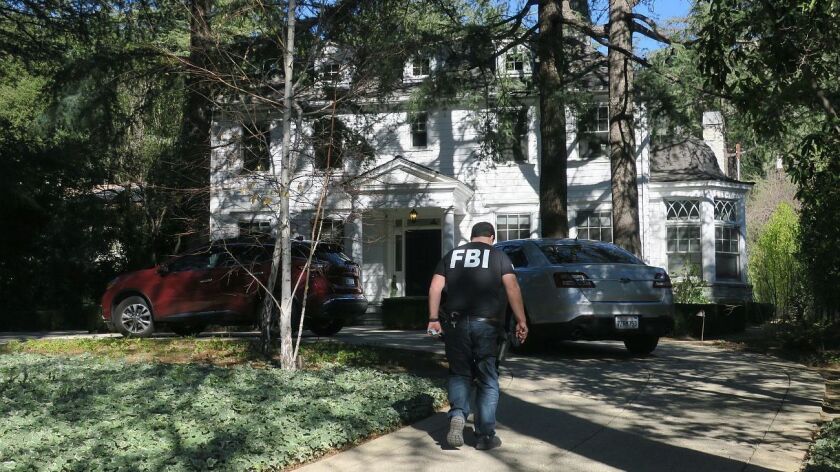 A home on La Cañada's El Vago Street, along with a La Crescenta property and another in Burbank, were targets of federal search warrants served Wednesday morning by personnel from the FBI, U.S. Secret Service and Los Angeles Police Department.
The warrants were issued simultaneously at 6 a.m. — one at 1435 El Vago Street, another at 3122 Pontiac Street in La Crescenta and a third in Burbank — and while local law enforcement reported the cases were related, it could not be determined which agency was overseeing which warrant.
Lt. Mark Slater, acting captain for the Crescenta Valley Sheriff's Station, said deputies were called on to assist agents from the FBI and U.S. Secret Service in the execution of the federal warrants in La Cañada and La Crescenta following a 5:15 a.m. briefing.
"They did request CV Station to be a uniformed presence, so we provided one black and white [vehicle] and one deputy, just to be seen," Slater said of the two locations, adding the officers did not participate in serving the warrants.
"Although we do have some limited information about what the search warrant is about, since it's not our investigation, I don't feel comfortable releasing it," he continued.
At around 11 a.m. on El Vago Street, five hours after agents arrived on scene, the house was still busy with activity as personnel came and went from the property. Two vehicles — a red Nissan SUV with out-of-state license plates and a silver Ford Taurus with California plates — were parked in the semicircular driveway out front.
In the backyard, another car sat inside a detached garage underneath an interior light. An empty trashcan and unread newspaper were still out by the driveway, and occasional onlookers drove by slowly to catch a peek at the property that had been mentioned on Facebook posts for the FBI activity spotted there.
Laura Eimiller, a public affairs officer for the FBI's Los Angeles field office, confirmed a federal search warrant had been served at the El Vago address but said the warrant was under a judge-issued sealing order, which restricts disclosure of the documents and their contents.
Online listing information from blockshopper.com indicated the 5,451-square-foot Colonial style house at 1435 El Vago was sold on Dec. 27 for the purchase price of $2.8 million. Real estate transaction records list the current owners as Alen and Dina Gharehbagloo. The latter works in real estate and owns the Arcave Room, a video-game-event space in La Crescenta.
Public records show the home on Pontiac Street in La Crescenta is owned by Robert and Dana Khudaverdyan.
No further details were available as of early Wednesday afternoon.
Twitter: @SaraCardine
---