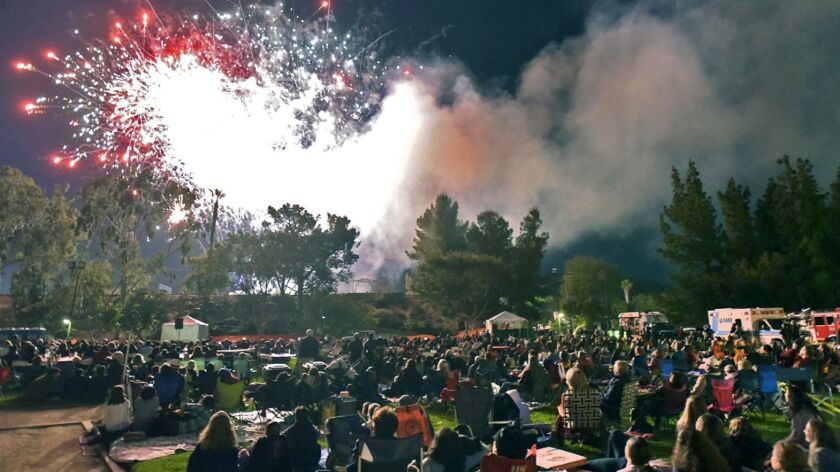 A forecast calling for rain this weekend is doing nothing to dampen the spirits of the individuals and organizations finalizing plans for La Cañada's 46th annual Memorial Weekend Fiesta Days, which begins Friday evening and runs through Monday.
Pat Anderson, president and chief executive of the sponsoring La Cañada Flintridge Chamber of Commerce and Community Assn., said in her 16 years of organizing the hometown event she's never had to worry about rain.
The show, she assures, will go on.
"We're sticking to the schedule, and we're going to hope that Mother Nature cooperates," Anderson said Wednesday, vowing to forge forth even with plans for a fireworks show Sunday. "At least this means we don't have to worry about fire danger."
And what a schedule it is — locals can ante up in support of the Community Center of La Cañada Flintridge at its annual Casino Night Friday from 6:30 to 10:30 p.m. and engage in a suite of activities and events that almost run nonstop before culminating Monday at 4 p.m. with the first installment of the city-sponsored "Music in the Park" concert series.
Barbara Marshall, who's chaired the event for the past 10 years, said her personal day planner is packed.
"I start off at the Community Center with Casino Night and will attend the French toast breakfast and car show Saturday morning, then come back and set up for the movie in the park," she said. "Then on Sunday, it's dinner at the park and fireworks, then I'll be on duty at around 7 a.m. on Monday."
Keeping the spirit of Memorial Day front and center is the mission of Marine veteran and Valley Sun columnist Joe Puglia, who organizes the city's Memorial Day service Monday at 9 a.m. Every year, local Scouts participate by singing, reciting poems and reading letters written in times of war.
This year's ceremony will recognize service members who were held as prisoners of war or went missing in action and never returned home. Children will read poems and letters found in the possession of unidentified solders and, in this way, honor the memories of those who made the ultimate sacrifice.
"Seventy-five thousand Americans went missing in World War II, and their moms and dads lived their whole lives and died never knowing what happened to them," Puglia said. "We're going to give memory to that."
After the service, locals will line Foothill Boulevard for the annual Fiesta Days parade, which begins at 10:30 a.m. There, locals can meet Todd Deeds, recently selected by the Los Angeles Sheriff's Department to serve as the new captain of the Crescenta Valley Sheriff's Station, who will ride in the parade.
Embodying the theme "Family First," parade Grand Marshal, L.A. Times columnist and local dad Chris Erskine will lead the procession alongside teen son Jack.
"My hope was to be carried down Foothill Boulevard by Egyptian servants, a la Cleopatra," Erskine quipped of his ride, a Lexus. "But my buddies wouldn't go for it — plus, they don't look so good with their shirts off."
---