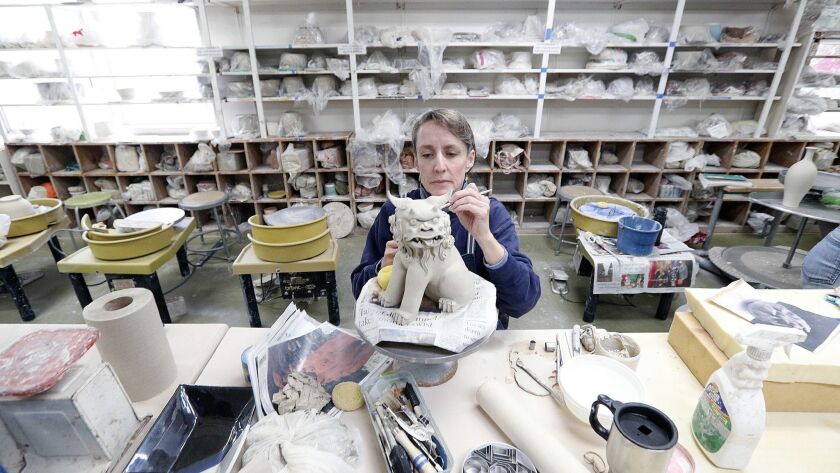 After a marathon round of financial discussions, the La Cañada Flintridge City Council finalized the city's 2019-20 budget Thursday, approving $314,150 in community group requests and decreasing expenditures by $123,575 to fund a slate of projects and programs.
City Manager Mark Alexander advised the council to exercise prudence as they considered $3.2 million of programs, projects and staffing requests with a general fund surplus of just $644,825. Council members complied, closely examining nearly $15 million of proposed expenditures.
From those sessions, they agreed to promote Carl Alameda from director of administrative services to assistant city manager (an $8,975 increase), fund additional hours for two permit technicians ($23,375) and move part-time city engineers to full-time status ($69,500).
To aid La Cañada's overextended Planning Department the council approved adding $211,250 into the city's $1.38-million contract for services through L.A. County Building and Safety, allowing a part-time plan checker to become full time and paying for an additional part-time checker for one quarter of the fiscal year.
Councilman Jon Curtis asked for some kind of assurance increased funding would tangibly reduce the time architects, contractors and residents must wait for plans and permit approval.
"We keep throwing resources at the backlog but the backlog seems to be getting worse," Curtis said. "It's important, from a council standpoint, to be able to convey to people we have [time] standards."
Community Development Director Susan Koleda said staff is working to develop time guidelines for various requests and would present findings in the near future.
City departments adjusted anticipated fee and permit revenues upward some $100,000 and made smaller reductions — to emergency training, graffiti and dead tree removal budgets, among others — for a net gain of $357,375. Council members approved placing $12,400 into an account to eventually pay off a 30-year state loan taken out to help finance the new city hall building.
Increasing contributions could be collected over 14 years, until the loan can be paid off without incurring penalties, Alexander reasoned.
Meanwhile, representatives from 11 area nonprofit organizations and groups made their pitches for programs and operational assistance in the new fiscal year at a June 18 hearing.
Former Councilman Don Voss spoke as a board member for the La Cañada Flintridge Sister Cities Assn., requesting $5,000 to put toward hosting foreign dignitaries at the group's annual meeting and sending students to an International Leadership Summit in Houston this summer. The City Council approved that request.
Maureen Bond, executive director of the Community Center of La Cañada Flintridge, successfully sought $60,000 for kiln shelves for the ceramics department and a shade structure for its preschool and to maintain senior programs and restroom facilities used by the public.
"I hope you'll find that we're doing bigger and better," Bond said of the center's programming. "This is our biggest summer ever."
While YMCA of the Foothills and Descanso Gardens did not make requests this budget cycle, two other organizations sought city support for the first time. The Flintridge Guild of Children's Hospital Los Angeles requested $6,975 to cover fees and costs associated with its annual Great Chocolate Race fundraiser, while the USC Verdugo Hills Hospital Foundation sought $40,000 in seed money for a community senior resource center at the hospital.
Council members did not approve those new requests, directing the Flintridge Guild to seek a fee waiver during the midyear budget review and recommending the USC-VHH Foundation partner with the community center or YMCA on a more comprehensive set of senior offerings.
"We should be looking at supporting groups that are doing things that, otherwise, the city would be doing," Mayor Pro Tem Greg Brown said.
Other recipients include: Lanterman Historical Museum Foundation, $122,275 toward operating funds and salary support for three part-time positions; the La Cañada Flintridge Chamber of Commerce and Community Assn., $90,975 toward operating expenses and annual events with a promise from the council to separately provide $31,675 of lighting for the Festival in Lights; the La Cañada Flintridge Tournament of Roses Assn., $15,400 for an animation system upgrade and infrastructure and safety improvements; La Cañada Valley Beautiful, $12,000 to landscape La Cañada Unified School District headquarters; the La Cañada High School Music Parents Assn., $5,000 for music stands and an amplifier; the One City, One Book committee, $2,500 to promote and host the 2019 community read-in; and the La Cañada Flintridge Coordinating Council, $1,000 toward operating costs, including hosting a 2020 candidates forum.
---