With Devil's Gate dig looming, La Cañada Unified collects baseline air quality data
With the start of the four-year Devil's Gate Sediment Removal project just days away, La Cañada school officials are collecting baseline air quality data that could provide a clearer picture of the project's impacts by offering a before-and-after comparison.
On Monday and Tuesday, employees from San Diego-based environmental consulting firm Ninyo & Moore took air quality readings at various spots around La Cañada High School, both indoors and outdoors and in several classrooms.
Principal industrial hygienist Steve Waide and environmental scientist Pete Kelley recorded findings on a chart that will be provided to La Cañada Unified school officials for assessment.
READ MORE: Full coverage: Devil's Gate Dam sediment removal project »
"For this campus we want to look at the whole thing, so anywhere we can get in, we're getting in to see if we have any anomalies," Waide said Monday, noting the proximity of the Foothill (210) Freeway is a big consideration.
"There's definitely an impact from that — we can see that," he said.
La Cañada Unified Supt. Wendy Sinnette said understanding the quality of the air around the high school before the county's sediment removal project begins is key, so when monitoring data comes in later comparisons can be made.
"The baseline data will let us know what levels of air quality and air pollution exist because we're close to the freeway," she said. "Next, by collecting baseline data we can see what the impacts of the project are."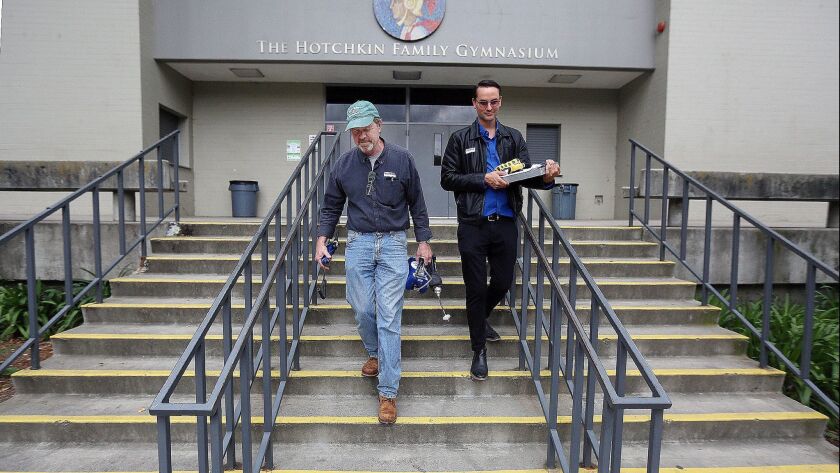 Under a mandate from the Los Angeles County Board of Supervisors, the county will set up several air monitoring stations along the perimeter of Hahamongna Watershed Park, where the digging will occur. They will also place a station on the La Cañada High School campus.
Sinnette said the district is still waiting for details on what the stations will measure, and whether LCUSD will have to undertake its own monitoring, but says county consultant Tetra Tech has so far been accommodating.
With gadgets designed to detect everything from carbon monoxide and nitrogen dioxide to organic vapor and ultrafine particulate matter, Waide and Kelley also collected data from the nearby Child Educational Center.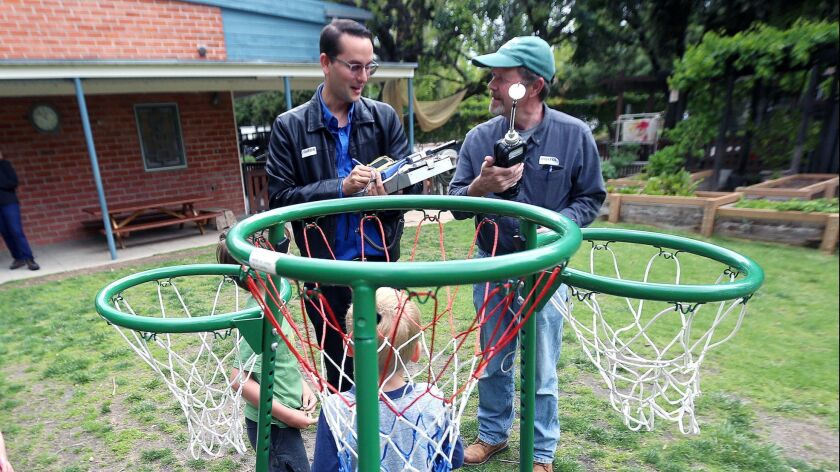 Small children looked on with wide eyes as Waide and Kelley used the instruments in the center's play yard. Ellen Veselack, director of preschool programs for CEC, said everyone on campus is concerned how the Devil's Gate project could affect student health.
"We don't spend a lot of time indoors," she said. "Children are outdoors, and our doors are open — we want to find out if we have to change that."
Sinnette said findings from the baseline data will be reviewed by the LCUSD Governing Board and disseminated to district stakeholders.
---