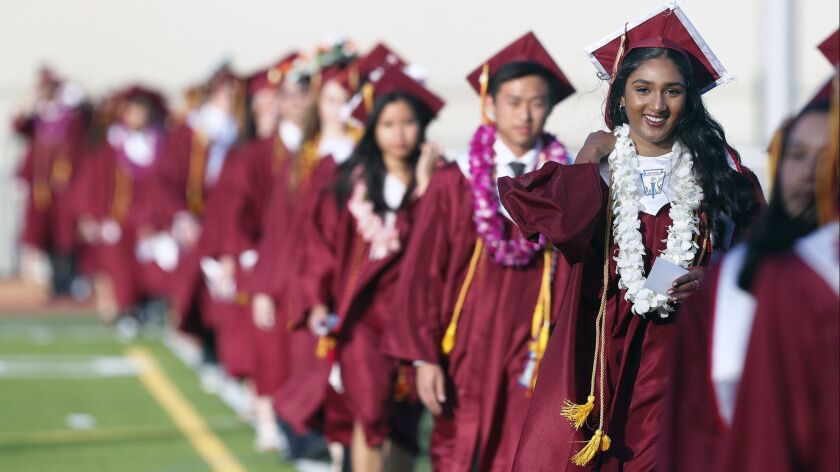 Pondering the nature of a shared legacy — forged over four years and honed by experiences that shaped them individually but will bind them together forever — members of La Cañada High School's Class of 2019 bid farewell Wednesday to their alma mater.
Nearly 350 high school seniors assembled for the last time on the school's football field, dressed in cardinal robes and decorated mortarboards spelling out an impressive post-secondary alphabet — including NYU, BYU, USC, UCLA, LMU, PCC and SFSU.
They shared appreciative hugs and handshakes with teachers and administrators and cast backward glances at loved ones packed tightly into the bleachers behind them, who tried to catch the attention of individual grads with occasional shouts or air-horn blasts.
On stage, senior Ava Salzman said she wondered what wisdom, if any, she and her fellow classmates may have gleaned over countless hours of chemistry classes, essays, tests and extracurricular activities.
"Obviously, with this trove of knowledge, we must all be wise sages," she said. "But I don't feel like a wise sage."
Instead, Salzman shared her gratitude for the truly wise — the parents and family members who each went out and explored the boundaries of their own worlds before dedicating themselves to the care and upbringing of another human life. She urged audience members to take a moment of silence to honor their own personal sages.
In his remarks, Kyle Lee described his childhood love of monsters, recalling how he once dreamed of bravely battling dragons with his mighty sword. As he grew older, the monsters changed into real-life challenges, worries and fears.
Today, instead of swords, members of the Spartan class of 2019 can count on their solidarity and conviction to tackle issues such as inequality, injustice and global warming, he said.
"Fighting monsters demands that we lean on each other," Lee added. "The first step is to be willing to fight, to be eager to take on the shadows ahead."
In his first commencement address as the school's principal, Jim Cartnal conveyed pride for the class's many achievements, from this year's impressive 10 Rio Hondo League wins to the tenacity and character of its students.
Cartnal recounted his recent experience running in the L.A. Marathon, a grueling task that made him realize he was competing not against others but against his own notions of who he was and what he could do. It was his belief in himself and the support of loved ones that kept him going.
"That's my wish for you, Spartans, that you run your own race and pursue your own journey and find wisdom in the running," he said. "Know your mettle, and know you can do this. Spartan graduates — you got this!"
After the conferring of diplomas, friends and families rushed the field as graduates scanned the crowd for classmates or teachers they might never see again. Senior Henry Vaughn led a group of male students who rushed to history teacher Brent Beaty and huddled close to hear final words of encouragement.
Nearby, graduates John Woodhouse and Harry Coleman sought out their respective families. Woodhouse plans to leave soon for a two-year mission trip to New Zealand through the Church of Jesus Christ of Latter-day Saints, while Coleman is expecting to study mathematics at UC Santa Barbara this fall.
While the thought of departing La Cañada High was still too new for them to wrap their heads around, the friends turned nostalgic.
"I guess I'll miss just seeing my friends every day," Coleman said. "It was so convenient — everyone was just here."
---