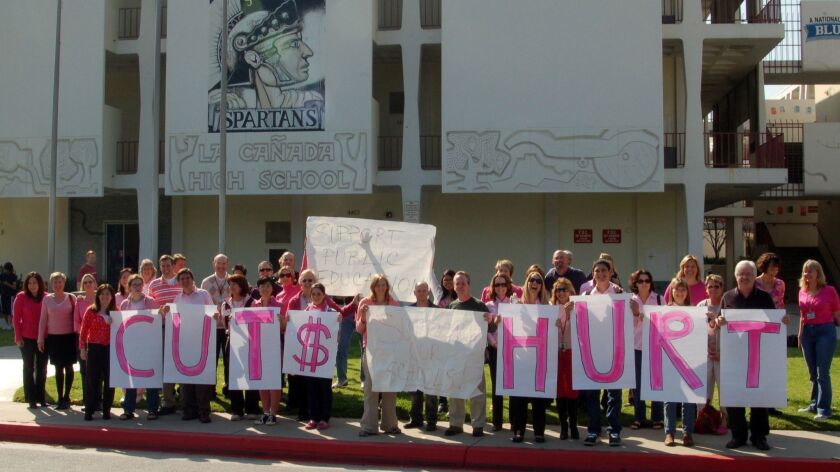 Ten Years Ago
A group of teachers, students, parents and schools supporters wore pink on a Friday in mid-March 2009 and gathered in front of La Cañada High School to protest budget cuts, most specifically as they related to layoffs. "It's a statewide thing," said LCHS teacher Ben Powers. "All over the state, teachers are wearing pink to show their support for the thousands of teachers who are getting their pink slips today."
Twenty Years Ago
The newly seated LCF City Council in late March 1999 was said to be close to naming a new city manager, following the November 1998 departure of Gaby Pryor from the role. Then-Assistant City Manager Mark Alexander, who was shouldering the work of both desks in the interim, took himself out of the running for the top post, citing other goals.
Thirty Years Ago
An estate at 887 Flintridge Avenue that had been owned by Harry G. Johansing Sr. was selected by the Pasadena Junior Philharmonic Committee for its 25th anniversary Pasadena Showcase House of Design. Johansing, who died in 1954 was a leading insurance broker, Papal Knight, Republican leader and philanthropist. The mansion had been the site of many parties in its heyday.
Forty Years Ago
Richard C. Ambrose, 28, was named assistant city manager of La Cañada Flintridge, having been deemed the top candidate from among 90 applicants. He came to this city from a post in Milpitas.
Fifty Years Ago
St. Francis High School kicked off its $500,000 fundraising drive to build a new multipurpose gymnasium on campus. The site of the proposed 21,324-square-foot building was next to the stands on the west side of the school's football field.
Sixty Years Ago
The librarian announced 111 new and rebound books had been added to the shelves at the La Cañada public library, then located on La Cañada Boulevard where the freeway overpass is today. New fiction titles included "The Devil in the Woods," "The Given Heart," "Uncertain April," "The Inevitable Hour" and "Crescendo."
Compiled from the Valley Sun archives by Carol Cormaci.
---