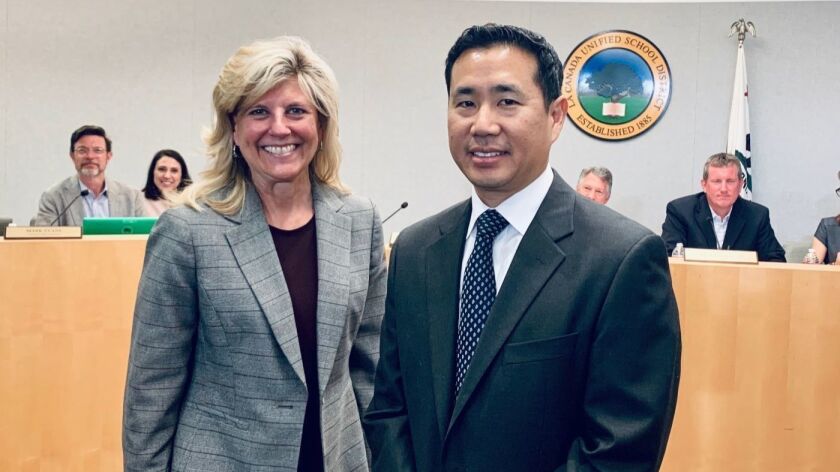 In a special meeting last week La Cañada Unified Governing Board members appointed Dr. Derek Ihori as the district's special education director, replacing outgoing director Dr. Tamara Jackson, who retires June 30 after 16 years of service.
Meanwhile, the district is interviewing candidates for an open assistant principal's position at La Cañada High School, after two administrators announced they'd accepted principal jobs at other schools.
In a May 2 special meeting, the school board appointed Ihori executive director of Special Education and Psychological Services beginning July 1, although LCUSD Supt. Wendy Sinnette said the district was working to see if he might be brought on earlier to attend a leadership team retreat and train with Jackson before her departure.
Out of nearly 30 applicants, the superintendent said Ihori stood out for his experience and stellar references.
"One of the things that came forward in the interview process was he had a very calm demeanor and seemed like a kind person," Sinnette said Monday. "He's also a published author, and he's a real systems thinker."
Ihori has been director of pupil services for Las Virgenes Unifed School District since 2014, where he's overseen more than 120 special education teachers and specialists in the Health Services Department. Prior to that, he served as a program specialist for Oak Park Unified School District in Ventura County.
In 2016, Ihori co-authored the book, "Your Big Picture, Real-Life Guide to the Entire IEP Process," which guides parents through developing individualized education programs for their children.
The special education director's starting salary will be $151,080, according to figures provided by the district. Jackson's departing salary is $151,538. Out of a total student population of 4,134, about 462 LCUSD students are currently enrolled in special education programs.
In other personnel news, LCUSD's search for a new LCHS assistant principal could lead to a recommendation next week.
Dr. Kip Glazer, who came to the district in 2017, announced in March she'd been appointed principal of San Marcos High School in the Santa Barbara Unified School District. Assistant Principal Jonathan Lyons, who also started in 2017, announced last month he'd accepted the position of principal of Carmel High School in Monterey County.
Former LCUSD Athletic Director Kristina Kalb, who started on in a third assistant principal position in 2018, will remain in her position while the district hires a single replacement for the two departing administrators.
In an April 19 letter to the LCHS community, Sinnette said 26 candidates applied for Glazer's position and interviews were scheduled to take place that day, with a recommendation possibly coming before the board at its May 14 meeting.
---