New restaurant owners hoping for 'Proper' reintroduction of LCF favorite
After months of vacancy, a shuttered La Cañada hotspot is beginning to buzz with life as the new owners of "The Proper" restaurant and bar prepare to reintroduce a local favorite but with a decidedly new face and spirit.
The newly formed Proper Hospitality Group — an equal partnership between David and Cater Lee Yost and longtime friends Rick and Lisa Anderson — recently opened the redesigned space to some 150 friends and family members in a sneak peek Sunday.
"I didn't realize we had so many friends," Rick Anderson joked Tuesday during a mock service designed to help new staff members acclimate to the menu, kitchen and layout.
Cater Lee Yost said the group was planning a soft opening this week with a public grand opening to follow. She and Lisa Anderson helped vet some of the menu offerings and redesign the interior, which wasn't too big a departure from the former Flintridge Proper.
"We inherited a place with great bones," she said. "It's like the beautiful home you get the good fortune of moving into — all we had to do was give it a little face-lift."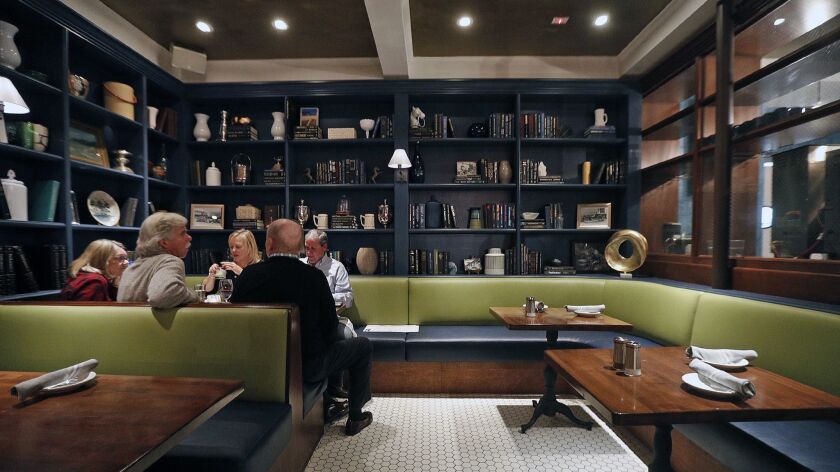 In addition to several black and white art photographs of local spots, such as La Cañada's Descanso Gardens, the interior also features reimagined seating and a fun series of posters demonstrating the "proper" way to apply cat's eye makeup, dance the foxtrot and compose one's self while walking or sitting.
"From an ambiance perspective, this is a community and a neighborhood place," said Lisa Anderson. "And it's family friendly, because this is a family-friendly community."
According to a menu made available at Sunday's open house, the bar will feature wine flights, "classic cocktails with a modern twist" and a variety of draft and bottled beers. Food offerings include an array of starters, including crispy Brussels sprouts and a charred cauliflower hummus, salad, burgers, sandwiches and flatbreads.
Entrees include a wild mushroom risotto, honey truffle fried chicken, Scottish salmon, filet mignon, Cajun rib-eye and braised short rib, along with rotating market-fresh fish specials.
The Proper will begin offering dinner service from 5 to 9 p.m. Sunday through Thursday and from 5 p.m. to 10 p.m. on Friday and Saturday. David Yost said sometime after the New Year, the restaurant will roll out a lunch menu, to eventually be followed by weekend brunch.
"We're going to start out being somewhat conservative, but we're going to step it up after the New Year," he said. "We're also hoping to start [offering] a happy hour sooner than later."
Twitter: @SaraCardine
---