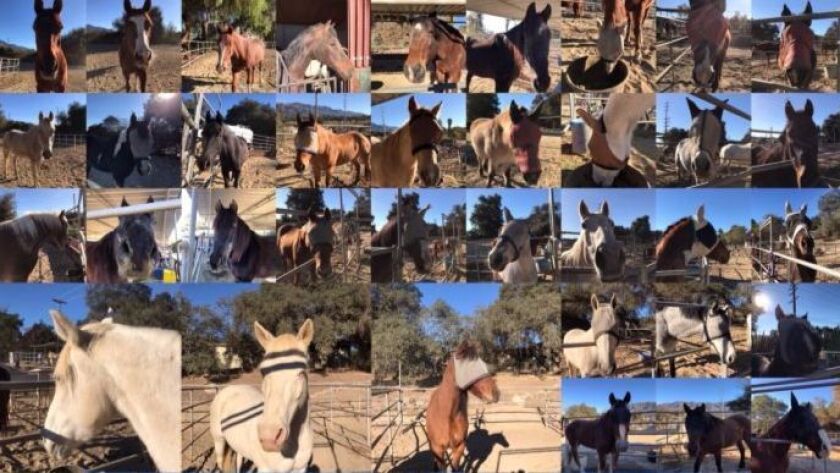 As the Creek fire raged above Sylmar on Tuesday, Dec. 5, threatening homes, farms and stables and leading to the mandatory evacuation of thousands of residents, a small group of local horse lovers moved mountains to find temporary homes for displaced horses.
Volunteers with Rose Bowl Riders and Tom Sawyer Camps, who operate on a portion of Hahamongna Watershed Park near La Cañada High School, worked from morning to night to arrange for the transport and keeping of 55 horses.
Of those, about 48 were accommodated on site, staying in makeshift pens and stables until evacuation orders were lifted two days later, according to Ariel Wisch-Schute, stable manager for Rose Bowl Riders. The last rescued horse left the site on Sunday.
Wisch-Schute said the facility has been known to take in a few horses whenever nearby areas are threatened or animals need to be evacuated, but it has never before undertaken such an enormous effort. In a single day, the Rose Bowl Riders' usual 45-horse occupancy more than doubled.
"I got the first few calls in the morning. I thought it would be the same routine," the stable manager said in an interview this week. "I never left the barn until late that night."
The facility had only four empty stalls available on the morning of Dec. 5. In the hours that followed, fellow Rose Bowl Riders called with frantic requests from area horse owners being turned away from already crowded large-animal evacuation centers, such as Burbank's L.A. Equestrian Center.
"Some people were calling in the middle of craziness — you could hear horses whinnying and people yelling in the background," Wisch-Schute recalled the chaos. "What can you do but offer whatever help you can offer?"
Wisch-Schute sought help from neighboring Tom Sawyer Camps, which keeps its own horses and subleases property from Rose Bowl Riders for its own horseback riding programs. Operations Manager Walt Myers, working on orders from the camp's owners, called on Tom Sawyer staff to help set up the extra pens and stalls.
Together the two groups oversaw the intake of horses and helped manage volunteers as they shuttled horses from remote locations to Hahamongna Park, collected donations, cleaned stalls and tended to the needs of the evacuees and their harried owners.
"They were pretty freaked out. They were concerned about what was going on and what was going to happen with the fire," Myers said of the horse owners. "We've never had to take on that many horses like that, that quickly."
Volunteers worked tirelessly, knowing their work could mean the difference between life and death. Meanwhile, in Sylmar, Creek fire flames moved too rapidly for some ranch owners to save horses. At Rancho Padilla off Little Tujunga Canyon Road, nearly half of the more than 60 horses kept on the property perished in the fire.
Some of the evacuees boarded by the Rose Bowl Riders belonged to La Cañada residents, including Julie Battaglia, who brought in her rescue horse Alaska from a stable in the Lakeview Terrace area north of the Foothill (210) Freeway in the epicenter of the fire danger. The owners of that stable hadn't evacuated on that Tuesday morning, but were staving off the flames with garden hoses, Battaglia said.
A volunteer with a trailer arrived to pick up Alaska and transported her to the Hahamongna facility. There, the mare received food and a safe place to stay.
"They greeted us with open arms and unbelievable warmth, kindness and hospitality," Battaglia said. "They did everything they could — it was a really amazing effort."
Wisch-Schute said a shared love of horses allowed volunteers to accomplish much more than anyone thought possible.
"It was everyone coming together for the greater good," she said. "Sometimes it takes an awful event to bring out the best in people."
Twitter: @SaraCardine
---