La Cañada to receive $10M for sound walls under state transportation bill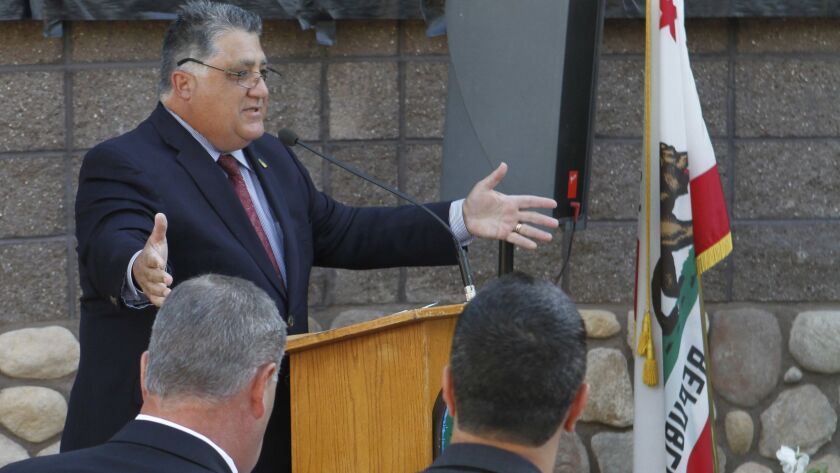 A decades-long effort to battle freeway noise in La Cañada Flintridge got another boost Wednesday when state agencies signed off on a state transportation funding program that will bring $10 million to build more sound walls along the 210 Freeway.
The award was the result of efforts by state Sen. Anthony Portantino and city officials to qualify the expenditure through a local partnership program specified under SB 1, the state transportation funding bill that recently instituted gas and vehicle tax hikes on California motorists.
Portantino said he's negotiated for the better part of a year so La Cañada would be eligible to pay for the continued construction of sound walls. Since 2010, the city has built three walls but has identified at least 20 other locations where buffers against freeway traffic noise would be called for.
On Wednesday, the senator's efforts were validated when the California Transportation Commission voted to appropriate $5 million for the project. The commission's vote matched a $5 million award from the Metropolitan Transportation Authority, meaning the city will be able to apply the $10 million toward its next phase of sound wall construction.
"By putting it into the local partnership matching program, I made the city eligible for the funding," the senator said. "This is above and beyond what the city would have been able get under its regular allocation." The last round of sound walls cost $4.8 million.
La Cañada has been uniquely positioned to receive additional funding from major state transportation bills, such as Measure R passed by L.A. County voters in 2008, because city officials first decided in 2001 to pay for a detailed noise study to determine the need for sound barriers and possible scope of construction.
Portantino, who served on the La Cañada City Council from 1998 to 2006, spearheaded the effort to convene the study. The total cost of the environmental study conducted by Parsons Engineering was $563,515, according to 2006 reports in the Valley Sun.
The senator said Wednesday completion of the Noise Barrier Scope Summary Report not only quantifiably justified the need for sound walls but demonstrated La Cañada's readiness when state funds became available.
"Every time there's been a pot of money that becomes available, we've been able to access that money based on our readiness," Portantino said. "We still have more to do, and I anticipate more funding becoming available, but this is the next phase."
In a release issued Wednesday afternoon by Portantino's office, La Cañada Mayor Pro Tem Len Pieroni stated he was pleased to see the city's historic investment toward creating the noise report was still bearing fruit.
"This is great news for the city of La Cañada Flintridge — our community was promised sound walls when the 210 freeway was first constructed and we have been working toward the realization of that goal for a long time," Pieroni said in the statement. "Sen. Portantino's knowledge of the community's needs and his strong ties with the administration certainly made him a strong advocate to negotiate on our behalf."
Twitter: @SaraCardine
---