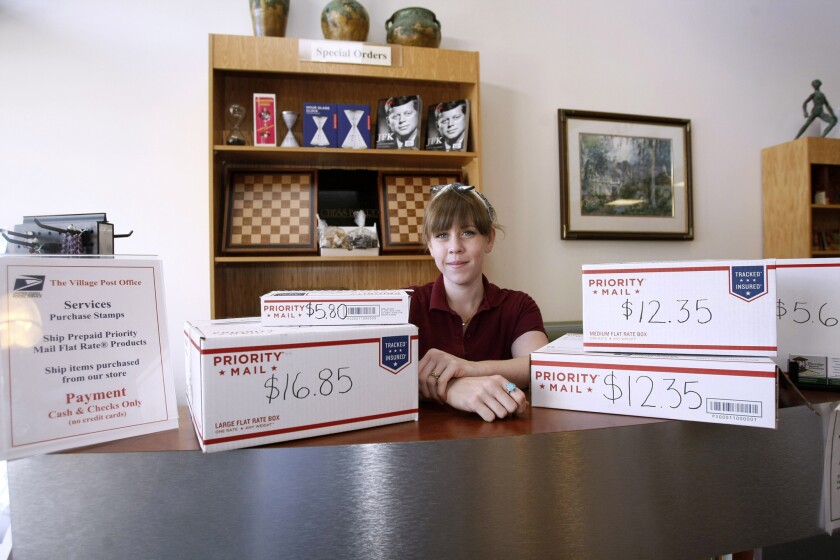 For years La Cañadans have gone to the post office, sometimes rushing to get in a last-minute request before closing time. Now, in an effort to be more accessible to postal customers, the post office has come to them.
A new Village Post Office (VPO) recently opened in Flintridge Bookstore & Coffeehouse for people who want to purchase Forever stamps or mail U.S. Postal Service pre-priced Priority Mail Flat Rate parcels. The limited-service counter, set up in the stationery section of the store, will operate during store hours, Monday through Friday from 9 a.m. to 9 p.m., Saturday from 9 a.m. to 8 p.m. and Sunday from 10 a.m. to 7 p.m.
PHOTOS: First Village Post Office within 35,000 sq. miles opens in La Cañada
It's part of a larger plan to make the post office a more viable option for people who can't make it to the brick and mortar location, said La Cañada Flintridge Postmaster Rosslyn Strawther.
"We're just trying to provide greater access for postal customers, and we thought it was a good idea to bring it to the business community," Strawther said about the impetus for VPO, which has been accepting business since late December. "I've heard nothing but good things from people who are using it."
Strawther joined members of the La Cañada Flintridge City Council, Chamber of Commerce and staff from local representatives' offices at Flintridge Bookstore & Coffeehouse Tuesday morning to officially recognize the opening in a ribbon-cutting ceremony.
Although the idea of providing limited postal services in businesses or local agencies is common on the East Coast, the Flintridge Bookstore VPO is the first of its kind in the Sierra Coastal District, which covers a 35,000-square-mile encompassing the cities of Duarte, La Cañada, San Simeon and Visalia. A second is being planned for Sequoia National Park, according to Ramela Younekian, manager of marketing for the district.
La Cañada's new location does not have a postal scale, so customers will still have to visit the post office, located at 607 Foothill Blvd., to partake of the postal service's full suite of services. But the VPO will be a viable option for people who already shop at the bookstore to send books, gifts and cards or pick up a book of stamps since they are already there.
Wes Seastrom, outgoing board chairman for the La Cañada Flintridge Chamber of Commerce who spoke at Tuesday's ribbon cutting, commended Flintridge Bookstore & Coffeehouse owners Peter and Lenore Wannier for providing another unique service to the community.
"You both have been very innovative," Seastrom said. "The bookstore and the facility here has really changed the landscape of La Cañada Flintridge. I wish you as much success as your bookstore has been."
Peter Wannier said the owners were happy to have been identified by the post office as a location fit for the new program and expressed his hope the new service would be of benefit to the community.
That spirit of providing community service is one reason locals love Flintridge Bookstore & Coffeehouse even in a new Digital Age, said Sandy Willardson, the store's marketing director.
"People do come here instead of Amazon because they do want local," Willardson said. "And we smile more than Amazon — it's personal service."
--
SARA CARDINE is a freelance writer. She can be reached at s_cardine09@yahoo.com.
ALSO:
'Portraits of the Garden' opens at Sturt Haaga Gallery
No ban on plastic bags (yet) in LCF, though local Ralphs pulls plug on the practice
Coroner identifies motorcyclist killed in crash on Angeles Crest Highway
---