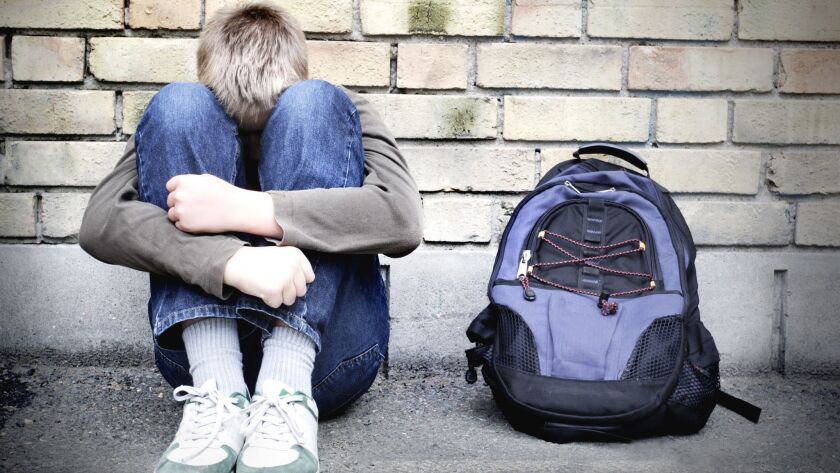 I was about 10 when my mom taught me a valuable lesson. On my way home from school, I was accosted by three boys. After acquiring a skinned knee, some bruises and a hurt ego, I went home crying. My mom stared at me with an unsympathetic eye and told me to go back outside and stand up for myself.
She provided no dialogue about feelings nor any attempt to nurture the bruised sensibilities of her child. However, as an insightful woman my mom understood that life on the streets of the East Bronx would not be for the faint of heart. So she sent me back outside, helping to shape the individual I was to become.
From that moment, I learned to appreciate my innate worthiness and realized that I am solely responsible for how others treat me. In the end, we get what we tolerate.
I am sensitive to the plight of parents and children regarding the effects of bullying and have seen their emotional devastation. In La Cañada, this malaise is all too prevalent. I have listened to the frustrations of local parents. The handprints of bullies, like slaps on a face, remain stark and defined on the souls of their victims.
As I matured, my mom's lessons continued, and I learned yet another valuable lesson: the Golden Rule, the dictate that "one should treat others as one would like others to treat oneself."
The idea was codified in the dictates of Hammurabi, circa 2,000 BC. In 1993 leaders encompassing the world's significant faiths endorsed the Golden Rule as part of the "Declaration Toward a Global Ethic."
The reasons so many young people allow others to step on their dignity and treat them with a lack of respect, care or kindness are as complex as human nature itself. "The Naked Ape" by Desmond Morris explains it is innate within the human condition to seek dominance over one's domain. However, spiritual maturity, defined as Freud's super ego, prompts an influence that supports the Golden Rule.
Therefore, in most cases, treating others with respect is learned behavior. Subsequently, the question remaining at the core of the problem is, how do we socialize children? Much of the responsibility for the actions of bullies who destroy the souls of others lie with the parents.
Today, bullying is defined by many different parameters that were nonexistent in the 1950s and '60s. Subsequently, my approach, "stand up for yourself," which was supported by a combative nature and the pugilistic skills of a Golden Gloves fighter may not be the ultimate solution in today's social climate.
Many children are defenseless, so they become easy prey. What happens to them? Where are the adults? Whose moral responsibility it is to protect these children? There should be a zero-tolerance policy within schools. We must safeguard these youths.
My mom's lessons continued throughout my elementary and high school years. Her insistence that I stand up for myself encompassed a broader spectrum of life. She explained that what knocks you down in life are tests that force you to choose between giving in and remaining on the ground or wiping the dirt off and standing up even taller than you did before you were knocked down.
These thoughts are not solutions. But the lesson I learned from my mom is that the victim inside us ceases when we stand up against that which oppresses or intimidates us. Something powerfully intrinsic happens when the courage to no longer be silent awakens, and we are compelled to confront our problems rather than cower to them. An inner voice says: "No more!"
Joe Puglia is a practicing counselor, a retired professor of education and a former officer in the Marines. Reach him at doctorjoe@ymail.com. Visit his website at doctorjoe.us.
---