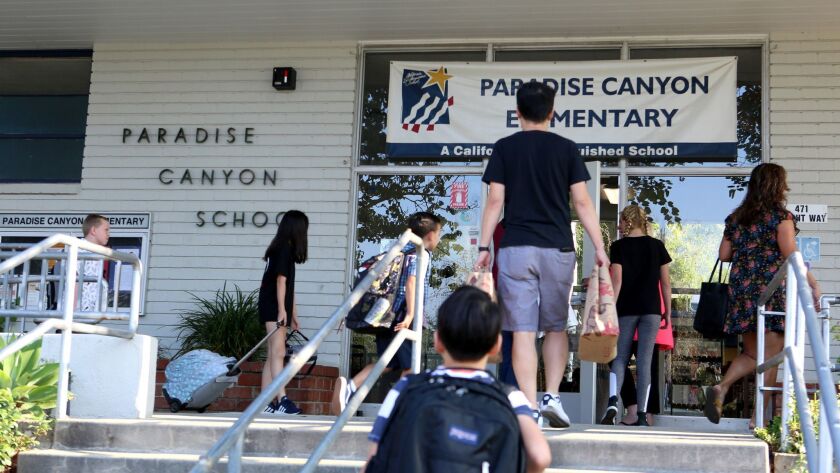 I realized from the onset it would be no easy task capturing the attention of the students who sat in Paula Ghermezian's sixth-grade class at Paradise Canyon Elementary. Although I have lectured throughout the country on the Greek heroes and assorted topics, the skeptical eyes of the students seemed curious as to what stories I would tell them.
"The Greek heroes were not only tasked with saving the world from monsters lurking beneath the sea," I explained, "they showed us the way." We need heroes because they define the limits of our aspirations. We define our ideals by the heroes we choose and in turn, our ideals — whether they be courage, honor or loyalty — define us."
Shortly after I began, the students and I were engrossed in the adventures of Prometheus, Jason and the Argonauts, as well as Odysseus' 10-year return voyage to Ithaka. We spoke of the creation of Sparta, the battle of Marathon and stealing fire from Zeus.
After class, I told Paula how impressive her sixth-graders were. (I took the liberty of addressing Ghermezian by her first name because 15 years ago she was my student at Glendale Community College.) It was extraordinary observing her interact with her students. Regardless of past roles, the world evolves at an exponential pace.
Ghermezian, who holds a master's degree in educational leadership and has 12 years of experience, always knew she wanted to be a teacher. As a child she would assist the kindergarten class in Glendale's Mark Keppel Elementary, helping the teacher prepare worksheets and lessons.
"I liked the feeling of helping and serving others and being appreciated for my efforts," she said.
"What do you hope to accomplish with your class?" I asked.
"A lot," she answered. "I want them to be lifelong readers."
She initiated "novel studies" where students act out various scenes from books and discuss themes, analyze the vocabulary and the messages of the authors.
"I want them to be better writers without so many rules. There's creativity, and then there are all the rules. I want to hear their voice, so they will feel like they can take a chance without fearing the red pen." Next term she hopes to introduce journaling.
Ghermezian is also passionate about teaching history. "I want them to understand the influence of the past."
I was impressed by how she had broken down her class into the various Greek city states and enjoyed how eager the sixth-graders were to explain the landscapes and cultural proclivities of Athens, Sparta and Corinth. It was extraordinary to see the children taking pride in their state as they defined its contributions to Western civilization.
She and I spoke of the philosophical implications of teaching. Her comments paralleled the ancient Greek understanding of education. They believed that learning was not only a knowledge-based journey but also a spiritual, emotional and social quest as well.
"I would like my students to be more kind and take kindness with them as they promote to the seventh grade," she said. "I want them to go down the right path."
To accomplish this, she enables the students to reflect on themselves and their emergence into the world. Reflection and conceptualization are the highest forms of cognitive development. She also incorporates cutting-edge technology into her curriculum.
"Paula, teachers affect eternity because their influence has no bounds," I said. This is especially true of elementary education. I began my elementary education in 1953, and I vividly remember all eight of my teachers in my formative years, from Sister Mary Patrick to Sister Mary Delores. I recited their names.
"I want to be inspirational," she said.
"Then, Paula, your kids will remember you."
"I hope so," she said.
Joe Puglia is a practicing counselor, a retired professor of education and a former officer in the Marines. His wife, Kaitzer is a member of the La Cañada school board. Reach him at doctorjoe@ymail.com. Visit his website at doctorjoe.us.
---