Chosen by the La Cañada Valley Sun sports staff, here are the top 10 sports stories of 2019.
1 La Cañada swimmer Syrkin has monumental season, wealth of success: The USC-bound senior set the bar high for himself entering the swimming season, with hopes of breaking all of the Spartans' records.
As a result, Syrkin collected All-American marks and helped the La Cañada boys' team to win its first CIF Southern Section Division II title and a second consecutive Rio Hondo League championship.
With four All-American individual times and three in relay races, Syrkin led the National Interscholastic Swimming Coaches Assn. list of swimmers with his first-place finish and national-best mark in the boys' 100-yard butterfly with a time of 46.63 seconds in the CIF State and Diving Swimming Championship.
Syrkin acheived most of his All-American times at the CIF State Swimming and Diving Championships, with individual efforts in the 100 freestyle (44.17) and the 50 freestyle (20.32).
He also teamed up with with Eddie Cosic, Thomas Hoffman and Chris O'Grady for national marks in the 200 medley relay (1:31.33), the 200 freestyle relay (1:24.84) and the 400 freestyle relay (3:05.16).
At the CIF Southern Section competition, Syrkin retained his title in the100 butterfly and broke his own record in the race with a time of 47.25. Syrkin also finished first in the 50 freestyle (20.38) to help La Cañada top Damien, 336-235, for the division crown.
In the league finals, Syrkin broke a seven-year record in the 100 backstroke with an All-American time of 49.31, where he helped the Spartans oust San Marino, 489-439, for their second straight league title. Syrkin also teamed up with Cosic, Hoffman and O'Grady to break their own league record in the 200 medley relay (1:33.18) and in the 200 freestyle relay (1:25.15).
2 Flintridge Sacred Heart Academy soccer crowned Southern California champion: It appeared at first that Flintridge Sacred Heart would be rebuilding its program for the most part after losing several key players to graduation.
After a slow start to the season, things turned around quickly for the Tologs, coach Mark Snashall and assistant Savannah Viola.
Flintridge Sacred Heart went on an amazing playoff run, which included advancing to the CIF Southern Section Division III final.
Flintridge Sacred Heart suffered a 1-0 loss to No. 1 Oak Hills in the championship match.
The defeat didn't damper Flintridge Sacred Heart spirit, as it then took part in the CIF Southern California Regional Division III playoffs in March.
Second-seeded Flintridge Sacred Heart topped New West Charter, 7-0, and Grossmont, 3-2, to make it to the championship contest before posting a 3-0 win against Culver City to win the program's second Southern California title and first since 2010.
The Tologs were paced by Madison Leroy and Jillian Willis. Leroy, a midfielder, had 25 goals and nine assists for 59 points and Willis, a forward, collected 22 goals and 14 assists for 58 points. The duo picked up All-CIF accolades.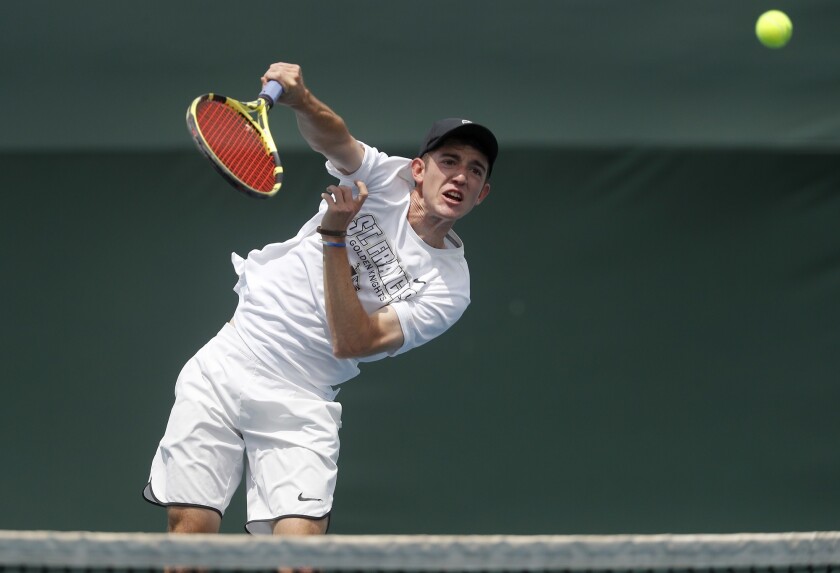 3 Ian Freer displays dominance on tennis court at CIF Individual Tournament: After helping the St. Francis High tennis team advance to the CIF Southern Section Division II quarterfinals, Freer embarked on an impressive individual surge.
A senior, Freer finished runner-up in the Mission League singles finals before making an impressive run in the CIF Southern Section Individual Tournament in May.
Freer marched to a CIF championship at the Seal Beach Tennis Center, where he registered a 6-3, 6-2 win against Kyle Pham of Corona del Mar to take home the plaque.
Freer became the first area athlete to capture the event since Glendale High's Dave Reed won back-to-back titles in 1960 and 1961.
4 Flintridge Prep boys' tennis wins first CIF crown: A monumental playoff run culminated in history being made by the Rebels.
In its first-ever CIF Southern Section championship title match, No. 3 Flintridge Prep defeated No. 1 Maranatha, 10-8, to win the CIF Southern Section Division IV title at the Claremont Club.
Under second-year coach Roger Hollomand, Flintridge Prep reached the championship match with victories against California Math and Science Academy, 13-5, Jurupa Valley, 15-3, Segerstrom, 9-4, and No. 2 Bishop Montgomery, 9-9(74-62).
Maranatha (22-3) blanked the Rebels, 18-0, in a nonleague match on March 14, without a number of Rebels starters.
The Rebels won seven sets in singles and three in doubles to become the first area team to win a boys' tennis title since Hoover High captured a Division I championship in 2002.
5 Flintridge Prep boys' cross-country burns up course to win CIF championship: It turned out to be quite a remarkable season for Flintridge Prep.
Perhaps even a bit surprising.
Flintridge Prep upended Division V defending champion St. Margaret's for the championship.
It was Flintridge Prep's first crown since 2015 and eighth overall in program history.
At the race in Riverside in November, Flintridge Prep topped St. Margaret's, 100-116, paced by Prep League champion Hudson Billock.
Billock clocked 15 minutes, 50.4 seconds on the three-mile course for a ninth-place effort.
He was followed by teammates Bennett Oakes (11th; 15:51.8), Nolan Costin (18th; 16:12.1), Andrew Odom (31st; 16:26.5) and Daniel Kotlyar (40th; 16:32.7).
At the CIF State Championships in Fresno, Flintridge Prep took fifth. Earlier in the season, Flintridge Prep won its 10th straight league title and 22nd in the last 23 seasons.
6 La Cañada boys' swimming captures CIF championship: The momentum was on their side as the Spartans came into the CIF Southern Section Swimming and Diving Championships in Riverside with a goal to win the Division II title.
Backed by record-breaking performances, the La Cañada team fended off Damien, 336-235, to win the program's first CIF Southern Section Division II crown in May.
USC-bound swimmer Danny Syrkin won two individual titles and one relay championship to lead La Cañada to a CIF plaque.
Syrkin retained his title in the 100-yard butterfly and broke his own record in the race with a 47.25 finish.
The senior also won the 50 freestyle in 20.38 and combined with Eddie Cosic, Thomas Hoffman and Chris O'Grady to shatter their record in the 200 medley relay in 1:31.68 for their second consecutive title in that race.
The same relay team placed second in the 400 freestyle relay (3:05.26) behind Damien (3:04.54).
Hoffman also finished fourth in the 100 butterfly (50.13) and Spartans senior Joshua Kim placed sixth in the 200 individual medley (1:55.08).
In the diving competition, senior Tatsuya Machida scored 532.95 to finish third ahead of teammate Ray Wipfli's fourth-place score of 502.15.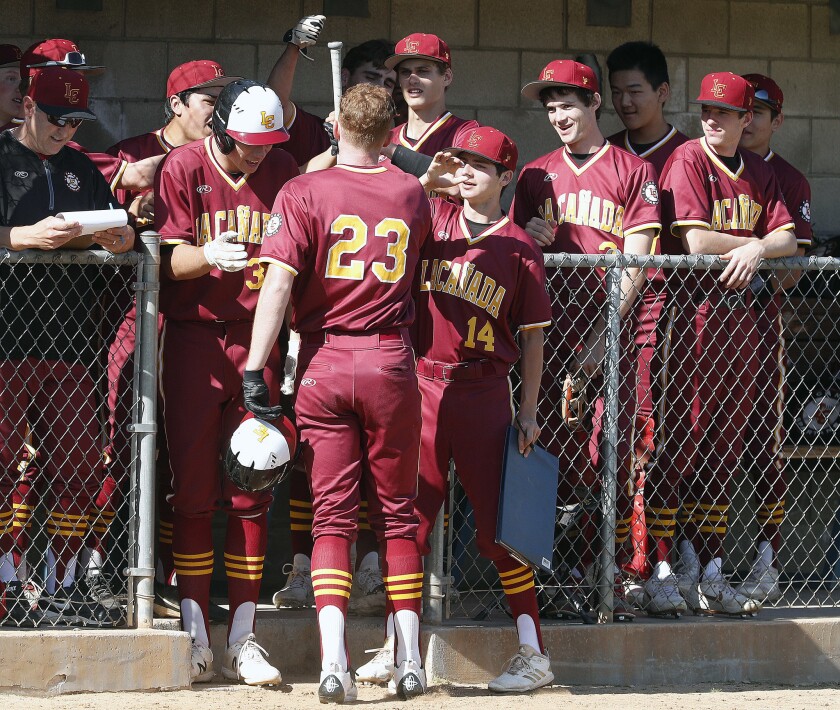 7 La Cañada baseball earns spot in first-ever CIF title contest: The Spartans baseball program was looking to bounce back from a disappointing 2018 season and boasted a strong senior pitching core.
That proved to be the difference.
La Cañada clinched its second Rio Hondo League title in three years and finished with an overall record of 22-8 and advanced to its first title game in the CIF Southern Section Division III playoffs.
It was a thrilling playoff run that started with a shutout of Windward, 14-0, in the opening round of the Division III bracket before the Spartans experienced back-to-back extra-inning nailbiters.
La Cañada experienced a nine-inning second-round matchup with Warren and came away with a 2-1 win and followed that up with an 11-inning showdown against Ocean View in the quarterfinal where the Spartans grounded out a 2-1 victory.
In the semifinal game against Oak Hills, the bats came alive in the third and fifth inning for a 13-2 win to earn the Spartans their first trip to a CIF championship game.
Unfortunately, La Cañada's bid for its first title ended with a 7-0 defeat to Great Oak in the title contest at Dodger Stadium in May.
For their efforts, pitchers Ryan Graves and Connor Buchanan were recognized with All-CIF Southern Section first-team honors.
Graves, who continues his baseball career at San Jose State University, was also named Rio Hondo League Player of the Year after three complete games, one shutout and an 8-3 mark in 11 starts at the mound. Graves threw 70 1/3 innings and had a 1.89 earned-run average with 64 strikeouts and seven walks. At the plate, Graves hit .424 and drove in 16 runs, recorded 28 hits and scored 14 runs in 66 at-bats.
Buchanan posted a 0.76 ERA and allowed five runs on 26 hits, 60 strikeouts and 14 walks in 46 1/3 innings with five saves and three starts. He hit .299 with 24 RBI, 26 hits and eight home runs.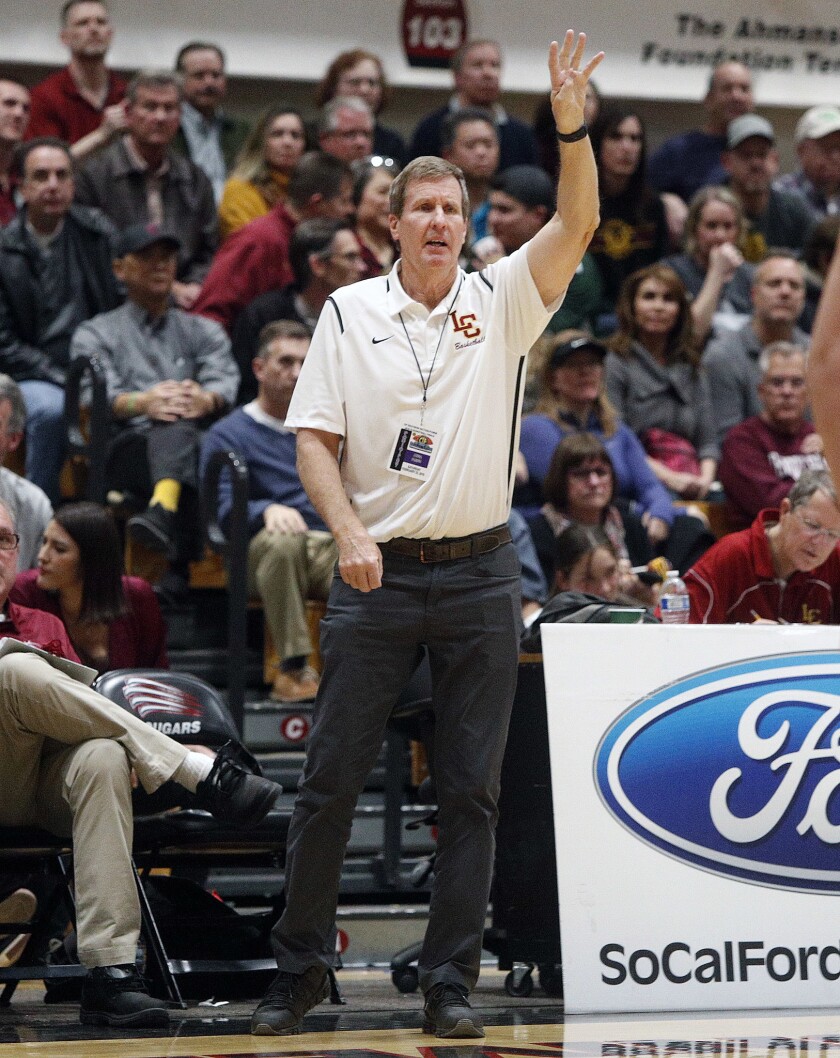 8 La Cañada boys' basketball has impressive playoff run under veteran coach: The Spartans advanced to their fourth CIF title game in their storied program under the watchful eye of coach Tom Hofman.
In its quest to win its first championship since 2011, No. 3 seed La Cañada opened its run to the CIF Southern Section Division II-A final with a 57-43 home victory against Burbank in the first round, followed by a 65-36 second-round win against La Mirada and a 50-37 quarterfinal triumph against Walnut.
Behind the program's historic sharpshooter Ryan Graves, the San Jose University commit knocked down four consecutive three-pointers and the Spartans turned around a 15-point deficit in the second half to come away with a 77-74 double-overtime semifinal win against Crean Lutheran for a spot in the Division II-A final.
In the championship game against the No. 1 seed Colony, the two teams battled it out until the very end, where La Cañada fell, 50-47.
La Cañada's journey in state competition was cut short with a 67-56 first-round loss to Cathedral Catholic.
The Spartans were spearheaded by Graves and center Zach Feehan, who were named Rio Hondo League Co-Players of the Year after their efforts helped La Cañada to a 27-7 overall record and its sixth straight Rio Hondo League title.
Graves averaged 17 points and six rebounds on his way to being named to the All-CIF Division II-A first-team. He also broke the program's record of three-pointers made with 116.
Feehan, who is attending the University of Oregon and was an All-CIF second-team honoree, broke the single-season record for rebounds with 420 (12.3 per game). He also averaged 10 points.
9 Flintridge Prep girls' water polo earns spot in CIF title game, loses by one goal: Flintridge Prep posted strong and convincing performances on its way to the CIF Southern Section Division VII title game against No. 1 seed Katella.
The No. 3 Rebels brushed aside Nogales, 18-3, in the first round, Heritage, 10-3, in the second, and Fontana, 12-4, in the quarterfinals. Flintridge Prep's run continued with an 8-4 semifinal win over Carpinteria to reach its first-ever championship contest.
Against the top-seed Katella in the championship match in Irvine in February, the Rebels trailed by three goals at the half. Though Flintridge Prep was able to even the score out of the break, the Knights scored the game-winner in the final quarter to claim the Division VII title. Rebels senior Paige Nixon scored twice and had an assist in the title contest.
Led by junior Natalie Kaplanyan, the Rebels finished 19-9 and 8-2 for second in the Prep League.
10 St. Francis water polo has historic playoff run to CIF semifinals: Since reviving their program in 2015, the Golden Knights have developed into a young and talented squad,and thrived this past season under the eyes of co-coaches Carlos Ponce and Brady Lowdermilk.
In November, the St. Francis water polo team embarked on its first playoff run since the program returned as the No. 2 seed in the CIF Southern Section Division V playoffs.
The journey started with a 20-7 victory over Cathedral in the first round, followed by a 19-7 second-round win against Buena Park.
In the division quarterfinal against Burroughs, the Golden Knights held off the Indians for a 9-8 win to advance to the semifinal round.
St. Francis traveled to El Toro High for a chance to reach the division championship, but the Golden Knights fell to No. 3 seed Trabuco Hills, 9-7.
The Golden Knights finished with a 28-4 record and was 2-3 for fourth in the Mission League, qualifying for the playoffs as an at-large selection.
St. Francis senior goalkeeper Cole Marston and junior Robert Alietti earned spots on the All-CIF Division first-team.
Marston, a four-year varsity starter, recorded 211 saves in 30 matches protecting the cage. In 30 games, Alietti scored 165 goals for the Golden Knights and recorded 71 assists and 55 steals for an average of 5.5 goals, 2.36 assists and 1.83 steals per match.
---