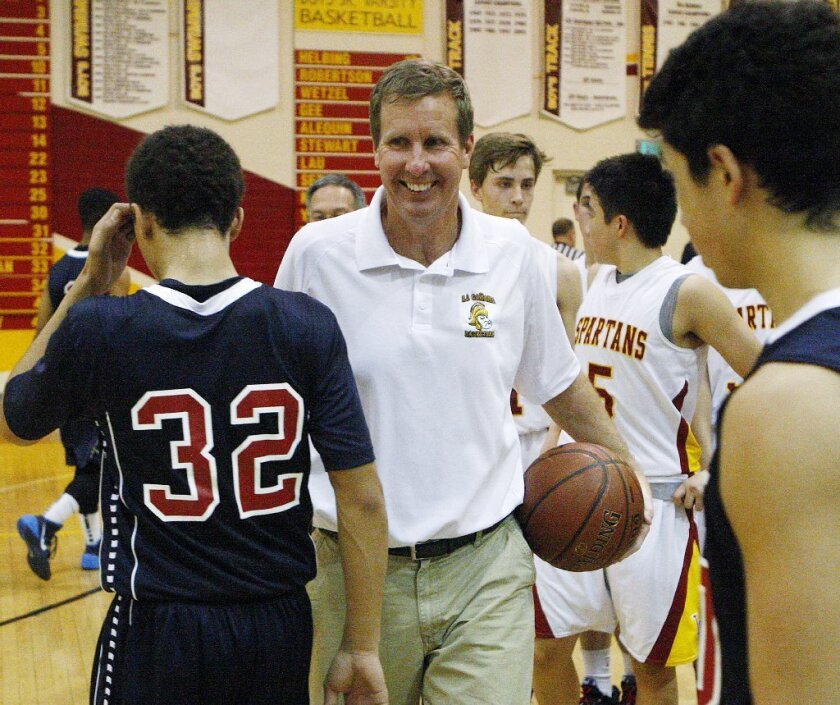 BOYS' BASKETBALL
La Cañada 70, Blair 35: The Spartans cruised to a Rio Hondo League win Tuesday.
It marked a milestone win at La Cañada for veteran coach Tom Hofman, who notched his 750th career game at the school.
La Cañada (17-10, 9-0 in league), which is in first place in league with one game remaining, has won 23 straight league games.
Pasadena Poly 54, Flintridge Prep 34: Flintridge Prep fell Tuesday in a Prep League road game.
The Rebels dipped to 11-13, 3-4 in league.
Flintridge Prep 79, San Marino 50: Flintridge Prep registered a nonleague home victory Saturday.
BOYS' SOCCER
La Cañada 2, Blair 0: La Cañada received one goal apiece from Andrew Ignatian and Marcus Chmielewski to register a Rio Hondo League win Tuesday.
The Spartans, who have already clinched the league title, improved to 16-2-2, 9-0 in league.
GIRLS' SOCCER
Flintridge Prep 8, Westridge 0: Mckenna Dominguez scored four goals Tuesday to lift visiting Flintridge Prep to a Prep League win at Occidental College.
The Rebels are 21-1-1 and went 10-0 in winning the league championship.
Dominguez has 103 career goals.
GIRLS' BASKETBALL
Flintridge Sacred Heart Academy 43, Louisville 33: Flintridge Sacred Heart earned a Sunshine League home win Tuesday.
The Tologs are 3-4 in league.
GIRLS' WATER POLO
Alemany 11, Flintridge Sacred Heart Academy 4: Flintridge Sacred Heart lost Tuesday in a Mission League road contest.
---