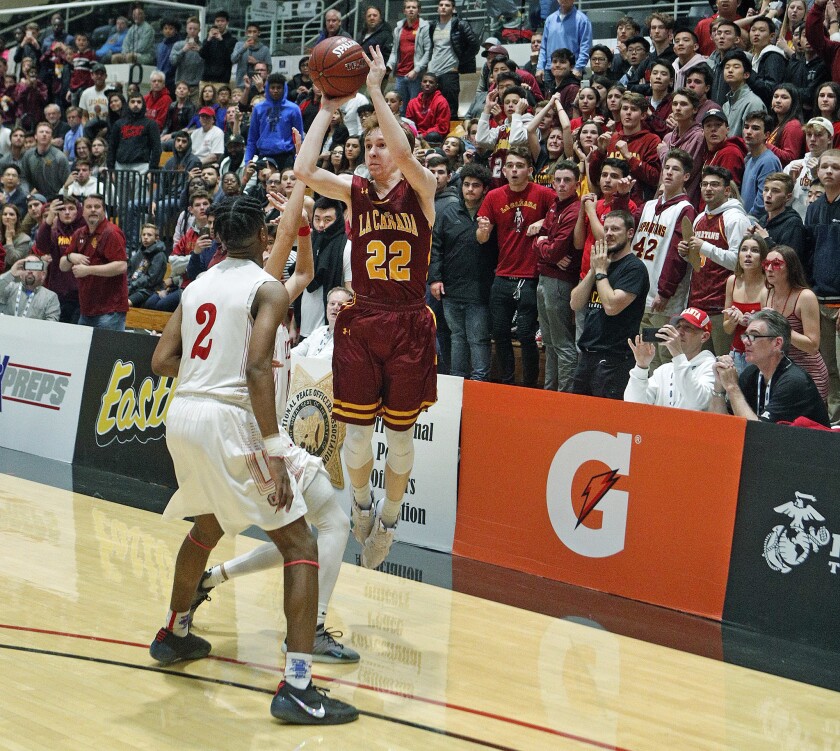 TEMPLE CITY — In La Cañada High's battle for the outright Rio Hondo League boys' basketball championship, Temple City came out roaring in the first half against the defending league champion.
The Spartans would not settle, however, and turned an eight-point halftime deficit into a one-point difference at the end of the third quarter following six lead changes.
In a hotly contested fourth quarter, a combined 17 points from Spartans veteran duo of Ryan Grande and Kyle Brown lifted La Cañada to a 76-67 league victory at Temple City on Thursday to secure a seventh consecutive league title.
"Me and Kyle, we've been here before and we know how quickly we can turn things around here," said Grande, who scored nine points in the fourth quarter, while Brown added eight. "Kyle being a senior gives me a lot of confidence to play my game."
The Spartans (18-10, 10-0 in league) struggled to shoot the ball in the first quarter, scoring one basket from the field in the opening five minutes.
"They had a great first half and had a lot of energy," said veteran La Cañada coach Tom Hofman, who celebrated his 750th win two days earlier in a 70-35 win over Blair. "I was proud that we came out in the second half and took our time."
The Spartans opened the second half down five points, but after a basket from Temple City senior Nathan Kuoch put the Rams up, 47-41, at 4:40 in the third, La Cañada put together a 7-0 run for a one-point lead on a Brown three-pointer.
La Cañada and Temple City (18-9, 8-2) traded six lead changes later in the third quarter, with the Rams coming out on top, 54-53, to close the frame.
After another pair of lead changes, Temple City senior Brandon Torimaru gave the Rams a 58-56 advantage with 7:04 remaining.
Back-to-back baskets from Grande and Brown then put the Spartans in front, 60-58, moments later, which sparked a scoring run for the visitors.
Spartans junior Nathan Snow knocked down a three-pointer with 4:51 left and gave La Cañada a 63-58 lead. Then, in a four-minute span, the Spartans outscored the Rams, 12-4, to take a 68-62 advantage with 2:11 remaining.
Torimaru scored with 1:24 left to put Temple City within 70-66, but after a put-back basket from Brown on a free throw miss from Grande, the Spartans set up a nine-point margin with 21.8 left.
Brown finished with 27 points and Grande followed with 23.
"We knew they were going to come out with a lot of force and a lot of energy from the crowd," Grande said. "We just stayed composed with coach Hofman always giving us confidence to play. We just played our game all the way through.
Brown opened the scoring at 7:37, but the Spartans would not score another field goal until 2:42 in the first quarter. Despite the drought, La Cañada only trailed Temple City, 7-5.
With 51 seconds left in the quarter, Spartans senior Ben Kim knocked down a three-pointer for the Spartans' first shot from distance after going zero-for-six from beyond the arc. The shot tied the score at 12 before the Rams took a 15-14 advantage at the end of the period.
"If we come out and play with effort and energy and we play our style, we just feel like we have a good chance with anyone," Temple City coach Ted Nuguid said. "We tried to send a second defender to get the ball out of their hands [in the second half], but they are who they are. They're very good players.
"We were hoping we just going to limit their touches, but we knew the ball would go in their hands in the end."
After the Spartans took a four-point lead to start the second quarter, a three-pointer from Rams junior Lucas Ye started a 13-2 run for the Rams, who drained three straight from beyond the arc in the span to take a 28-21 lead with 3:32 left in the half.
Brown's first three-point make after six attempts stopped the run to cut the Rams lead to 28-24 with 3:21 to play in the half.
With 1:57 to go in the first half, Brown hit a jumper to put La Cañada within 30-28. But Temple City's sharp three-point shooting continued to end the half. Torimaru knocked down a three with 3.2 seconds to go in the half put Temple City up, 41-33, at the break.
---