Softball Season Preview: La Cañada seeks sixth straight league title behind strong returning class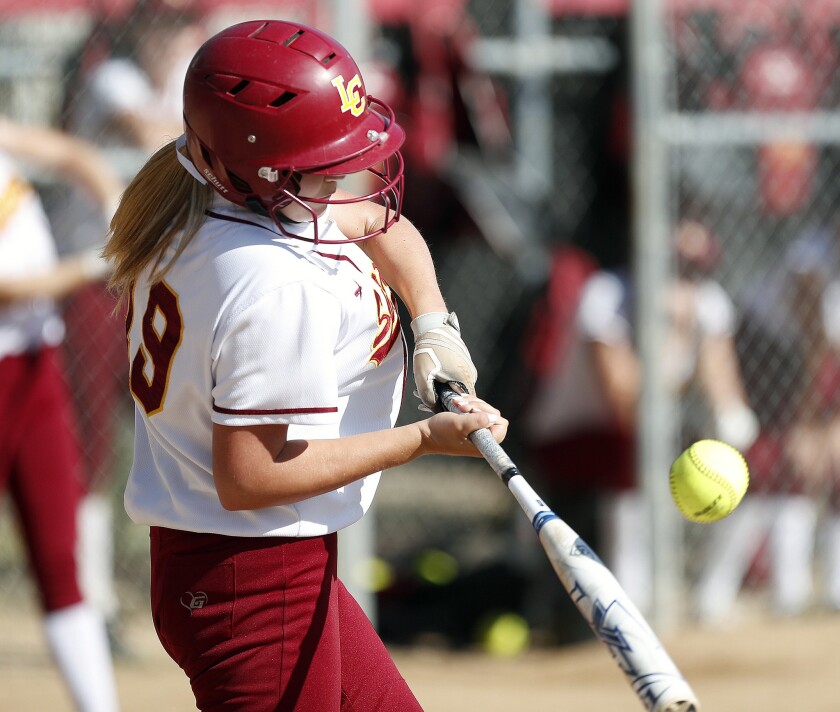 The La Cañada High softball team isn't taking the foot off the gas pedal after five years of Rio Hondo League dominance.
Despite having just two seniors, there's still plenty of experience and skill for the Spartans to help defend the league title despite improved competition around the league.
Flintridge Sacred Heart Academy was the only other local squad to qualify for the postseason, reaching the Division V quarterfinals.
Flintridge Prep missed qualifying for the playoffs, but has taken steps to improve its program.
Here is a closer look at the teams.
LA CAÑADA
"We've been working," La Cañada coach Chuck Gunter said. "We've been putting in the work, that's for sure, but I know our league just keeps getting better and everybody's trying to dethrone us. The girls know that, so they're putting in a little extra work."
After a second-round exit to South El Monte in the CIF Southern Section Division IV playoffs, La Cañada will remain in Division IV.
"I don't know how the rest of the teams are in league, but I think it's going to be a good season all around for the league itself," Gunter said.
With athletes still fighting for spots throughout the lineup, a crucial player for the Spartans is junior returner Devyn Cox, the league's reigning pitcher of the year.
Cox started all but one game and posted a 1.27 earned-run average in 83 innings in 2019. The junior finished with 80 strikeouts, 23 walks, 56 hits and 15 runs.
Returning as catcher will be senior Shannon Loveless, who hit .340 (16 for 47) with seven runs batted in and eight runs scored on her way to a first-team all-league selection.
"The two of them really work well together," Gunter said of Cox and Loveless.
Another senior is third baseman Alex Schwalbach, who drove in 10 runs and scored eight runs.
The Spartans outfield will look familiar, with junior duo Tia Leidelmeijer and Ella Polito. Polito, an all-league first-team selection who hit .386 (17 for 44) with 13 RBI along and nine runs scored, can play left or right field. Leidelmeijer, a second-team all-league honoree, will be back in center.
Looking to take up a bigger role is Spartans junior Kendall Knudsen, who played most of last season as Cox's courtesy runner.
"Her value is her speed," Gunter said. "That girl is so fast. She's quick and fast. She can play outfield. She wants to get in the infield and she has a strong arm."
Knudsen will be joined by sophomore Amy Lyman and junior Reese Ramseyer (.316, 10 RBI, six runs) in a battle for second base and shortstop.
"We have a couple of girls fighting for the same position," Gunter said. "They're pretty equal. It's hard to judge right now with three girls trying out at short and the same three, if they're not at short, they can go to second ... We'll be OK by the time we open league against Temple City. We'll have it figured out."
FLINTRIDGE SACRED HEART ACADEMY
Under coach Kirk Nishiyama, Flintridge Sacred Heart enjoyed an impressive 2019 campaign. The Tologs went 18-6, 7-1 in the Sunshine League for first place.
Flintridge Sacred Heart fell, 6-0, to host Redondo Union in the CIF quarterfinals.
The Tologs will be in the Sunshine League for a second straight season, but will look vastly different at certain positions.
"We lost five starters to graduation, so we're pretty young and inexperienced," Nishiyama said. "We do have some talent, but it's going to depend on our pitching.
"We are going to have to play good defense and score a lot of runs."
Flintridge Sacred Heart will turn to senior infielder Cate Ziegler, senior catcher Sarah Peck, senior outfielder Brynne Richardson, sophomore outfielder Maddie Napierala and freshman infielder Marie Milton to lead the charge.
FLINTRIDGE PREP
After reaching the postseason in 2018, Flintridge Prep missed qualifying in 2019. The Rebels finished 5-11, 3-9 for sixth place in the seven-team Prep League.
The Rebels will have numbers in their favor this season, as they plan to carry about 16 players.
It's left Flintridge Prep coach Julie Mejia excited about the program's direction.
"It's a very strong core and there's a lot of potential," Mejia said. "We have the ability to score a lot of runs, but we'll need to play real good defense.
"We know we'll be facing tough pitchers in our league, so we'll have to be ready."
Flintridge Prep will rely on senior infielder Olivia Stevens, junior pitcher Kate Huntley and junior catcher Emma Stellar.
---