Brown leads La Cañada boys' basketball as Rio Hondo League Most Valuable Player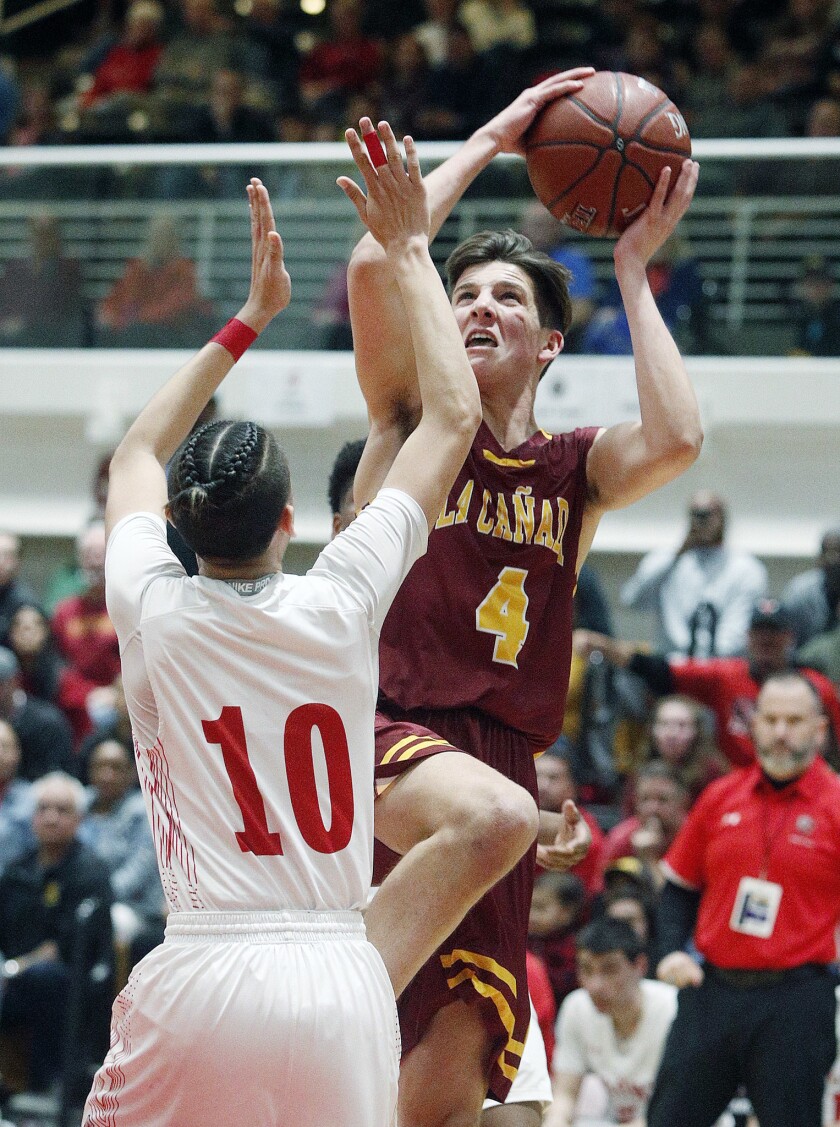 When the La Cañada High boys' basketball team needed an offensive spark, Spartans senior Kyle Brown fueled the team and provided scoring consistency throughout the season.
During the Rio Hondo League campaign, Brown either helped set up plays or found a way to score, especially in close games against league rivals South Pasadena and Temple City.
Brown led the Spartans in scoring and rebounding and helped La Cañada secure the outright league title on the final game of the regular season. It marked the seventh straight league championship for the Spartans.
The senior's efforts earned him the league most valuable player honors, leading four Spartans in all-league recognition.
"Kyle had a great three-year career," La Cañada coach Tom Hofman said. "For me, in the last 35 years, he was the most offensive player I've ever coached. What he gave us was, if there was a situation where we needed to score points and it was hard for us to score, he had the ability to create his own offense and really helped us win a lot of games with his skill.
"In his senior year, he became a better all-around player. He was one of our better defenders and he turned into a great rebounder."
Spartans junior Ryan Grande earned all-league first-team accolades, junior Michael Harrick was selected to the second team and senior Darren Pung and senior Kevin Kriste received honorable mention.
"This year was more competitive and I thought the kids did a good job," said Hofman, who recorded his 751st career victory this past season. "Ryan had a great year and improved a lot from last year. At the end of the year, he was one of our best defenders, so he's going to have a great year next year.
Brown averaged 23 points, six rebounds and three assists as the Spartans sealed another unbeaten league run having won the last 24 league contests.
On Jan. 29, Brown scored 30 points and lifted the Spartans to a win against South Pasadena on a game-winning buzzer-beater. Against Temple City in the deciding game for the outright title on Feb. 6, he tallied 27 points.
Grande contributed 17.5 points and three assists per contest, and Harrick averaged five points and five rebounds.
"Michael came on strong for us and was our tough guy and a rebounder," Hofman said. "We weren't really a physical team, but he gave us some physicality that we really needed.
"Darren did a nice job at point guard for honorable mention, and Kevin was a good all-around player and a great defender for us. I think all five of those guys deserve to be on the team."
The Spartans (18-11, 10-0 in league) reached the CIF Southern Section Division II-AA playoffs where they fell to neighbor St. Francis in the opening round, 62-56. Brown scored 24 points in the game.
---