Boys' Golf Preview: St. Francis turns to new wave of talent for more success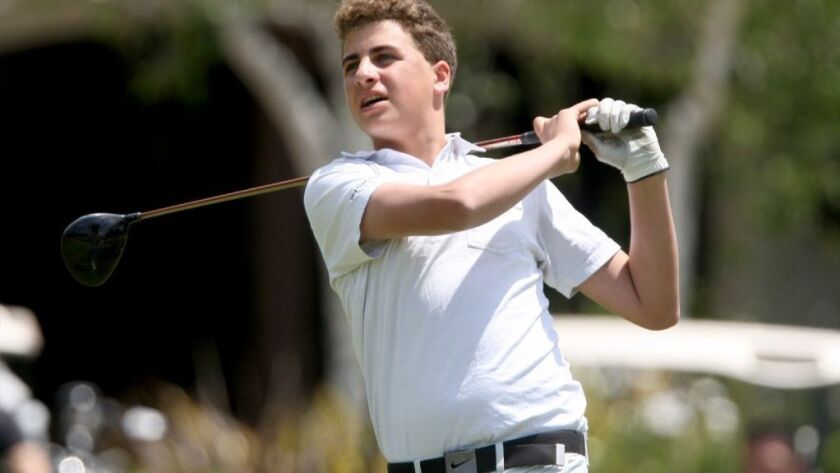 It's been quite a run lately for the St. Francis High golf team.
Competing in the difficult Mission League with the likes of powers Loyola and Chaminade, St. Francis has held its own. After taking fourth in league last season, the hungry Golden Knights finished third in the CIF Southern Section Central Divisional at Lakewood Country Club in Lakewood.
St. Francis lost standouts Stian Lintvedt, Aidan Tracey and David Emerson to graduation, putting it in position to restructure the lineup. Lintvedt and Tracey earned All-Area recognition last season.
St. Francis appears to have the pieces in place to achieve more success, leaving coach Kyle Ostrom encouraged.
"We have a good thing going," said Ostrom, a former All-Area Boys' Golf Coach of the Year. "We keep getting new kids and we try to help them reach their goals as best as we can.
"We lost some very big players, but I think we'll be a little deeper than last year. I think we'll have a good team the next few years."
St. Francis finished behind Loyola and Chaminade in the postseason and will look to challenge those teams in league.
"You always know league will be strong," Ostrom said. "I think a lot of the teams can be bunched close together. We want to get better and be ready to do something special."
St. Francis' lineup will be senior Will Coontz and sophomores Henry Fitzhugh, Lake Kim and Andrew Fiori.
Crescenta Valley finished tied for second in the Pacific League with Burbank last season. However, the Falcons didn't have enough qualifying scores to advance to the postseason.
"We'll be better and much more focused so we don't go through what we did last year," Crescenta Valley coach Mark Samford said. "We got our squad together and we'll see what we can do.
"We'll improve and that's all you can ask for."
Seniors Peter Kim and Dylan Asprer, juniors Aaron Leucht, Daniel De Guzman and Andrew Hong will likely make up the lineup. They'll be joined by sophomore Nathaniel Frink and freshman Jaden Chung.
At Flintridge Prep, coach Bob Loughrie appears to have a surplus of depth.
Leading the way is likely to be junior Ben Sacks, a reigning All-Area pick, had a 74.6 average and placed fifth in the Prep League Individual Tournament last season.
Loughrie, who begins his 32nd season at Flintridge Prep, is optimistic the Rebels can have a breakthrough campaign after finishing second in the Prep League and failing to make the postseason last year.
"They want to improve and they are enthusiastic," Loughrie said. "We'll just see how much they can keep improving.
"I like Ben's chances that he can go far in league and try to make it to CIF. He's ready to go. he's like a teacher or a coach out there on the course."
Flintridge Prep will have a large contingent looking to join Sacks in the lineup, including juniors Preston Ho, Ian Park and Kailyn Chiu and freshmen Alex Yeh and Sam Sullivan.
Glendale will likely be rebuilding with a core of freshmen and sophomores. The Nitros will not have Elis Alaan, a senior, in the lineup since she competed during the girls' season last fall. Alaan is the reigning All-Area Girls' Golfer of the Year.
Glendale will count on freshmen David Shashkinyan, Alex Mankaryan and Luke Davis to anchor the lineup.
"We have a good mix and a lot of them are beginners," Glendale coach Anthony Mohr said. "It's just about being able to compete and building their confidence.
Twitter: @TCNCharlesRich
---