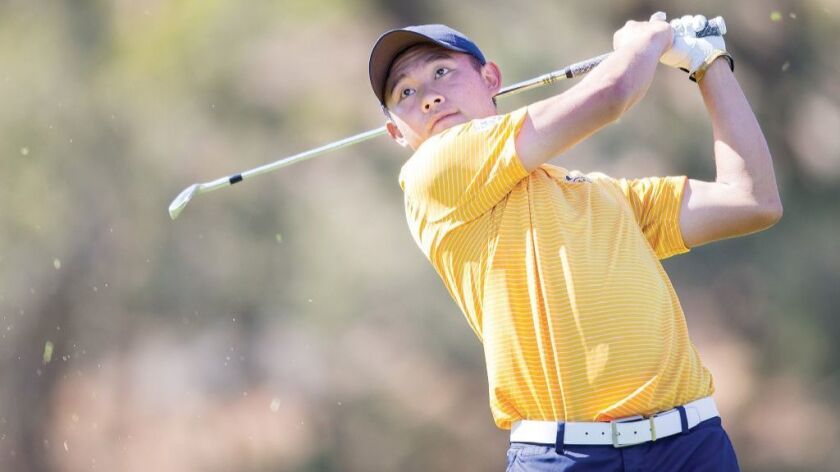 Morikawa falls in playoff
La Cañada High graduate Collin Morikawa fell in a playoff in the Sunnehanna Amateur Championship on Saturday at Sunnehanna Country Club in Johnstown, Pa.
Morikawa, a four-time All-Area Boys' Golfer of the Year who now attends the University of California, won the competition last season.
Braden Thornberry of the University of Mississippi won the 64th rendition of the tournament by edging Morikawa in a three-hole playoff on the par-70 course after the tandem was tied through four rounds. Morikawa held the lead entering the final hole before recording a bogey and Thornberry forced a playoff by making a birdie.
They were tied at 13-under entering the playoff.
Morikawa and Thormberry parred the first two playoff holes.
Thornberry won on the third playoff hole with a par.
Bergman collects win against Texas
Christian Bergman, a St. Francis High graduate and All-Area Baseball Player of the Year, had an effective start Sunday in turning back the Texas Rangers.
The Seattle Mariners right-hander recovered from a tough outing in his previous start, as he yielded two runs and four hits in 5 2/3 innings in a 7-3 road win. Bergman (4-4) has struck out 30 in 46 1/3 innings and has a 5.44 earned-run average in 10 appearances (nine starts) since being called up in May by the Mariners. Bergman gave up nine runs in 2 2/3 innings in his prior appearance in Minnesota on June 13.
The Mariners reportedly will have starters Felix Hernandez and Hisashi Iwakuma returning to the rotation, possibly as early as this weekend. If so, Bergman might have another role on the team or be sent to the minors.
"I wanted the opportunity to start and that's the opportunity I've been given here and I'm doing the best I can with it," Bergman, 29, told the Seattle Times.
St. Francis Soccer Camp
The St. Francis Summer Soccer Camp, led by St. Francis Coach Glen Appels, will take place from 9 a.m. to 1 p.m. July 24-28 at St. Francis High's soccer field, 200 Foothill Blvd., La Cañada.
The camp is designed for boys and girls, ages 6-18, and will cover a variety of skills, film sessions and more.
The cost is $180 per person and includes a T-shirt and water bottle.
For more information, contact Appels at gappels@sfhs.net or call (818) 790-0325.
Sports section hard copies
If you're interested in tracking down an extra print edition of the La Cañada Valley Sun, Glendale News-Press or Burbank Leader, call (818) 637-3200 between 9 a.m. to 5 p.m. Monday through Friday.
For those interested in purchasing copies of photos, email photo editor Roger Wilson at roger.wilson@latimes.com.
Seeking youth sports results
To get in youth sports results, whether it's soccer, football, baseball, basketball, etc., please email results by 2 p.m. Mondays.
The La Cañada Valley Sun encourages any and all teams to turn in their results weekly.
Emails can be sent to grant.gordon@latimes.com or charles.rich@latimes.com.
For more information, call (818) 637-3225.
Keeping tabs on private schools
If you know of a varsity athlete and La Cañada resident that attends a private school outside of our coverage area, please let us know.
Contact Valley Sun sports editor Grant Gordon at grant.gordon@latimes.com. Information can be faxed at (818) 241-1975.
---