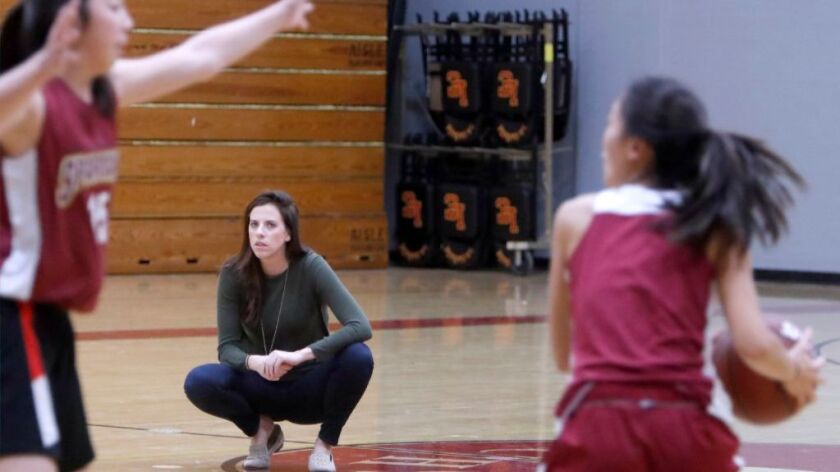 Sarah Beattie accomplished a great deal during her three seasons as head coach of the La Cañada High girls' basketball team, including piloting the squad on a historic postseason run.
But Beattie's tenure with the Spartans ended March 1 when she resigned to focus more time on her teaching responsibilities. She's been a full-time social science instructor at La Cañada since 2015.
Beattie guided the Spartans to three straight Rio Hondo League championships and three playoff appearances, going 75-16, 30-0 in league.
Her watershed moment came in 2016, when the Spartans advanced to CIF Southern Section Division III-A and CIF State Division IV Southern California championship games for the first time in program history. La Cañada saw its title bids dashed in both games by Antelope Valley.
"I have pictures in my classroom from the 2016 playoffs and it was such an incredible journey," said Beattie, who was named the All-Area Girls' Basketball Coach of the Year in 2016. "There are so many memories of great players we've had along the way and it was amazing to do what we did. It's something I won't forget and some of the most fun times I've had here.
"Leaving coaching is something I've thought a lot about. I'm teaching some new classes and I'm involved with some other programs away from sports on campus. I also need time for a personal life."
La Cañada went 23-5, 10-0 this past season. After posting a Division II-A first-round win against Bonita, the Spartans had their playoff run ended against Newbury Park.
Beattie played basketball at La Canada, graduating in 2004. Beattie, who graduated from the University of Wisconsin, played for former La Cañada coach Tamar Hill.
"Sarah's done an awesome job in her three years as coach and I fully respect her decision," La Cañada athletic director Kristina Kalb said. "She wants to turn her attention to her curriculum while teaching government economics and psychology. I respect her and care about her.
"Sarah did an outstanding job taking the basketball team to the CIF finals and then to state. The run to both championships games was amazing and you could feel the energy inside the gymnasium during all of the home games. There were some great growing opportunities for the coaching staff and it's like a partnership between the coaches, players and parents."
Kalb said its unclear when the search for a replacement will begin.
Twitter: @TCNCharlesRich
---