Boys' Golf Preview: La Cañada mixing experience with youth to continue success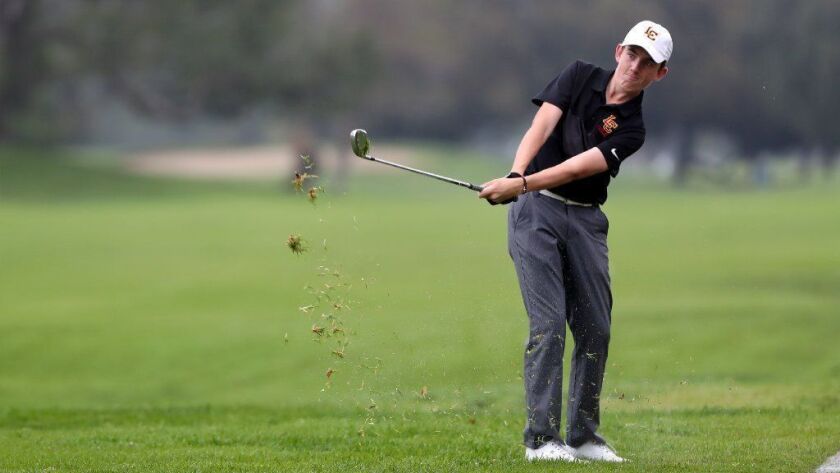 Talent normally meets expectations with the La Cañada boys' golf team.
In a season with a Rio Hondo League title to defend, the Spartans return just two seniors, a handful of juniors and one sophomore.
A season ago, the St. Francis participated in the CIF Southern Section divisional playoffs. It provided experience for the players expected to return this season and give them a better idea of what to expect in future team matches and individual events.
Flintridge Prep just missed qualifying for the postseason, yet will return its nucleus.
Here is a closer look at the teams.
LA CAÑADA
Although the other half of the La Cañada team includes freshmen, first-year coach Hassan Doxey isn't worried. Instead, he heads a team that will mesh experience and youth in order to capture a 15th consecutive league title.
As a team, the Spartans finished 9-1 overall and 8-0 in league with a sixth-place in the CIF Southern Section Northern Team Divisional last season.
"I think we have a lot of potential," Doxey said. "We have a lot of players who are new. We graduated six seniors, so replacing those guys is one of our first challenges.
"We have a good amount of players who have good fundamentals, so I'm just trying to bring game management and more mental aspect so we can take advantage of how our team uses the course."
Doxey, a former standout at Flintridge Prep, is in his first season wit the boys after serving as assistant coach to two-year head coach Derrick Williams in the final stretch of the 2018 season.
Doxey, a former Prep League individual champion, will use his familiarity with the returning group to build on the future of the program.
"Big shoes to fill," Doxey said. "I talked to some of the returners and they want to put pressure on [the new players] to keep it going so we can keep winning. I feel like if everybody just keeps improving and we're going to get better as a team.
"We're going to try to emphasize team chemistry and going to try to mix it up because it's a little bit of a weird mix to have half of the team freshmen and half the team as upperclassmen, so we try to mix them together and get everybody going."
Doxey sees potential in a trio of freshmen with Danny Berner, Tyler Na-Nakornpanom and Riley Kinsel, a left-handed player whose brother, Max, graduated last year.
The trio will see action among the starting rotation.
"We're looking pretty good on those guys, so far," Doxey said. "Some of the other guys have potential, but those guys have separated themselves so far.
"The three of them are battling for positions with some of the other guys. Those guys clearly have potential. I see, with Andrew [Ricci] and John [Hickman] going, those guys are going to be big parts of the team."
Ricci, a senior, is a two-time All-Area Player off the Year. The senior comes off of a stellar season in which he took the league individual championship and made a deep postseason run, reaching the CIF Southern Section Boys' Golf Championships before coming close to the final qualifying spot at state.
"[We're] expecting better," said Doxey of Ricci, who was a playoff win away from advancing to the state competition. "We're going to go all the way to state. I feel like he's got the talent. His thinking is getting better and better every time I see him. Every time we're playing, his composure and his poise, he's really growing into his own as a golfer. I feel like he can go all the way to state just seeing his progression right now."
To help the freshmen is sophomore Caleb Suh, who Doxey said is becoming more vocal in his approach to the game.
"I like the way his ball-striking has improved," Doxey said. "He's a little more outgoing. He's a very quiet guy, so I think he's growing more in his own and has become more outgoing and more of a presence on the team and I'm trying to use him to rope the young guys in and try to show them how we're going to be doing things."
ST. FRANCIS
There's plenty of excitement being generated by the Golden Knights, who bring back the majority of their starting lineup and have added depth.
St. Francis finished fourth in the talented Mission League last season behind powers Loyola, Harvard-Westlake and Chaminade before taking sixth in the CIF Southern Section Central Divisional at Lakewood Country Club in Lakewood. Loyola finished second in the event behind Palos Verdes.
St. Francis will boast a lineup consisting of juniors that's expected to include Henry Fitzhugh, Vincent Bedros, Lake Kim, Andrew Fiori and Michael Balian.
A sturdy lineup has left St. Francis coach Kyle Ostrom believing the Golden Knights are capable of making a charge.
"I think we'll be very good and we've got the talent to contend for league," said Ostrom, a former All-Area Boys' Golf Coach of the Year. "We're shooting big, not just for league, but for CIF.
"What I really like is how we are set up for this year and next. There are definitely high expectations for many of our guys."
FLINTRIDGE PREP
Flintridge Prep will carry 12 players, including a group of key seniors who will be counted on to provide experience and leadership.
Flintridge Prep took third in the Prep League last season behind Chadwick and rival Pasadena Poly.
Still, there was a bright note for the Rebels. who saw Ben Sacks place runner-up in the league's individual championship and reach the CIF Southern Section Northern Individual Regional en route to being bestowed with All-Area recognition.
The Rebels return Sacks, a senior who won the league's individual title in 2017, along with fellow seniors Preston Ho ,Ian Park and Anderw Freedman. The group will be joined by junior Jack Crawford, sophomores Alex Yeh and Sam Sullivan and freshmen Marcus Chen and Shane O'Neall.
"I really like our chances and I think we'll be capable of surprising some people," Flintridge Prep coach Bob Loughrie said. "All of our players have been looking to improve their overall game and we have a lot of people who can step up and contribute.
"It's going to be a huge help being a deeper team because that's what it's all about when you have that depth toward the bottom of your lineup. That's the difference where matches can be won or lost."
Twitter: @ReporterVince
---