First taste of CIF title victory sweet for Moravec, architect of La Cañada girls' tennis success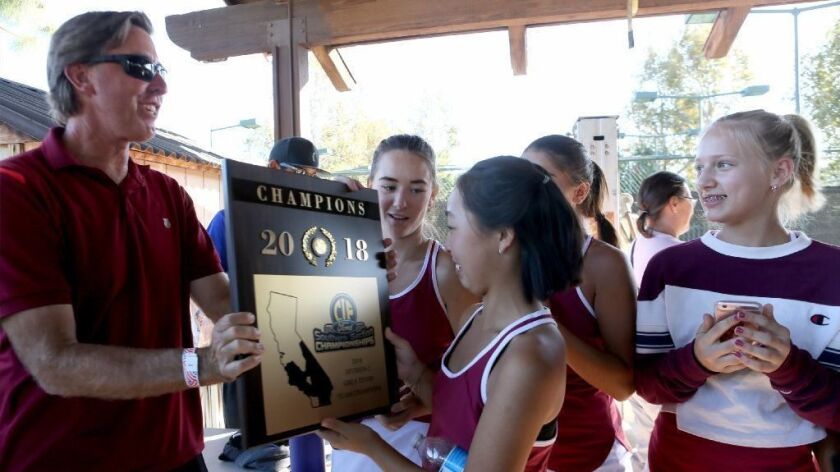 CLAREMONT — Will Moravec remained reserved — a trait that he's embodied since arriving at La Cañada High more than three decades ago.
He maintained that stoic demeanor when the Spartans girls' team clinched the CIF Southern Section Division II championship Friday with a 13-5 win against Alison Niguel at the Claremont Club.
Moravec, who arrived at La Cañada in 1992 to coach the boys' squad, decided to wear two hats after becoming the girls' coach in 2009.
The Spartans have produced quality teams at both levels, challenging for Rio Hondo League championships and qualifying for the CIF playoffs with regularity.
However, winning a CIF crown on either stage proved to be elusive for Moravec, a product of Rolling Hills High and Long Beach State who always offers encouragement to his players while watching them closely.
At last, Moravec, a former professional at La Cañada Country Club for 18 years who now teaches lessons after La Cañada practices and matches well into the evening on campus, picked up a CIF title by way of La Cañada (14-4) steamrolling through Brentwood, second-seeded Redlands, Claremont and Long Beach Poly before dispatching Aliso Niguel with an impressive mix of talent.
"It's come full circle for me and La Cañada is such a great town to be in and coach," said Moravec, whose team took second in league behind rival San Marino before embarking on its impressive postseason journey. "I was young when I got here at 26 or 28 and I've been blessed to have coached so much excellent talent on both teams.
"I've learned over time that you need to be patient and work with the players to help them become confident and they can find that edge. It's about being able to play your best tennis toward and at the end of the year."
Moravec savored his first moments as a champion by receiving the championship plaque and immediately handing it to his players so they could bask in the spotlight. It marked the first CIF title for the Spartans' program since 1977, when they captured the Division III-A championship against San Marino.
Sporting sunglasses and wearing black shorts and a La Cañada High polo shirt, Moravec diligently walked up and down a concrete pathway to watch each player compete Friday while occasionally standing under nearby trees to seek shade.
"We had such a great mix from the leadership provided by the seniors to the hotshot freshman who embraced any challenge they faced," Moravec said. "Everything came together at the right time."
Senior Sophie McKenzie, the No. 1 singles player and reigning All-Area Girls' Singles Player of the Year, has known Moravec since she was about 3-years-old. Her mother, Shirley, received lessons from Moravec, as did McKenzie's older sisters, Ally and Cassie, who enjoyed plenty of success under the tutelage of Moravec.
"My family has known Will for such a long time and he's helped me so much to become a better player," said McKenzie, who swept her three sets, 6-3, 6-2, 6-1, on Friday. "With our team, he's always had faith that we could do well and that we'd be successful.
"Even if we're playing bad, he'll tell us we can be better. That's the kind of support you get from Will."
Kristina Kalb served as the school's athletic director from 2014-18 before becoming the assistant principal in charge of athletics, discipline and special education over the summer. Kalb said Moravec has a penchant for developing talent, and doing so in a calm environment.
"The thing I'm most appreciative of him is that he's so even-keel in a sport that's got a lot of intensity and emotions," Kalb said. "Yet, he's so calm and encouraging.
"He embodies the positive aspects you look for in a coach. He helps the players flush their mistakes and he's there to provide constructive criticism. He knows the athletes very well and gets the best out of them."
The reserved Moravec can now celebrate after a job well done, and maybe even allow himself to bask in the glow of a CIF championship.
Twitter: @TCNCharlesRich
---