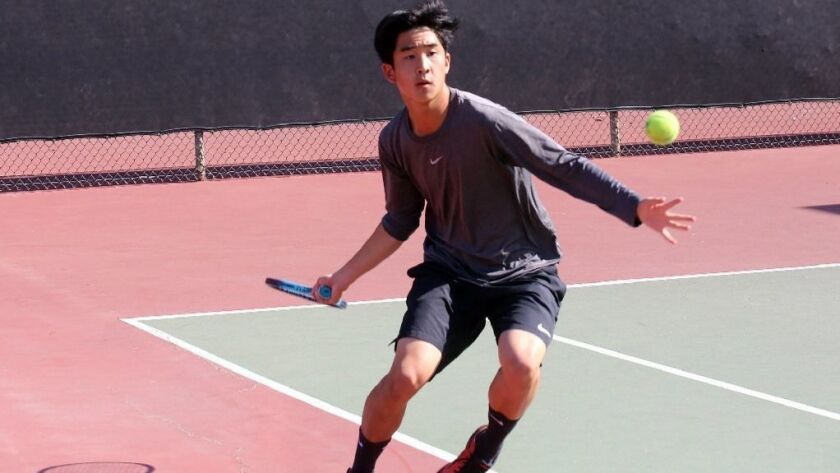 LA CAÑADA — Suddenly, Luke Kim and Jared Ahn became the center of attention with a throng of spectators watching their every move.
A bit tired, yet not lacking in energy, the La Cañada High boys' tennis doubles team focused on the business at hand. In a tie-breaker, no less, the duo looked to extend La Cañada's playoff drive.
Kim and Ahn came through, winning their final set to help host La Cañada record a 10-8 win against visiting Irvine on Friday in a CIF Southern Section Division I second-round match.
Unfortunately for La Cañada (12-3), it saw its season come to an end Monday with a 13-5 quarterfinal loss on the road to Sage Hill
In Friday's match, Kim and Ahn, the No. 3 doubles tandem, recorded a 7-6 (7-1) win against Aum Patel and Roshan Mandayam in the deciding set. It came after Kim and Ahn fell, 7-6 (7-3) earlier in the contest.
"Their doubles team was just as nervous as us, so Luke and I had to help each other out," Ahn said. "We were able to make some big shots in the tie-breaker."
Said Kim: "We realized that we needed seven points and we knew what we had to get done. We had to go out there and work for every ball. We have a very amazing team and it's exciting to see what we've been doing in the playoffs."
La Cañada, which finished second in the Rio Hondo League before posting a 10-8 first-round road win against Troy, won seven doubles sets to overcome Irvine (11-12, fifth in the Pacific Coast League).
The Spartans received a sweep in doubles from Ben Lee and Jack Manion, 6-1, 6-0, 6-0. The duo teamed up to win the league's doubles championship. The Spartans got two wins from Kyle Sahara and Anthony Hana, 6-4, 6-3, and two from Kim and Ahn, 6-3, 7-6(7-1).
La Cañada picked up two wins in singles from Ryan Morgan, who won a second straight league singles title, 6-1, 6-2. It also got one victory from Luke Manion, 6-3.
"In our last two matches, we were down, 4-2, to Troy after the first round and then up, 4-2, today after the first round," La Cañada coach Will Moravec said. "Irvine definitely came back strong in the last two rounds to make it a match.
"You look at Luke and Jared in the final set, they were ready for a battle and they got to every ball in the tiebreaker. We are playing some very smart tennis right now and I like the way things are going."
The Vaqueros, who began the playoffs with a 13-5 win against Palm Desert, fought valiantly.
Irvine received three singles wins from Daniel Wei, 6-0, 6-0, 7-6 (8-6), two from Aryan Sureen, 6-0, 6-1, and one from Eric Lee, 6-0. It got a pair of doubles victories from Jason Tyoo and Tristan Phan, 6-4, 7-6 (7-3).
Againt Sage Hill, the Spartans received two doubles wins from Kim and Ahn, 6-4, 7-6 (7-3). Ahn teamed up with brother, Derek, to earn a 6-3 victory.
"We had a great season and it was unexpected just to get to the quarterfinals," Moravec said. "We just ran into a Sage Hill team that was so deep."
---