Lacrosse Preview: La Cañada, St. Francis seeking development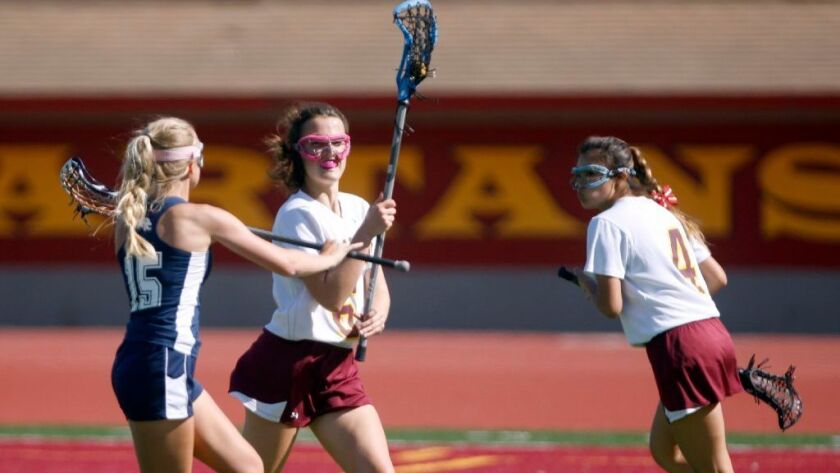 It didn't take long for Emily Mukai to put a plan in place with respect to shaping the foundation of the La Cañada High girls' lacrosse team.
After being hired in September as the Spartans' new coach, Mukai went to work and had La Cañada participate in a fall season so she could measure the talent she'd be inheriting.
"It gave me a chance to see what I'd have to work with and they were able to get some experience," said Mukai, who takes over for Kris Mueller and is an assistant on the Whittier College women's team where she was a player. "At this point, it's about developing talent and putting a plan into place.
"We've done a good job at working on the fundamentals and building team chemistry. We have a young team, but we'll have a lot of depth."
Mukai, who also coached at power Los Alamitos, will look for the Spartans to move in the right direction following a fourth-place finish in the Pacific League last season. The league will also include Crescenta Valley, which won the league championship last season, Glendale, Westridge and West Ranch.
La Cañada will feature a lineup of senior midfielder Sophia Tsotras, junior midfielder Melina Tsotras, sophomore attacker Jessica Jewell, junior midfielder/defender Erin Buchanan, freshman attacker Josette Segismundo and freshman defender Skyla Park.
St. Francis missed the playoffs last season after qualifying for the postseason in 2016. The Golden Knights finished fifth in the competitive Mission League last season.
St. Francis second-year coach Jared Little will look to get the Golden Knights back on track with a group that includes senior defender Sean Barkley, junior attacker Spencer Boyle, junior midfielder Jacob Buntich, sophomore defender Miles Jackson and sophomore goalkeeper David Baker.
"Our practices have been good and we are light years ahead of where we were compared to last season," said Little, who won NCAA Division I championships at the University of Virginia in 2003 and 2006. "There was a culture change last year and I put in a new system.
"We have had a lot of our players compete in spring and summer leagues and on travel teams in order to get some more experience. They were able to experience different levels of play. We have 22 kids who will be on the team and I think we'll see some special things happen. Our defense will be our strong point and you'll see us in a lot of close games."
Twitter: @TCNCharlesRich
---